Inflatable Boats And Kayaks - The Inexpensive Alternative To High Priced Boats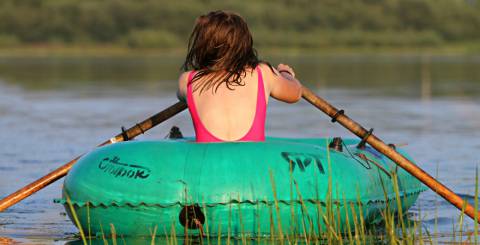 https://cdn.pixabay.com/photo/2016/07/29/22/46/boat-1556062_960_720.jpg
Inflatable boats are the best alternative to high priced aluminum and fiberglass sport fishing boats. Inflatables come in every style that include sport runabouts, sail and row boats, dinghies, catamarans, pontoon boats, canoes and the best inflatable kayaks suitable for ocean and whitewater kayaking. Most models deflate to fit in a bag small enough to take along in your RV or vehicle. They can be stored on a shelf in the garage and don't require a trailer or the need for expensive storage and moorage fees at the marina.
Inflatable sports boats make a very stable fishing platform. An 8' – 10' inflatable is best for catching fish in smaller bodies of water and shallow backwater areas of lakes and rivers not accessible to other anglers. A 12' – 14' inflatable powered by a 30 or 40 hp outboard can get you to the best fishing spots quickly. These larger boats can carry 6 large men and equipment with ease. They perform well in rough seas and are also great for diving, water skiing and extended boating trips.
Inflatable models are the best sport fishing boats for a boat that is easy to transport, launch and maintain. They don't cost as much as fiberglass or aluminum hulls and don't require a trailer. A deflated 14' boat fits into a bag 4 feet long and can be taken along in your vehicle, carried to the water's edge, inflated in less than half an hour and launched by hand. Another advantage of these sport boats is the buoyancy and stability provided by multiple air chambers and a wide beam. These inflatables are impossible to tip over and make a very stable fishing or diving platform.
Safety And Buoyancy of Inflatables
An inflatable kayak or boat is just as safe to use as a hard-shell watercraft. In fact, because of the buoyancy of the inflated chambers, inflatables are safer to use than traditional boats and preferred by the coast guard as offshore rescue vessels. Inflatables are almost impossible to capsize and handle better in rough water. Several air chambers assure buoyancy even if one chamber looses air pressure due to a leak.
Wear And Tear Resistant Fabrics
Inflatables are constructed from the best materials such as rubber-based Hypalon and polyurethane fabrics, making them extremely durable to ensure your safety. The fabric weave used in kayaks and boats from Sea Eagle is manufactured using a special process to make the hull resistant to wear and tear. Seams are layered and four times stronger than the already strong hull material.
An Inflatable For Any Type of Watersport Recreation
Sport Boats - Inflatable sport boats come in different sizes and in a variety of shapes. Sport boats and kayaks range in length from 8 – 14 feet. A small inflatable is best suited as a one-man fishing boat. It fits into a convenient duffel bag and can be carried to a remote lake or river. A 14-foot inflatable can be powered by a 40 hp outboard motor and carries up to 7 adults.
Kayaks - Touring, offshore and whitewater kayaks are available for one and two persons. Inflatable kayaks are easy to paddle and compete favorably with expensive fiberglass models.
Dinghies - An inflatable dinghy makes a great tender for a larger boat. They can be rowed or powered by a small 4 hp outboard motor. A 12' dinghy carries up to 5 adults and can be used for class 3 whitewater rafting.
Sail Catamarans And Pontoon Boats - Inflatable catamarans and pontoon boats are extremely stable and impossible to tip over. A 15' catamaran has plenty of room for up to 4 adults and can be powered by a 4 hp engine. Sea Eagle's optional and easy-to-learn lateen sail rig turns these boats into a sailing catamaran best suited for introducing children to the joys of sailing.
More and more water enthusiasts are discovering the advantages of owning an inflatable. The versatility and relatively low cost make inflatables one of the best buys in boats and kayaks.