How to Travel with a Wheelchair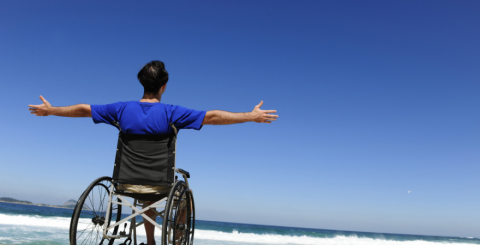 https://theconversation.imgix.net
Long distance travel is oftentimes exhausting for many able-bodied people, and the stress could be compounded many times over for people with disabilities and special needs. Yes, travelling is exciting and invites a sense of adventure, but people with special needs shouldn't just rush to the airport without careful planning. There are a lot of things you have to contend with: thick crowds of people, oppressive security screenings, the seemingly never-ending queues, overpriced airport food, flight delays and cancellations, the list goes on. For people who use wheelchairs, the experience is worse many times over. The preparation and pre-travel requirements alone could deter the most people from travelling at all.
However, being in a wheelchair has not stopped many people from travelling and seeing the wonders of the world. While travelling with a wheelchair requires more preparation, the payoff is worth it for the chance to experience a heightened degree of freedom and adventure.
Here are a few pointers that can help make your journey easier and more comfortable despite being in a wheelchair. This guide covers general travelling, regardless of the mode of travel like ships or aeroplanes.
Depending on where you are, passenger transport companies such as airlines and shipping lines are mandated by law to accommodate travellers in wheelchairs. However, many establishments still forget or neglect to extend services that can help make the journey less stressful and more convenient. Some companies, on the other hand, go above and beyond to ensure that their passengers enjoy their trip.
1. KNOW YOUR RIGHTS
Before booking the trip, it is vital that you and your co-travellers are familiar with the rights and privileges afforded by both domestic and international laws regarding wheelchair access in public transportation. Being armed with the requisite knowledge will help you easily navigate the system and overcome hurdles that may come your way. If possible, bring a copy of the respective laws with you when you travel.
2. REQUEST A SPECIAL NEEDS SEAT
When travelling on an aeroplane, you may request a seat with a flip-up armrest to make the transfer from wheelchair to the seat easier and more manageable. Some domestic airlines and practically all international airlines designate a row or two for users with wheelchairs and special needs. It doesn't hurt to call ahead of time and check the availability.
3. GIVE YOURSELF TIME BETWEEN TRANSFERS
When booking a trip with multiple stops or layovers, such as international flights and multi-destination cruises, make sure that you properly arrange your schedule to avoid rushing between gates, airports, stations, ports, etc.
If possible, allow for a long connection time between two points. This will give you enough time to go to your next destination. Airlines and ferry and cruise companies also need enough time to reassemble your wheelchair or provide the mandatory equipment to allow mobility within their craft.
4. INFORM THE PERSONNEL
While booking the trip, inform the reservation agent as well as other personnel (e.g. check-in counter agent) of your assistive requirements. They will be more than happy to accommodate you. Don't forget to specify the type of assistive device you use as well as its dimensions.
Many aeroplanes don't allow wheelchairs onboard, and the airline will provide a specially-designed wheelchair to allow you transfer to your seat. In the event that the door is too small for your wheelchair, give the ground crew a copy of the assembly and disassembly instructions. The quality of service you receive depends on how much information you provide.
5. BRING DOCUMENTATION
Print out your wheelchair's assembly and disassembly instructions in English and the major languages of your destinations. The instructions must be clear, concise and easy to understand. Carry it with you at all times and insert an extra copy in a secure area of your wheelchair. If possible, bring a copy of the wheelchair's manual with you.
6. LET THEM KNOW
When travelling by aeroplane, you must inform the air carrier before the actual flight of your wheelchair requirements, especially when you have a connecting flight. Do not wait until the last moment to tell the air carrier; inform them at least 48 hours before departure. Many airports and air carriers lend complimentary assistive devices to people when their main device has been checked in.
7. SECURITY ADJUSTMENTS
During security screenings, you must inform the agents and other relevant authorities of your mobility limitations and assistive requirements. Depending on the airport and station, you might not be able to fit through the scanner and detector. In many jurisdictions, the security personnel are mandated to make the necessary adjustments and offer alternatives.
8. MARK YOUR TERRITORY
Do not forget to attach an identifying mark or tag to your wheelchair. The tag must include basic information to facilitate easy identification such as your name and mobile number. Do not give out too much information, however. Identity theft is a real risk.