How to Become a Nutritionist?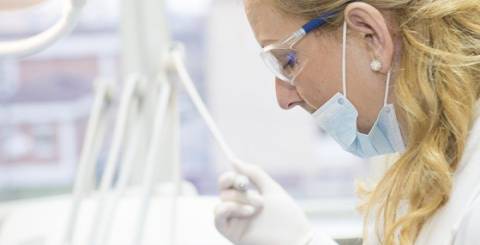 In today's society, people are confronted with countless industrially manufactured foods. Obesity, illnesses, and the desire for a healthy, balanced diet are frequent reasons to question your diet: which foods are compatible? How do I recognize fat and sugar traps?
The trend is towards healthy eating
Clean eating is fashionable, Paleo recalls past (stone) times, and vegan nutrition is sexy again. Not only has the development of numerous nutritional trends, but also the knowledge of the importance of nutrients, and the interplay between food and psyche brought the nutritionist on the scene. Turn your passion into a job, and become a nutritionist! Many dreams of it - you too? But what exactly does a nutritionist do, and what types of training are there?
Become a nutritionist - how it works?
If you want to become a nutritionist, you have many options, because there is no uniform training as a nutritionist. Whether studying in the field of ecotrophology, and nutritional science, training as a dietician or further training in the field of nutritional counseling: the training paths are varied and depend on your focus and the desired goal.
If you want to acquire compact knowledge, the 3-month training course as a nutritionist is just right for you. This short training is particularly suitable for fitness or personal trainers, and employees from the wellness or health sector who want to expand their profile with the knowledge of healthy nutrition. However, career changers will also receive many tips on the subject from further training: healthy nutrition, nutrients, and their tasks, digestion, and metabolism as well as eating and psyche.
Alternatively, you can complete further training as a nutrition coach over a longer period. The extensive training is particularly suitable for those who are striving for independence. The certificate as a "nutritionist" is already included. In addition to the important topics related to nutritional advice, eating habits, nutrition trends, forms of exercise, and weight coaching are also discussed.
Contents of training as a nutritionist and nutrition coach
The following content of the training as a nutritionist will be taught to you for 3 months:
•            Basics of nutrition
•            Professional nutrition coaching
•            Nutrition counseling
•            Nutritional coaching in practice
People who want to start a career in nutrition, they can complete 14 months long training. You can learn the basics of nutrition, and nutritional advice, topics such as food theory, weight coaching, and independence, etc.
•            Basics of nutrition
•            Professional nutrition coaching
•            Nutrition counseling
•            Nutritional coaching in practice
•            Food Science
•            Food trends
•            Fit and healthy through creative cooking
•            Basics and trends of weight coaching
•            Professional weight coaching
•            Sports and weight coaching in practice
•            Eating behavior and disorders
•            Diets from different countries, cultures, and religions
•            Nutrition coaching for special target groups
•            Business and independence in nutritional coaching
Nutritionists become a distance learner
Both pieces of training courses as nutrition coaches and nutritionists are offered in distance learning. The form of part-time distance learning gives you the greatest possible flexibility. The study books are available both in printed form and digitally in yours.
Online Campus. Online lectures can be accessed from anywhere, and thus enable you to study anywhere, and at any time. But the practice is not neglected either. In one to a maximum of four seminars on the weekends, you will be given sustainable knowledge to be able to provide competent nutritional advice. Counseling techniques, nutritional strategies, and the creation of nutritional protocols are practiced in practical case studies. Of course, you also get to know your lecturers on-site, you can network with your fellow students, and you are prepared for the final exam.
The training ended and then?
After training as a nutritionist, many strive for independence and set up their practice. Those who feel more comfortable in an employment relationship have the opportunity to work as nutritionists in the following facilities:
•            Fitness clubs
•            Sports associations
•            Wellness facilities
•            Gastronomy and hotel industry
•            Educational and social institutions
•            Food industry