Home Decoration Ideas for the Festive Season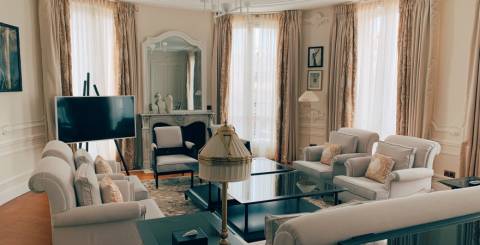 Festival Season is all about adding positivity and newness to our life. And the easiest way to fill your life with the same is by changing the home decoration as per the festive requirements. Home décor can uplift the mood and make you ready for the celebration. As we have already entered the months of festivals, it's time to give your home a makeover too. So, as per the festive requirements, we have mentioned some home décor ideas to transform your living space into a celebration setting. So keep reading!
Bring on the Colors: No festival is complete without colors. So, bring colorful bedding decorations, rugs, planters, photo frames, curtains, and more full of colors without any two thoughts. Focus on bright ones to enhance the overall vibes more. Try and bring some colorful elegant pieces to your home which make it look decorative and pretty at the same time.
Invest in Good lighting: It is hard to find any home without lighting decoration in the festive season; the real reason is that it adds brightness to your life. You can also invest in lamps, fairy lights, hanging lights, chandeliers, and more to make your home decoration shine. The ones in white or warm yellow color would look the best.
Never ignore covers: Trust us or not, but covers or fabrics can easily uplift your home's vibes. You can change the covers of cushions, bed, sofa, and more with something bright and beautiful. It will add immediate pop of color easily. A statement curtain can change your home decor game this Diwali in the most profound way. Look for some amazing references of elegant-looking fabric and try to incorporate same into your home decoration. 
Add Glass Accents: Glass is sophisticated and chic, and it looks amazing in the festive season too. You can uplift your home decoration with glass elements. From classic dinner sets to wall hangings, you can find them all in this material. So focus on that. Glass is something which can be avoided especially during festivals as it effortlessly adds charm to any of the spaces.
Bring Plants Indoors: Another thing that you shouldn't miss is indoor plants. These are full of positive vibes and make your home complete. The green color of plants also adds a pop of color to the home and makes things fresh. You can pick a designer and decorative planters for them to make them even more decorative. Try decorating your plants during the festivals it creates a soothing and calming environment around.
Diyas and Candles: Like lights, candles and diyas are also widely seen in the festive season. These make your home brighter and aesthetic. You can get them in different shapes and colors to make them even more decorative.
Introduce Metal Accents: Just like glass, you can also bring on metals. These are aesthetical and enhance the overall home décor of your place. Things like vases, candle holders, etc., made up of brass, copper, and silver, would work well.
Design a Rangoli: Rangoli is another way to decorate your home in the festival season. You can DIY them using flowers or powered colors or buy stick-on rangoli from the market. Both of them would make your home décor welcoming and perfect. Try to pick more colors in them to add more pop of color to your home.
Everyone has a different definition of a festival; therefore, your home should reflect what you feel from the inside. Be traditional or modern, home decoration could be your best friend in enhancing your home's appearance and making it festive ready. So be enthusiastic and keep decorating.