Hardscaping Ideas for Astonishing Backyards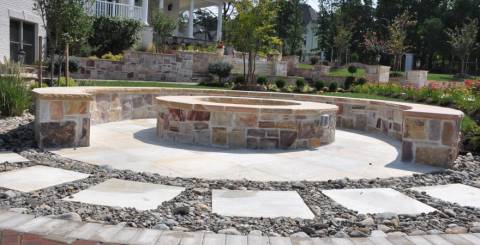 Hardscape is the common word used to refer to any solid structure incorporated in human-built landscapes. Most traditional backyards and gardens combine both hardscape and soft scape elements, which is the golden rule of an appealing landscape. From masonry and woodwork to concrete and metal construction, hardscaping offers a wide range of appealing features, creative decisions and optimization solutions for outdoor living areas, allowing landscaping contractors and homeowners transform any land into something that could serve as an example of a perfectly arranged backyard.
Hardscaping with moderate greenery incorporation is also a rather practical option for Southwestern backyards, where residents, who struggle to keep their lawns and outdoor plants alive due to the water conservation restrictions and extreme summer weather conditions, have already developed a strong affection toward all-stone low-maintenance backyard areas amped up by drought-tolerant flowers and shrubs. But, even those who live in moderate climates often use hardscaping features to improve the appearance of their landscapes, give them a bit of dimension and texture, and make them more functional and convenient for outdoor activities.
Hardscaping contractors design various formal, elegant and slightly utilitarian hardscape plans or relaxed combinations with smooth transitions gravitating towards natural landscape will satisfy the tastes of different homeowners, fit the overall style of their properties and blend with the surrounding landscapes.
So, these are the most appealing hardscaping ideas you may use to refine your backyard and create a unique, particularly practical and attractive landscape.
Hardscaping features and ideas
Outdoor kitchen areas
An outdoor kitchen built on a stone paved patio is one of the ultimate American backyard features to die for. In addition to outdoor grills and fire pits, most backyards already have, modern patio kitchens have all things one may possibly need to prepare a nice meal outdoors and clean everything up without entering the house. But, extending electricity lines, installing a gas stove, a brick oven, a fridge, sink and a couple of kitchen cabinets outdoors may cause a lot of challenges. Professional plumber's and electrician's planning and building assistance are required to ensure proper installation and operation of an outdoor kitchen, as well as the safety of those, who's going to use it.
This U-shaped layout and stone/stainless steel design of an outdoor kitchen are one of the homeowners' favorites. Once you experience cooking something at a dream chef station like this one, you won't ever go back to your indoor kitchen, at least in summer.  The only thing I would add is an extended roof for extra convenience.
Backyard masonry
Stone or concrete patios, walkways, driveways, stone steps and retaining walls are American landscape staples. The homeowner's design choice may only be limited by his imagination, as the variety of materials, their combinations and landscaping ideas is pretty much endless.
Modern hardscapes are famous for shifting from plain concrete and stone designs and transitioning to intricate combinations of different hardscape materials. For instance, walkways made of concrete stepping stones and river rocks, pretty stone flowerbed edging, that frames luscious green lawn, curved multileveled terraces, pebble mosaic patios and retaining walls forming a private sitting area with a built-in outdoor furnace.
Creative smooth transition between hardscape and soft scape elements is especially important, just as the reasonable combination of colors, textures, and materials that don't make the overall landscape look to busy, unbalanced and unattractive.
Water and fire features
Hardscaping has significantly evolved in the fire pit department, as simple common ring-shaped fire pits were replaced by elaborate outdoor fireplaces incorporated into raised stone patios and continued by stone sitting and dining areas. Water features (stone/ceramic fountains, waterfalls, and small ponds) larger properties are associated with became more affordable for average homeowners as their less expensive alternatives and DIY projects were introduced.
This brick patio area with exquisite forged iron furniture and a wood-burning brick fireplace featuring an outdoor grill and stone firewood storage compartments is the homeowner's favorite place to spend a family evening or host a grill party.
The level of professionalism and experience involved in creating a wood-burning outdoor fireplace, a living garden pond or a functioning natural-looking stone waterfall is quite high, as rare landscapers and outdoor contractors are able to plan and implement such hardscaping projects. But, once these features are created, the landscape transforms and starts shining with new colors, tunes, and moods.