Gastrointestinal Conditions That Cause Chronic Abdominal Pain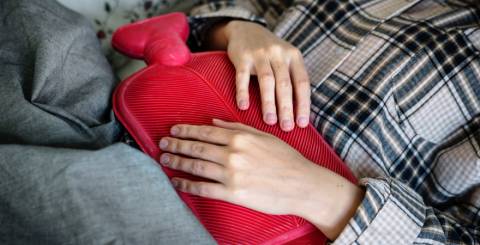 There are different kinds of gastrointestinal conditions, which can cause abdominal pain in patients that can develop into becoming a chronic type of pain. This pain is in most cases accompanied by other symptoms, which include diarrhea, cramping, constipation or bloating. All these symptoms, including the pain, can be from mild to severe. There are some gastrointestinal conditions which are considered to be the most common reason behind chronic abdominal pain. These conditions include irritable bowel syndrome, inflammatory bowel disease, diverticulitis, atrophic gastritis, and stomach ulcers. 
Irritable bowel syndrome
Irritable bowel syndrome includes several gastrointestinal symptoms, which include constipation, diarrhea, and abdominal pain. The symptom that makes irritable bowel syndrome unique, is that the symptoms occur without any proof of a condition in the gastrointestinal tract, or any proof of damage. Recent studies have shown that the reason behind irritable bowel syndrome might be bacterial overgrowth in the small intestine. Now IBS treatment specialists test whether there is bacterial overgrowth to diagnose irritable bowel syndrome, as well as to treat it. 
When there is an imbalance between the healthy and unhealthy bacteria in the intestine, people might suffer from irritable bowel syndrome and its symptoms.  Some specialists believe that it is the nervous system and its interaction with the gut which leads to these unpleasant symptoms. The symptoms usually occur all of the sudden and range from mild to severe with cases in which they get better after a while and cases in which they worsen over time. Currently, it is believed that there isn't any cure for irritable bowel syndrome, so treatment focuses on regaining the bacterial balance in the intestine. 
Inflammatory bowel disease
Inflammatory bowel disease is a condition that can cause chronic abdominal pain, due to the chronic inflammation in the gastrointestinal tract that it causes. Inflammatory bowel disease is divided into Crohn's disease and ulcerative colitis. 
It is still not known what causes inflammatory bowel disease, but specialists believe that stress and our immune system play a big role. Researchers also believe that environmental factors, diet, and genetics may affect the condition. 
Crohn's disease
Crohn's disease can affect the gastrointestinal tract in any part of it, which extends from the mouth and down to the anus. Typically the inflammation begins in the small intestine and the beginning of the large intestine, which can lead to the intestinal wall thickening and generally changing. 
Some symptoms of Crohn's disease include abdominal pain, cramps, diarrhea, and constipation. Those who suffer from Crohn's disease are also likely to lose weight, have less appetite, get fever and experience fatigue. Those who suffer from Crohn's disease have periods where the symptoms are present and periods when they don't experience any symptoms at all.
Ulcerative colitis
Ulcerative colitis affects the large intestine, which includes the rectum and colon, which leads to an inflammation of the intestinal lining. It also leads to open sores, which are known as ulcers. The symptoms of ulcerative colitis include rectal bleeding and pain, abdominal pain, cramping, diarrhea, and constipation. Just as it is the case with Crohn's disease, symptoms go away and come back again. 
Peptic ulcers
Stomach ulcers are other known as peptic ulcers or duodenal ulcers. They are sores which can develop in the stomach, small intestine or the esophagus. When these open sores are present, symptoms include nausea, heartburn, changes in appetite, stomach pain and indigestion. It is believed that eating too much spicy food and dealing with stress can enhance the severity of the symptoms. 
Ulcers can develop due to several reasons, such as alcohol, smoking, using NSAIDs often, which include aspirin and ibuprofen, or the presence of the bacteria Helicobacter pylori. These type of ulcers can be treated and you might get over-the-counter medication or prescription medication. You will also need to change some factors in your life, especially if you smoke or drink. Your diet will also need to be adjusted. 
It is important that you visit a medical professional as soon as you experience these type of symptoms because ulcers are best treated if the patient reacts to the symptoms immediately. 
Diverticulitis
Diverticulitis is a small pouch, known as a diverticulum, which forms in the gastrointestinal tract. This pouch then gets inflamed or infected. Typically, this pouch forms when there is increased pressure within the intestinal walls. This type of increased pressure might come from gas or waste, which gathers due to chronic constipation. 
Most often, diverticula occur in the colon. The symptoms of diverticulitis are likely to go away, but treatment is necessary. Treatment consists of antibiotics and an adjustment of the diet. To prevent constipation, the patient will need to eat a fiber-rich diet. Diverticulitis, once it affects a patient, is very likely to come back again, therefore, the adjustment of the diet needs to be long-term and a lifestyle change. 
A person who suffers from diverticulitis and doesn't get any treatment might experience symptoms such as high fever, a change in blood pressure or heart rate and a high white blood cell count. Some more severe attacks will require hospitalization, as the patient will need hydration, as well as intravenous antibiotics. 
Atrophic gastritis
Atrophic gastritis is a condition which happens due to an inflammation of the stomach lining, which is present for a longer period of time. This type of condition usually occurs due to the bacteria Helicobacter pylori, which is present in the gastrointestinal tract and left untreated. The condition usually affects the mucous membrane of the stomach lining, causing symptoms such as abdominal pain, vomiting, and loss of weight. 
In most cases, this type of condition is treated with antibiotics, as it is important to fight the bacteria which is causing the inflammation. When prescribed antibiotics, it is important that you continue to take them as the doctor prescribed them to you, even if the symptoms go away. It might be that the symptoms are gone, but the bacteria are still present, which is why it's important to continue with the antibiotic treatment. 
In some cases, stress and a poor diet can also cause abdominal pain, therefore it is important that you share with your doctor any lifestyle factors that might affect your health.