Five Best Printers for Canvas In 2019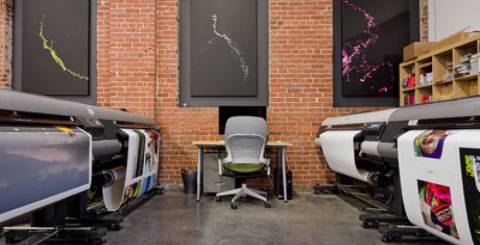 Almost everyone that wants to decorate their house they have moved into or bought or recently owned wants to personalize the house according to their style and comfort. While putting a lot of money into extra fancy wallpapers and paint jobs is one way to achieve that, it does not relate personally to everyone and as already mentioned, it is costly.
So, what are the other options? Well, one of the best available options for fully customizing your new living space or even the workplace is Canvas Prints. Canvas printing is fully customizable, meaning the user has total control over the size and quality of the canvas, a picture that goes into it and even the frame on which the canvas is going to be fitted. With new innovations in technology, the printing process has gone through a lot of changes and has become very accurate and breathes more colors into the canvas than ever.
How, do you ask? Let's find out. Five best printers for canvas in 2019
In this article, we will take a look at the top Five printers used in canvas printing technology in the current year and list their advantages as well as disadvantages. This will surely help anyone stepping into the canvas printing business as well as the end users in deciding what printing technology should they opt for.
Canon ImagePROGRAF Pro-4000
With many sizes of this printer available in the market, ranging from the smallest model having support for a maximum canvas size of 24 inches to the largest model supporting a maximum canvas size of 60 inches. The Canons are well known to produce high quality printing and photography equipment and are one of the reliable brands.
The ImagePROGRAF Pro-4000 is highly color accurate, supporting a maximum resolution of 2400x1200 dpi. It has a 3.5-inch LCD touchscreen for the interface, has USB and Ethernet support and support for direct USB printing. With FINE print head technology and Wi-Fi and up to 320GB hard disk, this model is definitely one of the hottest properties in the canvas printing world and definitely makes our top 5 list.
Epson SureColor P9000
Another printer that makes our top 5 list of printers for canvas printing includes the Epson SureColor P9000 for its high color accuracy and support for max 2880x1440 dpi resolution. The printer also has a 2.7-inch touchscreen LCD, built-in cutter, and a maximum supported canvas size of 44 inches.
It can work with ethernet, USB and uses one of the industries leading PrecisionCore Print Head Technology with PrecisionDot Screening Technology for the best performance.
Canon Oce Colorado 1650
The Canon Oce Colorado is purely for professionals that want very high precision, high color gamut supported printing on any material with great finish irrespective of the material finish. The operating costs are very low, supports non-stop printing for high efficiency.
It acts as a robust and industrial printing platform for all your needs and Canon's UV gel technology means that it requires very less color for the same number of prints. The in-built UV treatment ensures quick drying and beautiful matte or glossy finish.
HP Latex 115 Print and Cut
The HP Latex 115 is one of those wide format printers very much known for high-speed cutting and cut-throughs, with fairly decent color accuracy on the prints. This printer is pretty much recommended for beginners looking to step into the wide format printing arena.
It supports LAN connectivity and HP Media basket, and you can print as well as cut at the same time. The prints come out dry due to thanks to the Latex printing technology by HP. With large types of surfaces supported including the canvas, HP Latex 115 Print and Cut definitely makes our top 5 list of printers for canvas in 2019.
Jetrix LXRi320 LED-UV Printer
With the latest Konica 1024l head technology, the Jetrix LXRi320 LED-UV Printer makes the ideal entry-level wide format printer. It has a platform cooling system and a balance suction system and uses 6 colors for accurate printing.
It supports 3.2 meters wide, edge to edge printing with capabilities of printing on PVC, unfinished surfaces, window films, flex and so on. Running on Print Factory, Onyx or Caldera RIPs, this printer makes our top 5 list of printers in 2019 because of its efficiency and the option to use white ink for color accurate work.
That's it then, the top 5 printers available for canvas printing in 2019, with their advantages. You can choose whichever printer you want, based on how much you are willing to spend as well as specific requirements such as printing materials and finish required.