Finding Affordable Rent In Washington D.C.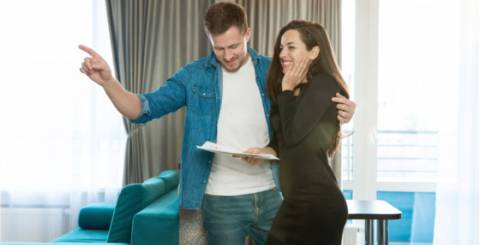 As many people are flocking in the nation's capital for either their career or their studies, it is a good thing to organize your apartment search because the city's housing market is not cheap.
Whether you are a first-time renter or are just looking for a new place, there are options on the market but the costs are higher than expected. Some compromises might be necessary. Make a list of things that are important and we are going to try to help out with some tips and tricks on your first rental. We know that finding an affordable apartment/rental in Washington D.C. is very important.
List your deal breakers
These are things that you can not live without. The things that are essential to your life and that you absolutely require in your apartment. The bottom line, dealbreakers are amenities that you are not willing to negotiate on. Whether it be a large walk-in closet or a fully furnished apartment, make sure to include those on your "must-haves" list when in search for your apartment.
Set your budget
Setting a budget is of utmost importance while in the market for a rental. You should know what is the maximum you are able to spend on monthly rent. The amount of money spent on rent should not be higher than half your monthly salary and that is taken to extremes. In general, it should be a third of your salary but it depends on your expectations, lifestyle, and dreams. Don't be afraid to look into sharing an apartment. Prices can be high for one person to be able to live on an average income. A friend or a partner will help split the biggest costs of living in the city of Washington D.C. or The District as most Washingtonians call it.
Don't look at anything outside your price range
This is similar to Alice's rabbit hole. You might start easy, looking at apartments that are just 10-50 dollars over your maximum budget, but that can escalate quickly. You'll soon try to justify spending $100 more because that apartment is close to the city, it has a beautiful picture window offering views of the city, it's got a gym among its amenities, and so on. It doesn't matter that three other listings have windows and are close to the city center, but that gym, man! And like this we're going to our other tip. 
Know your lifestyle
How often do you go to the gym? How often do you take yoga lessons? How important is it to be within walking distance of the best club in town? Washington DC has dining and shopping options through most of its boroughs so there isn't just one area where everything is crowded in a small space. A pool sounds amazing, I know, but do you usually swim, on a bi-weekly basis lets say? If your answer is no, then it's not a necessity, but it is something that will increase your rent exponentially. Look for a place that fits your needs and don't use your search for an apartment as a means to change who you are. That is more important than spending an extra $100 on something that looks good on paper but does not really add to your life.
One thing that would help you realize if the area fits your lifestyle is if you walk around the neighborhood or take a drive around the block and find a cafe that you like, a market that can supply your weekly groceries. Get to know the neighborhood before you sign the lease. You can check Yelp!, StreetAdvisor or Trulia for updated reviews, even though most reviews tend to be good, if something bad happens in the area, reviewers will cover that subject.
Look 2-3 weeks before
Take your time when looking for an apartment. Do not leave this for the last minute and maybe take a few trips if you are relocating to another city. If it is left for the last minute it might be stressful and you might end up settling for something because of necessity rather than actually choosing something that fits you. You can even keep an eye on the apartment that sparked your interest for a week or two on the property management company's website once you do decide. This should not be rushed. You might find that there are move-in specials and like that we're getting into our next tip.
Realtors
There are often deals that can be offered if you call back with a decision in 48-72 hours or if you decide on the spot. This, however, isn't only offered on the spot. If you have your eyes on an apartment you might find that the prices might drop by 20-50-100 dollars. They can drop amenity fees or moving fees in an effort to offer move-in incentives and fill their vacancies. Get in touch with real estate agents in Washington D.C. for better chances of getting a better deal on your rent. They can offer the best kind of advice and the commission is paid by the owner. A renter benefits from a real estate agent, while the real estate agent benefits from an owner.
Have your questions ready
How much is the monthly rent? Is parking included? Are utilities included? Are there any amenities offered? Are there any extra fees? Is there security on site? What is the pet policy? These are some important things you might want to remember. Even while you are going on tours to see different condominiums there's a possibility that you could have overlooked different aspects and asking questions during a tour is always a good idea. The more you know about the location, the better it will be for you in the long run.
Location, location, location
Choose the location, find your arguments and reasons for a specific area, maybe add it to your deal breakers. Washington D.C. is a big city and if you have friends, living on the other side of the city might make it troublesome to meet. Your job commute would work better if you are close to the metro line that takes you to your workplace. Getting around the city works great if you're using the metro lines so being close to a metro station might be important whether you live in D.C. or the surrounding area. Study the neighborhood and see if it fits your needs.
Conclusion
There are a wide variety of apps that can be used when searching for an apartment in Washington D.C. on which you can limit price range and your deal-breakers. Both Zillow, Realtor, Hotpads, and Trulia offer up to date listings in the D.C. area and a further insight you can get from realtors in Washington D.C. Don't be afraid to make a commitment to have your applications ready to go. Like this, if you come across that once-in-a-lifetime rental, you can make sure you don't lose it as an affordable rental in Washington D.C. can come and go in a matter of minutes.
Give us your opinions on the rental market and why there is such a big percentage of renters in Washington D.C. as 58.3% of the population is renting. Like & share this article with your friends if you feel it was helpful or leave us a comment on other tips we might have overlooked.