The Do's & Don'ts of Planning Your Wedding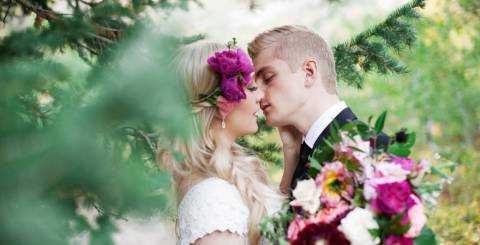 Over the past few years, weddings are becoming more gorgeous. From breathtaking flower walls to over the top food stations, personalised bars to the themed after parties, new wedding ideas and trends are coming up every other week. The sheer volume of things and details to consider when planning a wedding is enough to confuse the most seasoned event planners. Many times things don't go as planned and the big day of the couples life is tarnished, well worry not, we have a list of do's and don'ts to help you ease your stress and navigate you through some of the big mistakes when planning your perfect day.
Do: Think twice before deciding to DIY it yourself
For a creative bride, DIY is a great solution. As it allows you to cut down on your wedding costs but also allows your creative flair to bloom. But you need to be warned as not everyone can pull it off.
Professional photographers, designers, florists are there for a reason. Their values cannot be underestimated and will become apparent once you see the results. Besides the wedding planning process can get so complex that you won't even get the time to do all the other stuff.
There are always exceptions, like a relative who is a professional photographer or a bride who is a professional baker.
Do: Keep track of your budget
Keeping track of all the expenses is among the most import and challenging aspects of the wedding planning process, but it is something that can't be avoided. Managing the finances well enables you to accurately assign your budget to areas that you value the most. Like you can get a Rolls Royce for your wedding car if you can manage to get some expenses spared in other things.
Do: Delegate the bachelorette party
You already have enough things to worry about and plan, no need to add the planning of your hen's night. Delegating it to the maid of honour or the bridesmaids is the best idea, so you can focus on the million other things that you need to do. This way it will be a surprise and not know makes the whole experience even more fun.
Don't: Forget to rehearse… everything
Making sure that there are no surprises on your big day can go a long way in settling nerves, going through the routine for the wedding day in advance can be a good idea. Go to the venue in advance to familiarise yourself with it, try on your dress and walk around in it to make sure it fits right. Ask your Bentley hire service to bring the car for a quick rehearsal. Rehearsing and preparing will help make things go smoother on the biggest day of your life.
Don't: Forget the small details
The small details usually are rushed or forgotten altogether during the stress of a wedding. The most obvious place to start are the centrepieces, crockery and linen. Simply add a handmade touch by giving out the menus inscribed with calligraphy, or cover the tables with candles to create a more intimate setting and many other things like this to personalise your wedding.
Don't: Forget to enjoy yourself
This is your wedding, and it is supposed to be an enjoyable and memorable experience for you. So, if you do only one thing on your wedding day, just make sure it is to enjoy yourself. Feel free to smile and laugh naturally and as often as you can. It is essential to be in the moment and take the time to enjoy yourself.
It usually is the best idea to delegate things to other people or professional, this will lower your burden and will allow you to set your focus on more important things. Like going with a wedding car hire can be a good idea as then you don't have to worry about transportation.