Complete Regimen for Maintaining Healthy Skin Even in Your 40s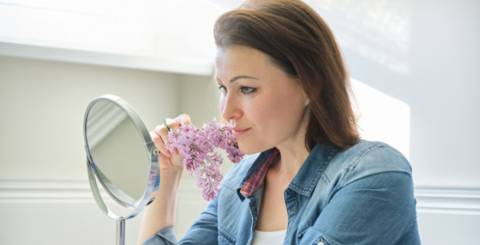 https://image.freepik.com/free-photo/portrait-middle-aged-woman-with-make-up-mirror_116407-4831.jpg
Abstract
Taking care of your skin is much more important than covering it up. Either females or males, skin health is important for both genders. Maintaining healthy skin usually requires a lot of sacrifices. But if you want a skin texture that doesn't need any filter then these sacrifices are worth it. You should invest in your skin because it is going to represent you for a long time and in addition, it reflects your overall wellness. However, skin health is affected gradually with age. Especially in females nowadays, after the age of 40 years, a particular pattern of skin health degradation is seen. Not only in women, is skin health badly affected in men too as the age increases. Yet we know aging is a fact but looking according to our age is our own choice. We must remember the mirror of our health is our skin.
Introduction
After 40 years of age, both males and females observe some gradual changes in their skin. Such changes include wrinkles, losing firmness of your skin, your skin becomes two times drier than usual, changing of your facial structure, the glow on your skin will gradually diminish, female skin will get easily irritated, the itching will be noticed especially on bony prominences, the appearance of irregular moles, the yellow undertone of skin, your skin will be more prone to severe sunburn. Some people may also notice capillaries breakage under their skin resulting in the occurrence of red spots on the skin. The appearance of all these skin issues can take place gradually or can be observed instantly due to a sudden change in lifestyle, diet, or under any kind of stress.
Causes
Reasons can be many but the exact cause for this is age. After 40 years females especially face a lot of skin problems because of the hormonal downfall. Estrogen which is very important for maintaining the female body slowly starts falling down due to the onset of menopausal changes. Decreased levels of this hormone in the female body bring a lot of changes in the menstrual cycle as well as in skin condition. Other causes include smoking cigarettes in excess that increases the free radical amount in the blood thus affecting skin condition very badly in both males and females. One more common cause affecting both males and females equally is drinking alcohol. Drinking alcohol in excess affects every system of the body very badly.
In Ayurveda, it is said that excessive madirapan (alcohol intake) results in ojakshya. Ojas is believed to be the basic source of immunity and is formed as a utkrisht teja of dhatus (final product from the best form of body fluids).
Oajs is having ten properties that are totally different from or opposite from the properties of alcohol (madya). The Ojas is believed to be seated in the heart of every human. When madya have entered into the heart it counteracts the ten properties of ojas. Madya possesses ten properties like light, hot, sharp, finely entering, sour, quickly absorbed, quick-acting, rough, depressant, and non slimy. On the other hand, ojas possess properties of heavy, cold, soft, smooth, viscous, sweet, stable, clear, slimy, and unctuous.
The heart is believed to be the seat of rasa channels, intellect, senses, self, and primary ojas. Excessive drinking and consequent damage of Ojas give rise to many immune-deficient conditions in the human body resulting in complete loss of skin luster. Other causes like stress, lack of sleep, anxiety disorders, overthinking, etc. result in complete loss of skin health.
Things to do that can prevent you from the early onset of diminishes skin health
Avoid smoking.
Limit the use of alcohol.
In females, strictly following sutika paricharya (regimen to be followed after child delivery)
Avoiding stress
Exercising at least five days a week.
Avoiding the use of beauty products in excess.
Eating healthy like green leafy vegetables which are rich in vitamins that are important for healthy skin.
Giving at least one hour to yourself (understood as 'me time' nowadays)
Limiting exposure to the sun.
Having an adequate amount of sleep
Complete Regimen for Maintaining Healthy Skin Even in Your 40s
This regimen can be introduced by both males and females even before starting their 40's.  This regimen covers Ayurvedic aspects that must be followed by people of all age groups in order to maintain a healthy body and healthy skin. As mentioned earlier our skin is the mirror of our health.
Regimen
This regimen is said to be followed because it helps you in maintaining hygiene, brighten the indriyas, strengthen the body, promote health and longevity, and keeps the mind at peace and harmony. These things are very important for attaining flawless skin.
1. Awakening Early in the Morning
One who is willing to have a healthy body should get up in brahma muhurta (approx. 45 minutes before sunrise) and should analyze the digestion of food taken the previous night. Natural urges should never be suppressed as they lead to dosha vitiation. Usually during Brahma muhurta environment is clean without many pollutants, the air is clean and the atmosphere is pleasant. The absence of noise brings to mind.
2. Intake of Water
After passing, stool and urine one should sit down with an erect spine and sip luke warm without making any noise and without spilling water. Intake of lukewarm water improves digestion and prevents ama accumulation. This water should be devoid of bad, odor, froth, and alkalinity.
3. Collyrium
It is called Anjana. This is done to enhance the health of the eyes. It should be applied daily. One should widen the eyes with the left hand and apply collyrium with shalaka by using the right hand and vice versa. It should be applied from inner canthus to outer canthus.
4. Nasal Drops (Nasya)
The nose is considered as the entryway for the head and medicine used in the form of nasal installation. Regular use of this helps in maintaining mental health and reduces stress.
5. Exercise
The action which produces tiredness in the body is vyayam. In Ayurveda is understood as the physical activity, which enhances the strength of the body, when performed in the required amount it is called vyayama. It is the best way to enhance your physical strength. You can include running, yoga, or weight lifting static exercises in this.
6. Massage
It is called abhyanga in Ayurveda which means moving towards the dhatu. In this procedure, oil applied on the skin not only nourishes the skin but also nourishes the dhatus. It is very good for the skin and one should do it daily to maintain skin health.
7. Udvartana
Udvartana is a process that helps to decrease fat (meda), makes the body strong, and gives an excellent good, and clear complexion to the skin. Udvartana is basically a massage with powdered herbs.
8. Bath with Hot and Cold Water
Hot water baths should exclude the head region. In winters lukewarm water can be used to wash the head region. Coldwater bath constricts vessels proving to be very good in case of capillary leakage.
In addition, applying various face packs, body packs from time to time improves skin health. Face packs can be made at home using besan, tomato, turmeric, curd, lemon juice, etc. and packs of Multani mitti are also beneficial for oily skins. Stress should be avoided as much as possible and diet should not include junk food, heavy food, and fried food. Eat as simple as you can to live an extraordinary life.
Conclusion
We are what we eat, we are what we do. We have to understand that the start of healthy skin at any age starts from a healthy body. That's why skin is called the mirror of the body because it radiates what we are eating and what we are doing with our body. If someone loves their body then he or she doesn't have to worry about their skin because it will be automatically maintained