Comparison Between Composite Shutters and Polywood Shutters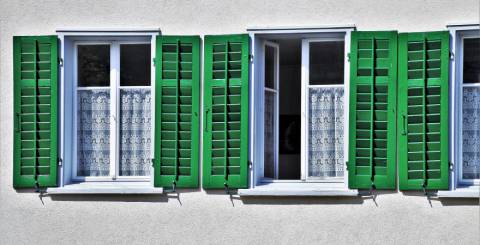 Shutters are an ideal addition to revamp the look of your homes. It adds as a perfect protective covering to your house and keeps intruders at bay. A good shutter always maintains an optimum temperature inside the house and thereby cuts down electricity bills to a great extent. Your home gets a complete stylish look by the addition of the right shutter to your homes.
There are different materials and styles available when it comes shutters for the interior or exterior part of your home. Common materials include wood, vinyl, metal, composite, fiberglass, and others.
Bring warmth and enduring beauty to your house with composite based shutters
For people looking for high-quality shutters with an authentic look, shutters made of a composite are highly preferred. These shutters are made from high quality, solid core composite materials with an automotive grade finish that can stand the test of time. A perfect alternative to wood shutters that require frequent maintenance, painting, and scraping, composite-based shutters are a perfect combination of strength, stability, and style. '
Made from engineered materials that can offer versatility and durability, shutters made from composite are an affordable attractive alternative. With the same look as that of a wood or vinyl shutter, composite-based shutters are usually manufactured from the pressed-board core which is wrapped in polyvinyl. An ideal alternative to hardwood shutters, composite shutters will work well with your family's active lifestyle. These are scratch resistant, humidity resistant and washable thus making it less prone to damage from environmental effects. So, if you are looking for a rustic look or an elegant
Polywood shutters: Gaining popularity these days
Engineered from a solid polymer, polywood shutters offer the look and feel of wooden shutters. Polywood shutters look good in both contemporary and traditional homes. So, for people that tend to attain a soft furnishing look to their homes, polywood shutters are an ideal option. These shutters are tough, rigid and can stand against overheating, dampness or windy conditions. Even after many years, polywood shutters is expected to be fresh and rigid at the same time. This material will not get damaged or rot even after it comes in contact with water. Also, these shutters require no extra cleansing tools. You can clean it just with a piece of wet cloth. The design of the polywood shutters can be customized according to your needs. Other shutters come painted so it cannot be customized. But polywood shutters can be painted according to the style of the house.
There is always a constant controversy as to which is better between polywood and composite based shutters. Some of the below points would help us to understand the difference between these two materials.
Durability
Usually, composite shutters are made from the pressed-board core.  It wraps in poly-vinyl. The vinyl material can peel off eventually from the pressed board. This peeling can even happen fast in hot, wet and humid environments. Whereas, polywood shutters are manufactured from solid polymer and known for their durability, rigidity, and color retention. This material will also not chip over time. Heat is considering as the main element in cracking shutters. Polywood is also built with UV inhibitors which can divert heat efficiently. So, polywood shutters can be considered as a better option in terms of durability.
Color retention
Composite shutters always come with low-quality paint finish. Some shutters made of composite won't even have any paint finish at all. The vinyl covering is the final color. Though this finish will look initially it will fade with time. Whereas, polywood shutter colors include three premium white paints. The painted finish also includes UV inhibitors which assure that the color will never fade.
Energy-efficiency
Polywood shutters can reduce heat transfer by 45% and also block temperature at the same time. It acts as a perfect insulator and 70% better than a wood shutter. The insulative properties are because of the solid polymer material. This sets it apart from a composite made shutters that are not that energy efficient. So, if you are looking for energy efficient option, then polywood shutter is a good alternative.
So, when it comes to comparison between composite shutters and polywood shutters, polywood is a much better alternative. This can perfectly add the right dash of style to your home and offer a revamped look to your home. You need to look for the right shutter manufacturer who can understand your needs and offer you with the most appropriate shutter. Recently, polywood shutter is widely popular because of its durability, strength and classy look. So, if you are looking for a rustic look, contemporary look or a traditional touch to your homes, similar to that of a wooden shutter, polywood shutters can entirely suffice your requirement.