B2B eCommerce: Key Factors the Chemical Industry Must Keep in Mind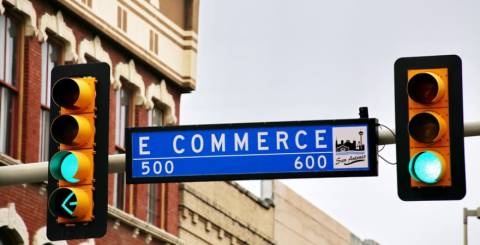 You remember the times when you had to go out to buy, well, everything? Groceries, clothes, furniture — everything required you to step out of your house and go through the shopping process. Then came along e-commerce. Today, you and I can order virtually everything off the internet. Stationary? You got it. Shoes? You can buy a pair from a brand on the other side of the world if you want. You see, e-commerce is omnipresent, making everything accessible like never before. And this isn't limited to just run-of-the-mill products; i.e., the concept of e-commerce has made inroads even into industries one wouldn't typically associate with it. Case in point: The chemical industry.
Much like any other business globally, the chemical industry has continually struggled with its own unique sets of challenges. Of course, the need for advanced technologies isn't driven just by problems. The industry is facing — the requirements of the sector also buoy it, conditions of the customers it serves, growth targets, and so much more. This is why the chemical industry has now slowly started to diversify into B2B e-commerce as well. At the same time, e-commerce has given it access to a bigger target audience of end consumers. With B2B e-commerce, they can also tap into the potential of engaging with other businesses. You see, quite like an average customer, nowadays companies too want the convenience of executing their purchases online. 
This is not the only reason why more and more companies in the chemical industry are turning to B2B e-commerce. Check out some of these other reasons why your company too should embrace it.
    1. Bigger audience: The moment you bring your business online, you gain access to a substantially bigger audience base. You can tend to the requirements of companies worldwide and not just of those in your city or country. However, for this to be a success, it is vital you take the time to know and understand the rules and regulations. This governs the purchase and sales of chemicals in the countries where you intend to offer your service. Pay close attention to any banned chemicals, weight- or quantity-related requirements, etc.
    2. Leverage the prevalence of mobile e-commerce: Everyone is on mobile now, hence the reason for the extraordinary popularity of mobile eCommerce portal development for the chemical industry. What's more, a B2B e-commerce store is readily available on mobile as well. It gives younger business owners access to their mobile phones and devices for their daily operations. To ensure this, one must make sure that the business' e-commerce website is mobile-friendly and offers a responsive web design. 
    3. Customisation is vital: E-commerce platforms and websites are incredibly agile solutions, meaning they can be quickly adapted to be entirely in sync with not only the business' unique needs but also of the customers it seeks to serve. So, if you too want to offer your customers complete freedom while placing orders, i.e., select exactly what they need, request customizations, and more ensures that your e-commerce platform is adapted in such a manner that it can allow those requests to be processed seamlessly.
    4. Improved customer service: Empowered by advanced tools and solutions, e-commerce portals also help companies in the chemical industry deliver incredibly better shopping experiences to their customers.  To achieve such customer service levels, though, you will have to see to it that your platform is fortified with other systems such as CRM, ERP software, etc. since they can automate billing, tend to customer service requests, and more in a substantially better way.
Selling online, especially in the chemical industry, may seem like an uphill task. But with the sound strategy and expert guidance of a trusted service provider, it can be as easy as ABC!