The Art of Storytelling to Drive eCommerce Conversions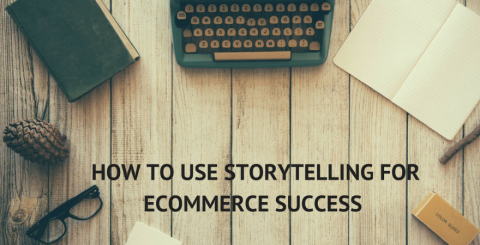 2016 was a banner year for the eCommerce sector. Online sales reached $394.86 billion last year, a 15.6% increase compared with $341.70 billion in 2015. This has been the highest growth spurt since 2013 and eCommerce is expected grow exponentially by 2020. As more businesses and retailers acknowledge that the web is where the action is, competition becomes more brutal. Small and medium e-tailers are looking at innovative ways to stand out from the crowd. The role of content marketing has never been more important. From dynamic content personalization to the rise of video, to shopping key influencers – content marketing has taken an aggressive role to rise above the clutter.
One way of cutting through the noise is to give your brand a personality and engage in storytelling. While storytelling is not a new concept, it has become the darling of social media pundits and content marketing gurus over the past couple of years. Why? Because everybody loves a good story. Whether it is your corporate site, investor relations website or your online webstore – you can tell a better story to engage with your target audience. So how can eCommerce websites leverage storytelling? Let's take a look:
Watch the F-pattern
Research has shown that website visitors scan a web page typically in an F-pattern to look for the best parts. Customers begin by glancing at the top nav and top half of the page and then by looking down to the side. As soon as they find something of interest they start to read the text – completing an "F" pattern of sorts.
Webmasters and content marketing teams thus format the text on the webpage such that the titles and "hooks" fall in the F-pattern. The first two sections use attractive keywords that communicate an idea. By following the visual psychology of reading and aligning your content design, you increase the readability, comprehension and appeal of your web page.
Storytelling on the home page
It is tempting to cover your home page with product and merchandise information and marketing pitches. But some of the better eCommerce websites take a simple visual or video to hook the audience and then draw them in. Home pages that open with a single, unique and exciting story (be it a visual or textual) tend to make a better impression on the audience.
Take for instance, the home page of Le Creuset – the premium French cookware manufacturer celebrated for its colorfully-enameled cast-iron cookware "French ovens", also known as "casseroles" or "Dutch ovens". Their eCommerce site built on Magento, opens with evocative visuals of their bakeware with the simple 90th anniversary logo and their iconic flame orange enameled ovens. The home page has it all effective visualization, storytelling, nostalgia and an opportunity for visitors to share their favorite colorful Le Creuset cooking stories with a link to a website specifically created for the 90th anniversary milestone. The experience is at once immersive and engaging, drawing users to check out both the products and also the "90 YEARS OF LE CREUSET" website.
Not all eCommerce sites may have a significant history but all businesses have a story to share. Use the visual elements of the website to encourage visitor participation and speak to the reader. Create a unique voice through vocabulary and sentence structure.
Storytelling on the About Us page
Retailers may have some reservations about making a bold statement on the home page or using storytelling tactics up front. IN that case, the About Us page presents an opportunity to be creative and share your vision without being too adventurous. New and lesser known brands should especially pay particular attention to this page of their website. For skeptical or reluctant first-time customers, the About Us page is the only avenue to find the brand's voice and persona.
Analytics show that the About page of a website is quite often among the top three pages visited. Because of the traffic volume it has a high conversion potential, so it should tell an immersive story using the classic narrative elements of the origins of the brand, the objectives, challenges and a takeaway message.
Storytelling on the product landing page
The product pages should do what they are meant for. That is sell merchandise. But many a times the product is much more than a piece of inventory. Look closely and there may be interesting stories behind some unique products, about their sourcing, craftsmanship or the communities they support.  For example, read the story of this startup that grew 600 percent by telling the story behind its unique products.
Spreading tales socially
Use every opportunity to share your unique product and service stories not just on your eCommerce website but on social channels like Instagram, SnapChat, Facebook – where the medium is conducive for narration and you have a captive audience. The power of an integrated storytelling approach can make all the difference to your brand's success.
And finally…
The human brain is wired to activate the sensory and motor neurons when they hear a story in any format. So when your customers read your stories, they begin experiencing them and the brand gets encoded in their memory. Storytelling is a powerful tool for marketing and branding and with the right CMS platform you can optimize the techniques. Many Magento expert developers in India have experience in creating such rich and informative user journeys on eCommerce websites.  Consult a professional eCommerce development company to find out how to share your unique tale. Do you have any ideas about incorporating storytelling practice online? We would like to hear your ideas in the comments section below.