8 Tips for Buying the Right Dining Table and Chair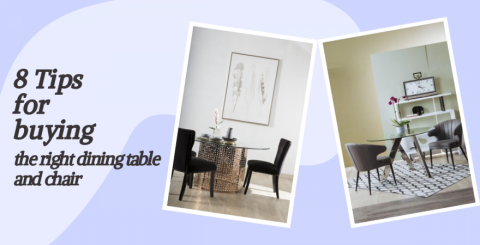 https://www.koalaliving.com.au/collections/luxury-dining-tables/products/alice-dining-table-clear-glass
Is it becoming difficult for you to choose the right dining table out of so many sizes, types, and sizes available in the market? The right dining table for your home is the one that is within your budget, fits your space and has the style which reflects your personality.
A dining table is a place where family members can have a heart to heart conversation and a place to make memories. And above all, it's a huge investment for most people. If you are planning to buy a dining table and are still confused about where to start, let the below-discussed tips be your guiding light.
1. First Thing First, Measure the Space
Your dining table should allow diners to sit comfortably and also leave room to walk around it. This means that you should not only keep the size of your table in mind but also leave a three feet gap around it.
Not just that but you should also keep the visual weight of the furniture in mind. You might think that a table would fit your space by looking at it but in reality, it might just end up covering all your space after hauling it home.
So how should you proceed?
You should start by measuring the floor of your dining room in its real dimensions. You can use stools and tables available at your home just for a sense of height. Having correct measurements of your dining room size can help you create a pseudo-replica easily.
2.   Settle down on the shape of the dining table and chair
So, you have taken the measurement of your floor. The next step is to consider the shape of your dining table based on your needs. You will see rectangular and square tables are the common ones and you can be spoilt for choice for sizes and styles under this category. But an oval or round dining table can provide you more space to move. This shape can cut off the corners and still offers a great surface area. For example, if you have a rectangular space available in the room then go for an oval-shaped dining table.
3. The material of your dining table
Don't worry if you don't have much knowledge about the material and finishing of furniture. We are here to help you choose the right material in your budget and preferred style.
a. Wood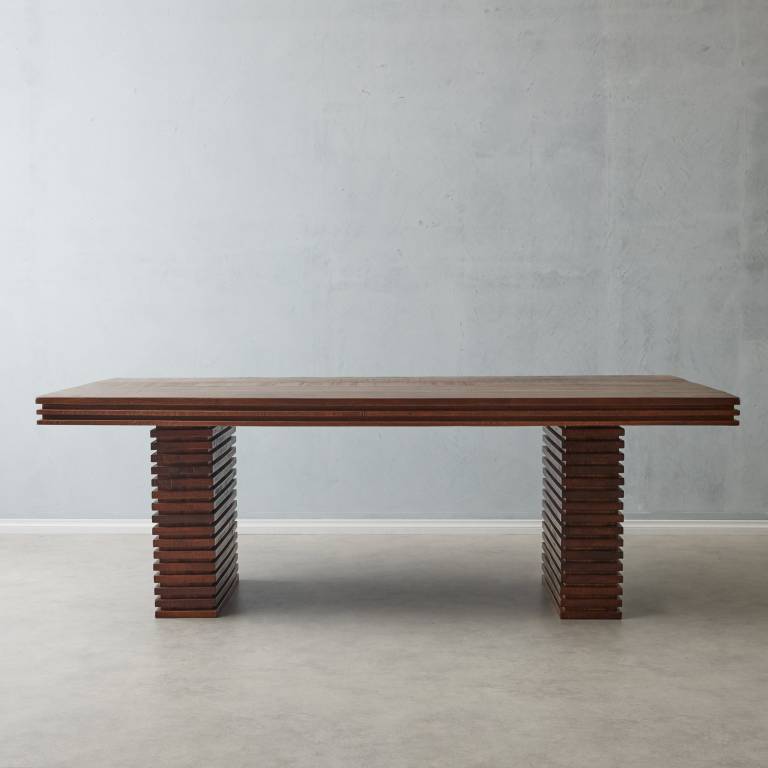 For people who want their dining table for a long time, go for a solid wooden table. The wood material is available in satinwood, teak, shisham, rosewood, and pine.
Advantage:
The solid wood is durable and stronger than MDF or plywood.
Disadvantage
Easy wear and tear due to expansion and contraction caused by humidity or heat.
Costlier than other materials
b)    Stone
Do you want to add sophistication to your space? You can buy stone table tops that come in composite, marble, quartz, and cement. These materials have high maintenance and need frequent cleaning and resealing.
Advantages:
They are sturdy and durable
Disadvantage:
​They can absorb stains easily as they are porous
Not easy to restore
Some stones can be really expensive
Gets cracks and chips easily
c)    Glass
Glass offers you a wide variety of options, right from stained and frosted to clear and tinted glass. If your dining room is low on light, then a glass table is the right option as it can fill your entire room with the reflection.
Advantages:
It can last long with proper maintenance

Glass is economical

Disadvantages:

It can crack from heat and reveal fingerprints and stains easily
d)    Metal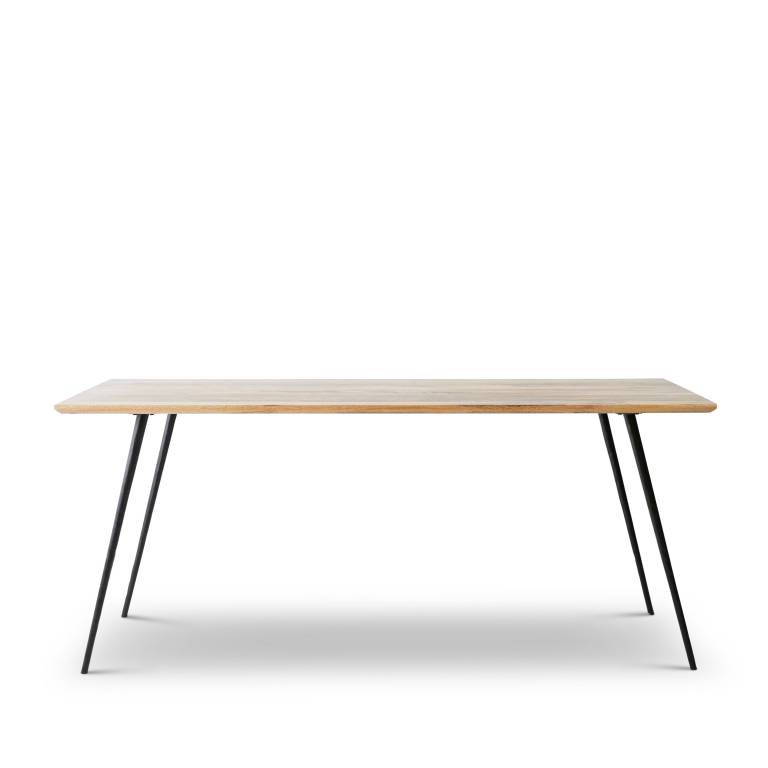 It is a durable and sturdy material for table bases and comes in different materials like zinc, stainless steel, and brass.
Advantages:
It can't be damaged
Cheaper than wood
Disadvantages:
Special cleaning tools required
​Can reveal fingerprints and smudges due to a high shine
Can't be repaired easily
 
e)    Laminate
It is used to decorate a layer for materials like MDF or plywood. These dining tables are not durable but are affordable.
 
Advantages:
Do not require much maintenance
​It resists staining
Disadvantages:
•    Considered as low-quality
4.    Time to Consider your requirements
The size of your dining table should depend upon the requirement that your dining table will serve. Are you planning to use it to entertain your guests or to serve meals at the family home? Additionally, how many people do you want your table to host at least? You can begin to select your dining table after ticking off these requirements
Quadrilateral Dining Table: It offers shorter space at the two sides and only one person space at both the ends.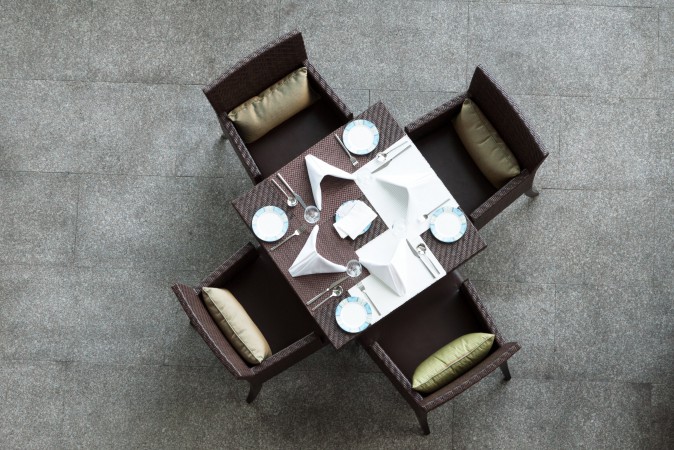 Elliptical or Circular table: This type of shape can accommodate chairs around it easily. This is a great option for a larger family or for people who love hosting dinners.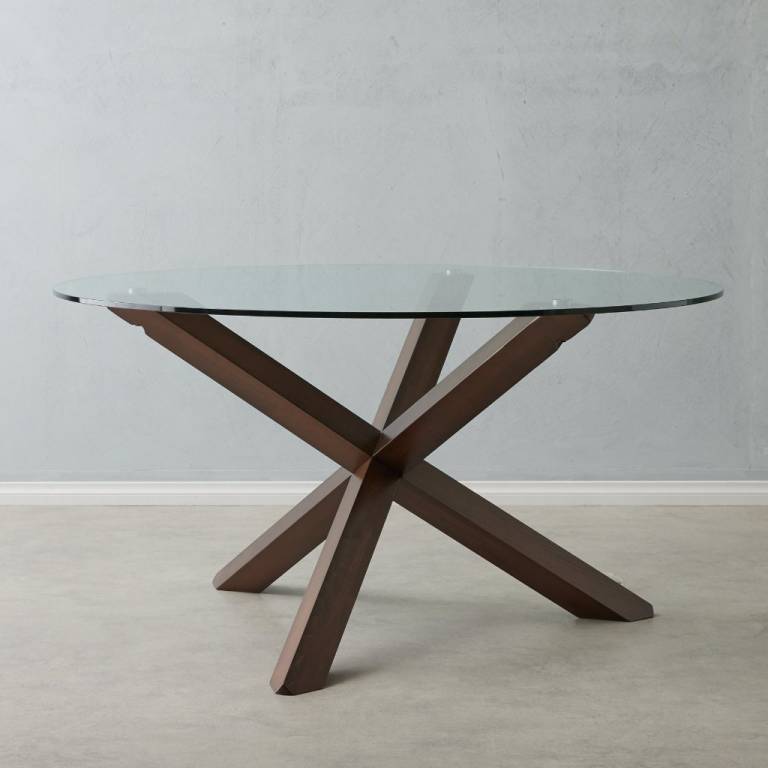 5.    Determine your Budget
The price of a dining table is based on factors like size, styles, materials, and craftsmanship. If you are working on a tight budget, then divide the category into must-have and want-to-haves. Now, if you like a table and it meets most of your checklist then you can make an informed decision.
Just in case you are looking for a bargain, then you might want to go for second-hand furniture. We would recommend you to go for a hardwood second-hand dining table. Such a table is great to give a vintage vibe and for little ones who like spilling on the table. Getting a genuine solid wood table isn't easy to get, so be ready to go through several shops before you buy them.
6.    Keep Aesthetic into Consideration
It's crucial to consider the design of your dining table. It should match the aesthetics of your house. You can choose from eclectic to shabby chic design, classic to contemporary style to maintain the decor of your home.
7.    Maintenance is must
Do you want a low and easy to maintain dining table? In such a case, you should prefer glass and wooden material. And the construction of your dining table also plays an important part. The wise thing is to look at the joints of your table. If you want to have strongly built tables, then look for a wooden joined table. A table that reveals gaps needs more maintenance.
8.    Color coordination is a must

It feels good to have some vibrant color dining table but one should always try not to be too colorful as it can make it look out of style. Home décor is evolving and if you can't blend your aesthetic then it might turn into a disaster in just a few seconds. Some of the safest colors are red, yellow, and blue. These colors can endure over the years.
So whatever your dining table choice are, choose it considering the style of the dining room and the budget as discussed above. Hope these tips will help you choose the right dining table from the different types of dining tables and chairs available.​​