7 Best Affordable Destination Wedding Locations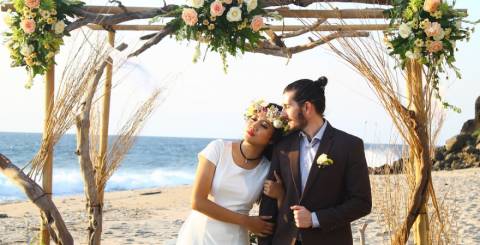 So you want a beautiful, tropical destination wedding but don't quite have the budget to be lavish? Planning a wedding is a huge undertaking. Besides the venue and budget, there are details like entertainment, food, and accommodations for all your guests. Is it realistic to want a wedding with palm trees, sandy beaches and a stunning backdrop of rugged cliffs?
Affordable tropical wedding destinations are possible if you do the research on airfare, hotels, and food. There are a plethora of destinations that can serve as a perfect wedding spot. However, before selecting a place, think about airfare as this will be your biggest expense outside of the actual wedding package. A destination wedding close to you will help keep costs down.
Additional tips for keeping it low include travelling during the low season and keeping a small guest list. If you can keep the wedding package minimal, there are many beach towns that offer breathtaking landscapes, white sandy beaches, and cheap packages. Here are some top affordable destination wedding locations to consider:
Negril, Jamaica
Escape to this romantic resort town for beach sunsets, reggae and jerk chicken. Negril is the "capital of casual" so you'll do well if you aim for a gorgeous, laid-back wedding on the white sands of one their pristine beaches. After the wedding, let your guests feast on curried goat, oxtail stew and meat patties while watching the sun go down. Some resorts like Sandals offer free weddings if you stay at their hotel for a minimum of three nights.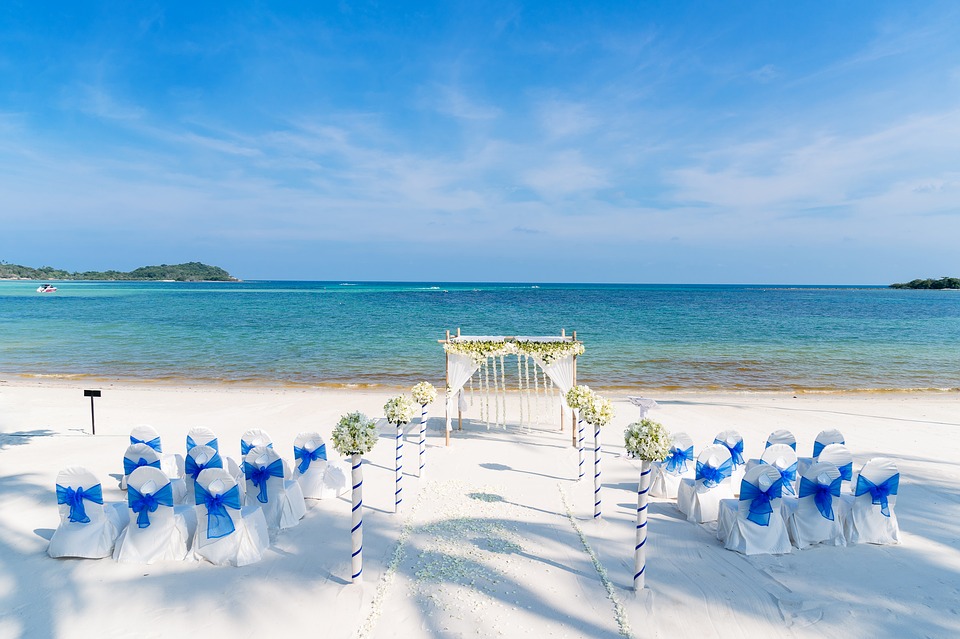 Koh Samui, Thailand
You'll probably see Koh Samui on quite a few lists of "most affordable destination wedding locations" as the exchange rate is 1 dollar to approximately 32 Thai Baht. The resorts and hotels are comparatively cheap, which opens you up to a variety of possibilities. You can pick family-friendly resorts, boutique resorts or something quirky in the three-, four- and five-star range. Koh Samui also offers resorts with semi-private beaches, if privacy is key for you. There are Koh Samui beach wedding packages that have everything is taken care of for you, not including airline prices to get there. It starts at roughly THB 50,000 Divide that by 30 and you'll see why it is economical to have a wedding here.
Phuket, Thailand
Phuket's rugged rock formations and sandy beaches can be a perfect backdrop to a dream wedding. Like Koh Samui, there are many wedding packages offered at different resorts. The prices are cheap so it's worth looking at what each package offers, as they can take care of legal and technical issues that you may not be aware of. As Phuket is one of the popular places for summer vacation and it is also a great place to get married during offseason, make sure you find people who will do the job right and not overcharge. A private beach wedding starts at roughly $1,800.
Denpasar, Indonesia
Denpasar, Indonesia, offers more than just a picturesque beach with white sands. There is the Pura Blanjong temple, the Bali Museum and the incredible Buddhist history the country offers. A three-star hotel will cost roughly $45 a night, so a wedding here can be quite economical. As for wedding packages, a small private wedding on the beach will cost you roughly $2,500.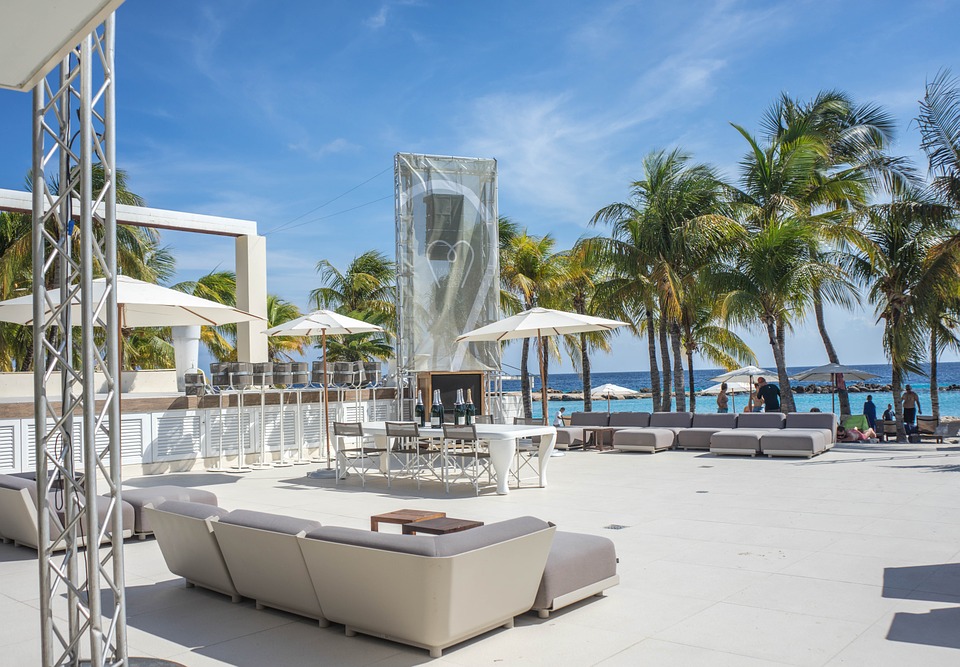 Curacao
In Curacao, you'll find a ton of history packed within its winding streets. If you like the international flavour of Dutch, Caribbean and South American, you'll enjoy having a wedding here. Curacao also has 35 beaches, each offering up something different. If you're looking for crystal-clear waters, choose Playa Knip. For something more intimate, there's Playa Lagun. For a wedding price tag of $5,000, check out the Baoase Luxury Resort.
Los Cabos, México
Best affordable destination wedding locations should include quaint seaside towns in Mexico as one dollar equals 20 pesos. This means you'll get a lot for your money. Consider the Arch of Cabo San Lucas as a beach setting for your wedding or choose the appropriately named Lovers Beach. Before the wedding, or after, your guests can explore the cobblestone streets, knock back some tequila or sample some of the outstanding cuisines. If you're going for an economical wedding package, consider Beach Bum Vacations. They can deliver a package under $10,000.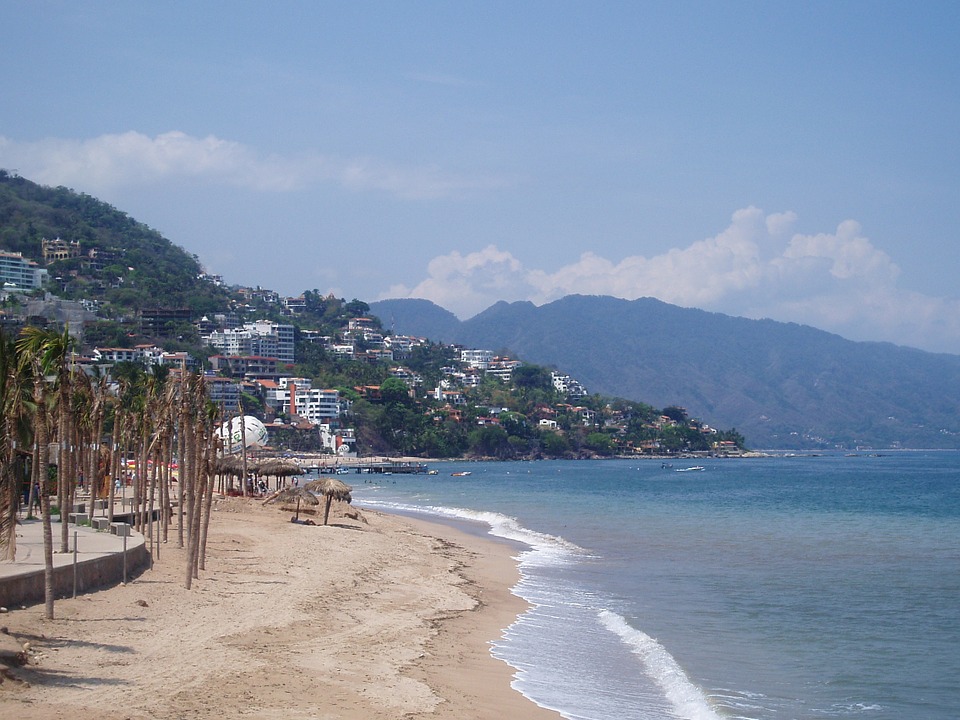 Puerto Vallarta, México
If you're looking for a seaside town that is culturally rich, has cobbled stones, is affordable and offers friendly service, then Puerto Vallarta is a great pick. The weather is warm all year round and the Spanish architecture and Mexican flair for colours give this town enormous character. You can choose the bustling Old Town as your destination or the sleepy, quiet town of Bucerias. Economical wedding packages start at $5,000.
Conclusion
Consider your overall budget (flight, accommodations, meals, etc) and do some calculation to find what would be the best choice. Many other couples have planned cheap destination weddings and you, too, can do the same. Good luck!