6 Ultimate Ways to Improve Your Organic Click-through Rate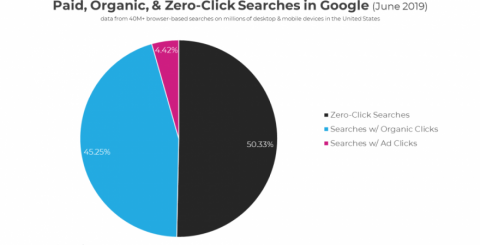 https://sparktoro.com/blog/less-than-half-of-google-searches-now-result-in-a-click/
Over 50% of Google searches resulted in zero-clicks.
Thanks to featured snippets and "People Also Ask" boxes. Other thanks to Google's ability to avail features like Google Flights, Maps, Videos, etc., without bothering users for click.
These days, users rarely required to click the link. That is also when they are in the mood of learning in-depth details or final purchase. Only 45.25% of total search users go to that length.
That means:
Less Click-through Rate = Less traffic.
No wonder, companies are looking for ways to increase organic Google CTR by ranking position #1, #2, and #3.
Organic Click-through rate (CTR) is the percentage of online users who click on search engine result.
Let's say that your keyword ranks #3 on Google with 100 searchers every month. Among them, only 10 click the link. Here, your Organic CTR is 10%.
So why CTR matters?
First apparent reason is high CTR = high traffic.
The second reason is Larry Kim found CTR as a critical search engine ranking signal. Google's engineer reported that they keep watch on CTR to know what results users are looking for, and how to evaluate the quality of search result pages.
It points towards:
High CTR = High rankings = High Traffic
Also, it saves you from zero-click results as an added, essential, benefit.
Now we will learn about how to achieve higher organic CTR  in this clickless age:
6 Ways to Improve Your Organic Click-through Rate:
1. Check Your Current CTR Status
To know where to go, you first have to understand where you are.
Right….
Before you take any measures, check your current CTR status and how users are searching for your site.
Land on Google Analytics first. Open Acquisition -> Search Console -> Queries.
Here you will find out terms (queries) responsible for bringing searchers on your site.
It also says a lot about total clicks, impressions, CTRs, etc.
Go further in Google Analytics on "Landing Pages" where you will find similar data for different web pages.
Analyze the data to figure out which content performs well and which fails to live up to expectations. From there, you have to take necessary steps on less-performing content to improve keywords and in turn, CTR for the web pages.  
Let's make your average web pages more effective for higher CTR.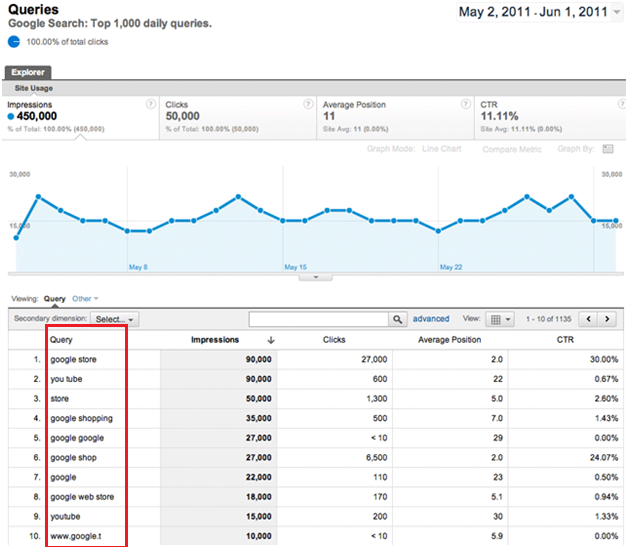 2. Work on Titles
Ahrefs, an SEO tool, changed title tag of its Rank Tracker web page.
Previous one:
Later one:
Later one earned the web page 37.58%  more clicks.
It is the title that users notice first after Google throws billions of results. Vivid and relevant titles are easy to convince users for clicking. Short or random ones do the opposite.
Apply these tips to improve your title tag:
Try Out a Few Titles: Don't you write down one title and hope for the pages to work their magic on users. Tell me how you would know which title catches the user's attention? The only way to find out is to put a few titles on-page and tests them on various tools (more on than later). For now, make a list of few titles to experiment with, later.
Insert Emotions: I typed "how to find your passion" in Google. This snippet, filled with an emotional title made me helpless to click. Emotions or feelings motivate most click decisions. Turn your formal title into an emotional one to gain quick users' attention. Have a look on Smart Blogger's Pack of Emotional Words to increase your title's effectiveness.
Use Lists: Type "25 Ways" in Google and you will confuse which one to choose. All options are click-worthy. List articles are users' favorite as they are easily scannable and tell the users what's in store before they click — users like = Google's like. In short, list-based posts have more chances to steal Google's first page rankings and snippet as well. In our "passion" example before, you will notice that results show list articles with an overview in the snippet.
By now, you must be floating with a good number of titles. And I know you are itching to use them.
Let's test them first to find out which are the best catch.
3. Test Your Titles
You can't put all titles to work. Also, you don't know which ones have attention-grabbing power.
No guesswork here.
Check out a few tools that help you through the title selection process:
CoSchedule's Headline Analyzer and AMI's Emotional Marketing Value Headline Analyzer help you take better title decisions
CoSchedule's Headline Analyzer
Social media platform like Facebook is the only place where you are allowed to post ads again and again. Do it with different titles to notice which one get to the users' heart. Likes, shares, views, and comments will tell you enough details on title's potential
If you have some cash to spare, PPC is another best place to test titles. Also, it possesses sidebars of Google so that title testing would be more comfortable. Generate ads with different titles and check out which ad got maximum clicks.
4. Use Narrative URLs
According to Microsoft's studies, descriptive URLs perform 25% better than general ones.
I typed "how to lose weight in 7 days". Notice the URL of #1 ranking blog with the snippet.

It's relevant to my query. Residing under the "nutrition" category, it becomes a perfect catch for SERPs too.
What if the URL would be something general like:
www healthandfitnessformula com ›Health & Wellbeing
Do you feel any urge to click it?
No one does.
By the way, I copied that from the second page of Google - a graveyard.
5. Give Best Shot to Meta Description
Meta description is the next convincing factor after Title. URLs are for search engines, and sometimes for users as well. It is the Meta Description that gives a final signal to users for whether they should click or move on to the next search result.
To find out the difference between a good and a bad meta description, I searched for terms "where to start with marketing" in Google.
This one came first (a good example)
And this one came last (a weak example)
You know the rest.
Follow these tips to write a click-worthy meta description:
Tell users what to expect from the content
Set custom and relevant meta description for each post and web page
Wrap it up with emotional words
6. Set Schema Markup
Schema Markup is a type of microdata used to create an enhanced description (also known as rich snippets) that appears in the search results.
Check out different examples of schema markup.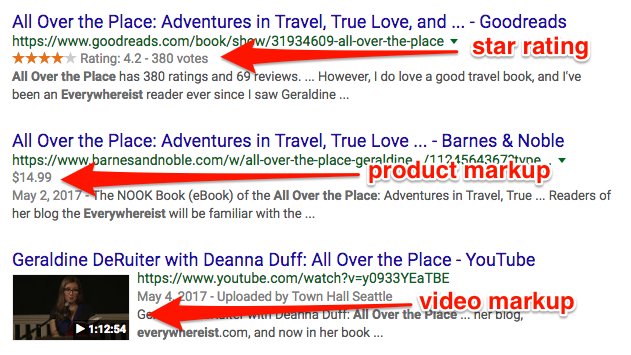 Ratings, reviews, time, or any additional information is considered as schema markup.
Schema Markup tells SERPs about the site and its content. It works like a "virtual business card" as a company displays all its relevant information to searchers.
Let's say you have announced an upcoming event and you are inviting users all across the web. Setting Schema Markup with details like what the event holds, when it will take place, how much it will cost, etc., guide SERPs about what you are up to. It also helps users interpret better which increases their curiosity to know more and click more.
Start at Google's Structured Data Markup Helper to set your Schema Markup.
For Now and For the Future
For better organic CTR, focus more on how Google displays results and work on your web pages accordingly. If Google is interested in showing Snippets, make sure your content has the snippet-ready answer to claim Google's first spot. And so on. This way you make your website ready for trends and future challenges of search engines.