6 Tips for People Buying a Ride-On Toy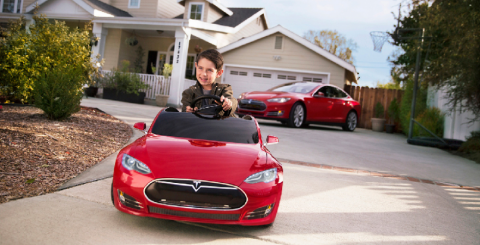 https://tesla.radioflyer.com/skin/frontend/blank/buildatesla/images/boy_riding.jpg
Ride-on toys are rapidly becoming one of the most popular toys that kids ask for. Made to excite the imagination and inspire creativity, ride-on toys can be as simple as wooden rocking animals or as complicated as electrical kids ride on cars. Bicycles, tricycles, and scooters also belong under the umbrella of ride-on toys.
You've got to take into account plenty of variables before deciding upon the top ride-on toy for your kid. We can help you eliminate the guesswork involved in fitting the toy to the child. Below are a couple features you should consider in the event that you're trying to find a ride-on toy.
1. Safety
Safety should be your top priority when selecting a toy for your kid. While no toy can be stated as completely safe, you should select one which is full of features that minimise the threat to your child. Ride-on toys are particularly sensitive to this specific problem as risks like falling, crash or tipping are a certain chance of all these toys.
Basic ride-on toys such as rockers and foot-powered toy vehicles ought to be slow and simple enough for the child to stop. Bicycles and tricycles should have a sensible brake. For kids ride on cars, the battery compartment needs to be inaccessible to everyone but adults. Furthermore, there should be added safety features like seat belts and child-proof settings.
Regardless of the type of safety features a toy has, always make sure that your kids wear protective equipment like a helmet that is tough.
2. Power source
The more straightforward ride-on toys are stationary or powered with your kid's motion through pushing and pedalling. On the opposite end are the intricate battery-powered toys that can be maneuvered with a steering wheel.
Consider your child's age prior to picking between which type of ride-on do you need for them. Toys which are child-propelled can tip in case your child's dexterity has not grown to the stage to have complete mastery over their coordination. Never leave your children unsupervised whilst enjoying a kids ride on car.
3. Staying power
Children are fickle creatures, and they are constantly watching out for the next best thing. Ride-on toys are usually pricey, and picking what is trendy and popular now may not be the ideal choice later on. Sure, they would play with the toy today but give it a few weeks and soon the toy will be collecting dust in the closet or the garage.
Elect for a toy with a long staying power. Get acquainted with your child's individual interests (e.g. space, fairy tales, pirates) and use it so as to receive one which you believe that they would like. If your child enjoys their toy, then they're much less likely to become sick of it and throw it away.
4. Balance
Choose a ride-on with an extremely low centre of gravity, as they are much less likely to tilt and trap your child. It has to be powerful enough to support your child's weight and more, and provide ample stability to ensure safe play. Just like picking a vehicle, have your child examine the toy so that you are able to see firsthand its functionality before ringing the register.
5. Age suitability
Some ride-on toys may be unsuitable for your child. Selecting the perfect toy for your kid not merely depends upon your children's age but also the growth of the motor skills like coordination and balance. Wagons and sleds are excellent for ages while rocking toys and self-propelling ride-on should be permitted for children 1-2 years old. Kids ride on cars, bicycles and scooters should be booked for children 3 and up.
6. Size
Elect to get a toy that isn't too large or too little for the own kid. The child's feet will need to be able to touch the floor along with the pedals easily. If your child's legs are touching the steering wheel, then that likely means they're outgrowing their kids ride on car.