4 Tips for Keeping Your Kids Safe and Healthy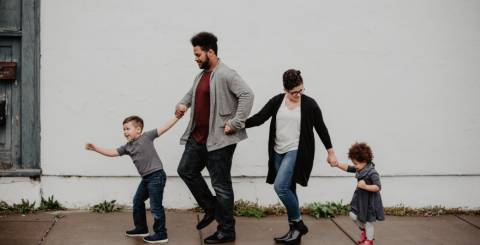 https://www.pexels.com/photo/family-of-four-walking-at-the-street-2253879/
As parents, it's your duty to make sure that your kids are safe and healthy as they are growing up. Though, if you don't have much experience with kids, it can be hard to know what to do to make sure they're as safe and healthy as possible. So, here are some tips for keeping your kids safe.
Make sure they get vaccinated
Vaccinating your kids is vital when they are young as this is going to protect them from diseases like measles, rubella, tetanus, and meningitis, amongst others. Here are the most important vaccinations or your child to get and the ages to get them at:
1-year olds should have the Hib and Meningitis C (given as a single jab), MMR (measles, mumps, and rubella), PCV (pneumococcal), and MenB vaccines. Kids aged 2-11 years old should receive the children's flu vaccine every year, and kids aged 3 years old should get the 2nd dose of MMR vaccine as well as the 4-in-1 pre-school booster.
Keep on top of allergies and intolerances
When your child is young, it's important that you do your best to figure out what, if any, allergies they have. Your doctor can help you determine what allergies your baby might have, though if your baby has a diagnosed food allergy or eczema, or if you have a family history of food allergies, eczema, asthma, or hay-fever, you should be particularly careful when introducing new foods to your baby.
At around 6 months, new, solid foods can be introduced into your baby's diet and should be done in very small amounts so you can spot any allergies. The most common food allergies found in babies are cows' milk, eggs, gluten, nuts and peanuts, seeds, soya, shellfish, and fish.
Have premium healthcare
Although it's every parent's worst nightmare, there will be some point where you're child gets sick or injured. It's an unavoidable part of life, and sometimes these things happen. Although you can't always prevent these things from happening, you can be prepared for them when they do.
For example, investing in family health insurance and finding the right doctor's is essential as this is going to make and hospitalisations or doctor's visits that much easier. It also means that you can get help and advice any time you need it and that you can stay nearby if your child is in the hospital with as little stress as possible.
General safety
It's important that you're doing the little things to keep your child safe in a general sense as soon as they are old enough to understand. For example:
Names, address, and numbers – it's important that as early as you can, you teach your child their full name, address, and an important phone number, such as a parent or grandparent
Emergencies – it's important your child knows how to identify, most importantly, a police officer in case they ever need to
Keep them in sight – make sure they know they should always be in your, or a guardian's, sight
Don't leave them alone – don't leave your kids alone
Safe places and people – make sure your kids know about safe places if they ever get separated from you, such as information desks, police officers, security guards, and shop assistants
Stranger danger – make sure you teach your kids not to talk to, or go anywhere with, anyone they don't know
Keeping your kids safe and healthy is the number one priority for any parent, and these are just a few of the ways you can do that. With these and numerous other tips and tricks under your belt, you can rest assures your child will be safe and healthy in the years to come.