5 Ways to Cut Costs in the First Year of Your Startup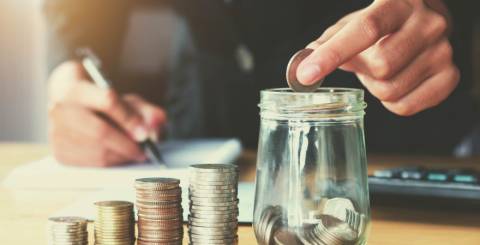 https://www.istockphoto.com
The first year of a startup can be the toughest. In fact, between 1994 and 2015, an average of 60 percent of new businesses died in their first four years, according to the Bureau of Labor Statistics. But your enterprise doesn't have to follow this trend. If you manage your finances well and cut some business expenses, you can create a money buffer to get you through—and beyond—the first year. To learn how, read about the following five problems for new businesses and the solutions to each issue.
1. Problem: Missing or Wrong Team Members
According to CB Insights, 23 percent of startups fail because they don't have the right teams. Low motivation, lack of expertise, and disharmony sink a startup almost as fast as a cash flow problem.
Solution: Hire carefully, with a focus on the right roles, mindsets, and skills. For example, if you lack strong accounting abilities, employ an accountant. Entrepreneur contributor Sujan Patel explains, "A good CFO or accountant can save you more money than you'll spend on [them. They hold] you accountable for spending and [help] you plan your investments and understand your return on investment."
2. Problem: Documenting Startup Expenses Inaccurately
One of the top reasons startups fail resides in poor business planning, including neglecting to document and track initial startup expenses. Almost inevitably, owners end up strapped for cash. The problem worsens from there; because the business is less than a year old, the owner benefits from few financing options, which further hampers the company's cash flow and ability to thrive.
Solution: Document your expenses in a holistic business plan. While an online business's costs differ from a brick-and-mortar's, some expenses apply generally: insurance, equipment, financing, technology, research, advertising, wages, etc. If you forget an expense or underestimate it, you may reduce your business's chances of survival after the first year.
3. Problem: Handling the Marketing In-House
Most online business owners include marketing on the budget sheet, but they may either scrimp on funds or try to do all the work themselves. However, even an owner with top-notch marketing skills likely needs to get other things done to keep the business running—and the marketing campaigns and sales funnel fall to the wayside as a result.
Solution: Simon Dlugowski, founder of MySocialNerd, recommends startup owners outsource their marketing in the same way they do with their legal and accounting services. "If you wouldn't hire and facilitate a full-time lawyer, why would you do it with a marketer?" asks Dlugowski. "Whether it is for search engine optimization, branding, or social media marketing, there are companies with a staff of experts who can service your business for half the cost of an employee." 
4. Problem: Purchasing the Wrong Type of Internet
Business owners obviously require internet access, whether their business is based online or in a physical location. But some owners think to save on the expense by purchasing a residential internet package rather than a business internet plan. Unfortunately, the choice usually comes back to haunt them in terms of lost business opportunities and decreased productivity due to a poor internet connection.
Solution: Do some research and purchase the right type of business internet for your startup's needs. If your employees work remotely, you want an internet plan that secures endpoints—your staff members and their devices. And, if you're using Amazon Web Services or Azure to store and manage your data, you'll likely want the highest speeds available, a feat best accomplished with fiber-based internet.
5. Problem: Paying for Every Tool Imaginable
"You get what you pay for" is so engrained in business owners' minds that they cringe at the thought of using free tools. However, paid isn't always better than free, especially for the early-stage startup. Paying for everything only constricts cash flow and can set your business up for long-term struggles.
Solution: Sarah Hewitson, co-founder of Neatly, a data-reporting platform for SMEs, says, "Despite the reputation that free tools can get, they're not all bad. Of course there are the obvious ones like royalty-free images and the free version of MailChimp, but there also are free tools out there to help with HR, invoicing, and time tracking."
If you want to succeed as a startup, be smart with your finances. Look at the budget and determine what expenses can be cut or reduced. Then, combine those details with the information above to keep your startup healthy and growing.