5 Things You Should Have in Mind When Choosing a Wedding Photographer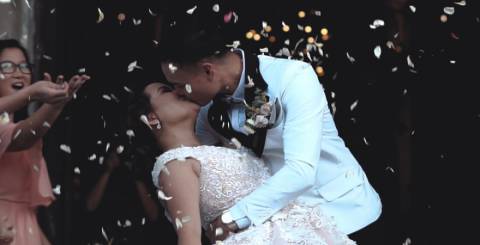 https://www.pexels.com/photo/new-wed-kissing-1311409/
A wedding is a miraculous event that celebrates love and the union of soulmates. Even though it is one of the most important days of any bride and groom's life, a wedding takes a lot of time and effort. From putting together a guest list to decorating the venue and making sure that no one is allergic to the food served on the table, the soon to be newlyweds have a lot to think about. To capture the evening's happenings, emotions, and fun for a lifetime, it is important to make sure to get a professional photographer. The perfect photographer will capture even the smallest moments that will be treasured for years to come. Here are some important things that you should have in mind when choosing a wedding photographer.
1. Start looking right away
As soon as you say yes-start looking for a photographer. Jokes aside, it is crucial that you begin your search for the perfect professional photographer as soon as possible. This is because most renowned photographers book their schedules even a year in advance. To make sure that you get the best quality possible, it is crucial to find someone that will make your vision come true. A good rule of thumb to do this at least six months prior to the actual date of the event.
2. Ask around
An excellent photographer has a reputation for success which might make them a sort of local celebrity in your area. Ask around your town and find out who most people recommend taking wedding photos. Usually, a lot of people might have already gone through their wedding day, and it is not too difficult to find recommendations if you just ask. Also, try talking to your friends or other family members, because they might also be of great help. A reputable professional wedding photographer, Daniel Griffiths, is sure to capture all the precious moments of your big day. Griffiths also specialises in shooting scenes that make use of the natural surroundings. After checking some websites and looking at samples and reviews, you will need to narrow down the options to a few candidates. It is important to consider your wedding budget and whether the photographer can cater to your specific needs.
3. Schedule an interview with the candidates
After finding a couple of candidates that you like, make sure to contact them and make an appointment for an interview. Notify each photographer that they should bring a couple of wedding albums as a sample of their work. It is important to look at their work because you will know what you will be getting and what is expected. Firstly, decide on the style that you prefer. Whether it is serious and traditional, or youthful and fun, it is a good idea to ask the photographer about their shooting style. When examining samples of their work, make sure to pay attention to a few basic things. Some important basics that you should focus on are colour, clarity, graininess, exposure, and composition. Also, are the photos ordinary and "not so special", or does the photographer have an innovative style? Usually, someone who fancies the traditional look might prefer a photographer who does not like experimenting with their work. Getting to know the person that will be in charge of capturing the moments of your big day is important. Since you will probably spend your whole day with the photographer, making sure that he or she has a bright personality and is open to ideas is always a plus. Also, pay attention to the people in the photos. Are they posing in an organic way or does it seem forced? It is always a good thing if the photos seem spontaneous.
4. Discuss the equipment
A lot of soon to be newlyweds think that the equipment has nothing to do with them. Nevertheless, it is important to make sure whether the photographer brings his own backup equipment. Accidents might happen, and it is vital to have a backup available. Also, ask the photographer about the program that they will be using to edit the photos. Someone who does not do any editing whatsoever should not be considered as a photographer at your wedding. Even though most people like the natural look, a little bit of photo editing makes a huge difference in the quality of your photos. By asking about the equipment, you show that you are confident in your ideas.
5. Cost and signing the contract
The final step to choosing a wedding photographer is determining the cost and signing the contract. Before doing anything, carefully read over the legal details. A lot of photographers might not include editing in the packet. Be sure to communicate clearly and set a budget. You should also ask how many hours you get in the packet. By doing all of this carefully, you make sure that there are no unpleasant surprises on your wedding day.
In summary, planning a wedding takes a lot of time and effort. By following these tips, you will successfully hire a professional wedding photographer who will make sure to capture all the moments of the happiest day of your life.