4 Ways Microsoft Dynamics 365 Transforming Healthcare Industry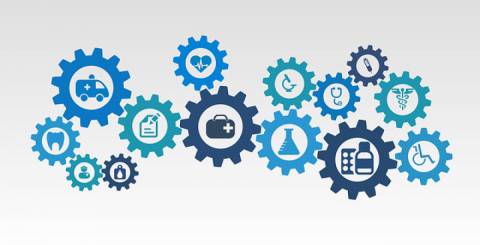 https://pixabay.com/illustrations/health-care-medicine-healthy-2082630/
The need to revolutionize patient care has never been significant than it is today. Every healthcare professional wants to know as much as possible about the vitals of patients to improve diagnosis and deliver efficient treatment. And Microsoft Dynamics 365 has made this feasible for them.
Using Dynamics 365 applications, medical practitioners can get an in-depth understanding of patient histories and habits. Basis these insights, they can have quick communication and follow-ups with patients for better care. As a result, they can achieve better healthcare outcomes at lower costs.
What Microsoft Dynamics 365 Healthcare Accelerator Offers to Medical Practices
Dynamics 365 Healthcare Accelerator helps to develop robust solutions using FHIR (Fast Healthcare Interoperability Resources) data model. It includes facets such as:
In-built Entities- Microsoft Healthcare Accelerator offers a range of pre-built entities, including patients, practitioners, devices, locations, care plans, specimens, medications, and more, to help for the rapid development of healthcare solutions.
Patient Timeline- It displays patient's health records in chronological order. It helps medical service providers to visualize all the interactions with patients and make better decisions.
Compliance- Dynamics 365 healthcare accelerator is fully compliant with HIPAA, HITRUST, and other industry standards.
CDM Support- The combination of health and CDM entities ensures seamless integration to third-party systems such as EMR and EHR.
Ease of Sharing- Care team can easily share the connected view of patients' healthcare data with their family and other related relationships.
How Dynamics 365 Healthcare Accelerator Along with a Better Application of Data Can Improve Healthcare Outcomes
Microsoft Dynamics 365 offers the benefits of a centralized database and automation to the healthcare domain. A robust application with salient features can help healthcare providers to make informed decisions and provide better treatment. 
Let's look at the top ways through which Dynamics 365 drives the healthcare industry.
Data Management
A central repository in Azure to store and manage patient data helps to prevent information duplication. Further, it helps to provide knowledge of crucial cross-functional metrics across teams, including operational, clinical, and financial, to balance their performance. Such information can assist management in easing the workload and engaging staff in other productive tasks. 
Besides, the FHIR model supports data interoperability to build healthcare-specific entities and facilitate data transfer within the clinical systems and across organizations. As a result, medical service providers can improve customer engagement.
Patient Relationship Management
Dynamics 365, as a PRM (Patient Relationship Management) system, facilitates tasks, including patient flow, bed blocking, management of surgical facilities, and more. It helps to eliminate redundant and repetitive processes and nurture a patient-centric approach. For instance, addressing areas such as patient waiting time, experience surveys, and referrals.
Medical professionals can automate tasks such as sending reminders through email, text, calls, push notifications, and more. It will help to streamline administrative work and connect patients and workers in a better way. Besides, it will lower operational costs and improve the patient experience.
Operational Outcomes
Dynamics 365 enables organizations to leverage workflow management capabilities. Role-based workflows help to prioritize employee preferences and reduce overscheduling. It leads to better functional outcomes and improves system efficiency. For instance, an option such as saved orders or recurring shipments helps staff members to order supplies such as stethoscopes and surgical masks with a few clicks, regardless of the contracts in place within the hospital. 
Moreover, referrals between medical professionals, healthcare specialists, and labs help the treating doctor to access the patient's history and provide personalized care. The secure collaborative channel between doctors and patients supports in creating a streamlined referral management process.
Patient Journey
In the era of value-based care, data interoperability is essential. The ease of sharing and access of the operational, financial, and other clinical data to authorized users help to optimize staff reimbursement, provide quality of care, and improve patient satisfaction. 
Microsoft Dynamics 365 offers the Power BI tool. It helps to monitor, visualize, and share data. A BI-powered analytics system allows health organizations to get a better understanding of how various department processes impact healthcare outcomes. It further enables medical professionals to make better decisions to improve clinical efficiency. 
Conclusion:
Though the Affordable Care Act helped to reduce healthcare costs and improve patient care, the adoption rate of the value-based data models has been slow. The time has come now for healthcare organizations to improve staff collaboration, business process operations, and clinical outcomes. To achieve these goals, they can get Microsoft Dynamics CRM consulting  & development services from a reliable technology partner. It will help medical practices of all sizes to provide personalized quality care with increased system efficiency.