3 Reasons Why Big Brands Use Reviews to Build Reputation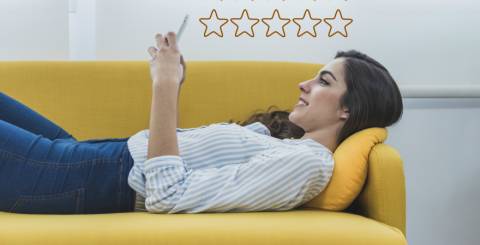 With more consumers using reviews as an essential part of their decision making, big brands are looking to take the dive into customer reviews and satisfaction. But online customer feedback is tricky business.
Publicly posting customer reviews is a whole new ballgame of transparency that many big brands see as intimidating. There are many unforeseeable risks involved, potential backlash and negative publicity. However, refusing to post customer reviews is now seen as untrustworthy and even deceitful.
Dating back to the Internet boom in the 90s, customer feedback is something all major online retailers now have to pay attention to. These customer reviews build trust, but also improve the customers' shopping experiences.
Without further ado, here are the 3 reasons why big brands use reviews to build reputation
1. Build Trust
  To build trust, big companies are looking at current customers to write organic and natural reviews, no matter if they are positive or negative ones. These raving clients become online ambassadors that companies don't have to pay and build momentum and branding. To add, consumers genuinely writing reviews are a trustworthy source for potential buyers and future clients. Many surveys show that shoppers are more likely to regard current customer reviews as a recommendation that has more value to them than any other kind of advertising campaign.
2. Troubleshoot issues
  When there is a problem regarding a service or product, online platforms are the most efficient way to sort the concern. Big companies that are built on putting their users first, use these issues as an opportunity to showcase their customer service.
Outlining step by step guides and how to address these concerns make a brand stand out above the rest as a customer first organization. In turn, these solutions help improve customers' shopping experience, knowing that whatever issues that can happen along the way will be addressed professionally and hastily.
3. Showcase testimonials  
As big companies look at getting their most loyal customers writing reviews, they can also feature these prominently online. Companies are often dedicating entire pages to striking testimonials on their websites.
Besides adding persuasion, these glowing customer reviews can dictate how reputable and trustworthy these big companies are and thus influence every other potential customer with their own decision.
Bonus: Add to current advertising
Whenever you post a review online, some big company websites will ask for your email address as a requirement.
 You may start to wonder why you should give them your email?
 Well, as companies are quickly adapting to the social media wave, their ways of getting in front of potential customers also has changed considerably. By subscribing to websites, blogs, FAQs and even newsletters, you are adding yourself to a potential list of receivers made up of potentially thousands of people within your demographic.
 If you want to post a review, make sure the company is only trustworthy, but a leader in innovation and customer satisfaction. As a subscriber, you are at the forefront of new releases, deals, and even products. You will even receive the brunt of new sales and products, most followers won't complain.
To summarize:
  Companies that have failed to recognize the strengths of reviews often fall short of surviving the 21st century. The rise of smaller companies following the trends of customer reviews will undoubtedly lead to customer satisfaction and support. Only recently have large companies started taking notice and applying their own methods for collecting and putting together user-friendly platforms that support recent reviews and customer feedback.
  What do big companies do you think are doing it right? Leave a comment below and share your thoughts!