10 Ideas to Decorate your Home in Bohemian Style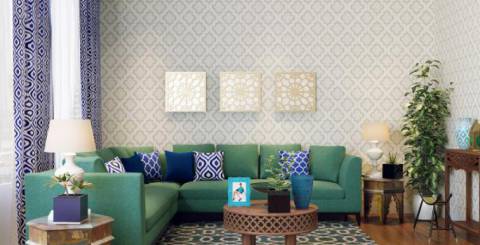 People may call you Hippie, but your style is unique. It is full of life and colours. Yes! We are talking about the Bohemian Style. It is all about vintage, artistic lifestyle and textiles that reflect the 1800s era. And you can bring that style to your home interior also. This unconventional style helps you to live life to the fullest and add colour to your home. Simply get the best kind of interior decorations for your home and combine it with some modern elements, it is that simple to do. So here are 10 bohemian interior decoration style that will make your home even more attractive:
Bohemian Style Bed
Bohemian style bed is full of colours and patterns. It is cosy because of various textiles. While designing your bed in this style, try to add as much layer as you can. You can do so by adding different designs of quilt, blanket, pillows, and bedsheet together.
Bohemian Style Lounge
You can decorate your home in the way you want to. So to make it more personal, design your lounge in Moroccan touch. Add patterned wallpaper, bulky wooden furniture, and various textiles and you will come out with a textured room.
Rope Swing
Most of the bohemian homes has the rope swings in the chair style and you can also add it to your home. Add some textiles and pillows to it as it will give the cosy vibes. This will work as a great reading and relaxing spot for you.
Turkish Rug
Turkish Rug is full of life and patterns. They have the Morocco and Greece touch that add some texture to the plain place. These types of rugs fit in every kind of interior decoration ideas and make the place colorful.
Bohemian Style Ceilings
You can also have the bohemian style ceiling inside your home. These are more structural and comes with the edgy elements like Downtown chandelier, textile hangings and other patterned elements. These will give the vintage vibes.
Plush Pillows
The Bohemian designs are known for their textures and textiles. And the easiest way to add it to your home is by getting the featured pillows. You can get them in multiple out-door ready textiles and combine them together. More textures will give more justice to the bohemian style. The Bohemian styles and designs has eastablished itself lately a lot try to make your home interiors look the best with the trendiest and the somewhat subtle style.
Colorful Wall Hangings
You can get the designer colorful wall hanging for your home and add some colors to the wall. Try to combine its color tone with the other textiles in the home while playing with patterns.
Black and White Boho
If you love the sophisticated styles, then the Black and white Boho style will be the best for you. You simply have to
buy modular furniture online
and combine them with the black and white elements. A Turkish rug will balance out the style and add colors to the room.
Indonesian Daybed
You can have the Indonesian Daybed in your home with the vintage textiles and tons of pillows and adding it to the outside bed. This will look quite cosy and you will be able to add some freshness to your home.
Bohemian Blanket
If you have less time to style but still want to add the bohemian pattern to your home, then a bohemian blanket will work the best for your room. Get it with a beautiful texture and enjoy the instant difference.
So For the Bohemian styled home, the right decoration will work the best for you. Good luck and enjoy your lively home.