10 DIY Flower Ideas To Add Vibrancy In Your Home Decor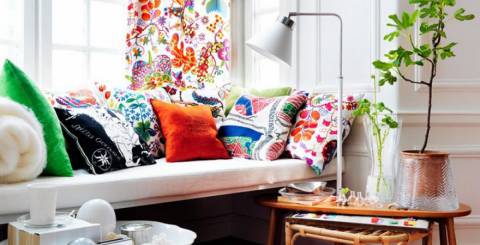 https://www.homedecoraz.com/blog/sneak-peek-2018-spring-and-summer-prints-trends-n55
Do you love to play with DIYs? So why to use it in your home and add some vibrancy to your house? It is good to buy furniture online, but it's better to try something new. So here are 10 DIY flower ideas to make your home look better.
Flower Wall
If you are a fan of the headboard and don't want to spend a lot of amount on it, simply get some hanging flower tails and hang them on your bedroom wall. It will look totally boho and will help your room look fancy.
Golden Plant Pots
The flowers look perfect in the golden frame and it's very easy to find it in the market. You can simply take a tin can and plaint it with the golden spray. Add the flowers to it and enjoy its elegant and rustic vibes. You will enjoy having such indoor planters.
Mason Jar Flower handing
You must have the empty mason jars at your home, so do one thing, simply hand them in your wall ceiling with the help of proper caged hanging and display your flowers in it. You can play with different shades or simply opt the basic style.
Flower Hangs with a shape
We understand it's boring to keep your flowers in the vase. So do one thing, pick the random frames of different shapes and attach the flower in it. This groundbreaking idea will take your heart and help your wall look artistic in every sense. Don't feel shy to play with colours.
Crate it Up
Simply collect many wooden and plastic containers and display your flowers in it. You can even get the real plants with blossoming flowers. Keep them on the floor shelve and add some interesting look to your boring wall. Pick all the planters in random shapes and sizes.
Paper Flower Wrath
It's very simple to find wrath in the market. So do one thing, take some handmade flowers and paste them on it. You can even make your own wreath using wood or wires. This idea will look amazing at the front of your door.
Flower Chandelier
It's very simple to design your flower chandelier. You simply have to take a huge ring, threads and artificial flowers. Hang all the flowers to the ring with the help of threads and enjoy its artistic vibes. You can hang as many flowers as you like and keep as long as you want to.
Flower letters
The big flower letters look amazing at your house. You simply have to choose the favourite letter for yourself and write it on the cardboard. You can cut it out and paste the colourful flowers on it. It will give the happening vibes to all your interior design. Hang it on the wall or place it wherever you want to.
Frame the flower
Having a framed flower at your home is always interesting. Simply take an empty frame and place a flower in it. You can also go for a handmade flower painting. It will help you to add a personal touch to your house.
Ice cream stick vase with flowers
It's very simple to design a vase with the ice cream stick. You simply have to make a square from it and keep on overlapping it. Cover it with the washi tape and enjoy its mythical vibes. Display your favourite flowers in it and make your home look a little more personal.
It's always interesting to do things by yourself as it makes your home look even more personal. So try these DIY interior design ideas and let your home blossom.