10 CSS Techniques That Every Web Designer Must Know in 2022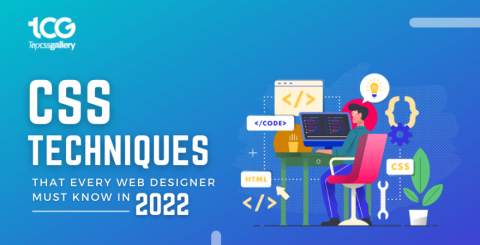 Web Designers are always looking for those techniques that make their work easier and attractive. CSS is the most crucial web technology to develop and design a website. Website designers can't imagine the whole work of designing without using CSS. Some techniques even they don't know about CSS and that's why we are going to mention the 10 CSS Techniques that every web designer must know. CSS Techniques mainly allow you to complete the designing work in a more efficient and easy manner. Thus, take a glance at...
10 CSS Techniques that you can use for your website designing process:
1). Comprehensive Backgrounds:
Web Pages and Website Backgrounds are most vital in the complete designing policy. When you want multiple backgrounds on your web page then using the CSS3 allows you to use the multiple backgrounds with one single element-based property. In these properties mainly elements are images, repeat, position, and size of the background. A designer can easily appropriate properties, particularly by the commas to design multiple backgrounds in a web page.
2). CSS3 Selectors:
The 2nd and most amazing CSS technique for CSS Web Design is allowing you to select the elements. Choosing the style properties with a compatible particular aspect is the appropriate chance for the web designer to select complex groups of elements.
How do new selectors reduce the task of the designer? Keeping your HTML Markup to a minimum stage means you can save time.
3). Make Your CSS Grid Responsive:
A CSS design must be responsive and when you are thinking to enhance your design then don't forget to make your CSS Grid Responsive because it is the most important aspect for you to make sure website loading speed time will be good. Not only is a single way available for the users to make CSS Grid responsive but you can use the multiple ways for the different device sizes.
4). Masking:
If you are thinking to use an image on the website but don't want to show all parts of the image and want to show particular parts of the image then you can also use the CSS technique masking. It is possible with the mask-image property. It is one of the worthy and modern CSS techniques that you can't miss to introduce a mask shaped on the image. There are two ways to apply this CSS technique and these are Masking Using Gradients and Masking with Images.
5). CSS Layouts Must Be Killer with CSS Regions:
CSS Techniques are an ideal example of Web Design Inspiration. As a web designer, your website layout must be killer for the audience and it is only possible with the CSS Regions. When content is put inside a container layer then it must be easy to warp and vertical motion of the content. With the help of CSS Regions, designers can store a particular height in the design.
6). Gutters for Flexbox:
As we know about the three major parts of CSS Grid Layouts. It includes Grid-Column-Gap, Grid-Row-Gap, and Grid Gap Properties. A designer can also change the name of Column-Gap, Row-Gap, and Gap for all contexts in CSS by using a different layout method and that is Flexbox.
7). Zoom or Hover:
One more CSS Technique that you can't miss for 2022 for the CSS Designing is Zoom or Hover. It is one of the advanced techniques and with this technique you can make your web page more attractive and unique. Gone were the days, when designing is simple and looks the same but nowadays amazing effects and images are using on the attractive principles by the designers. 
8). Scroll Snapping:
When you are not able to develop and design enough controlled scrolling experience on a web page then use this advanced CSS Technique that is known as scroll snapping. With this, you can control the scrolling experience on a web page. Where you should use this technique? You can use this technique in a gallery section of a website. 
9). Variable Fonts:
Designers are also looking for a technique through which they can get all versions of font during the CSS Design. You can use the idea of Variable Fonts because with this you can select multiple fonts on a single page to make your page iconic and alluring in terms of appearance. 
10). Media Queries Level 4:
Last but not least CSS Techniques that every design must know are using the media queries level 4. With this, you can detect the measures and visitors' nature for the syntax enhancement. 
The Bottom Line:
Thus, it's all about the information that you need to know in the list of 10 major CSS Techniques to make your design of web page compatible as per modern standards.