You Must Have These 5 Smart Products At Home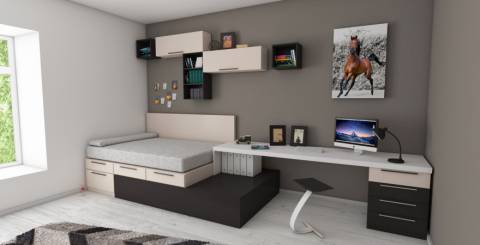 https://www.pexels.com/photo/apartment-bed-bedroom-book-shelves-439227/
The past few years have seen the need for smart home products greatly increase. Virtually everyone wants a home that functions as smart as they believe it should, coupled with the fact that those products come with their unique cool tricks and gimmicks. However, the real basis of smart home products is the fact that they solve normal problems thus making life safer, easier and more comfortable.
What does smart home technology mean?
Have you pictured a world where everything connects to the internet?  I don't just mean your Smartphones or Computers, but everything from your cameras to doorbells, windows, cooking utensils, and the likes.
Therefore, we would recommend that if you are looking to make hour home smarter than it currently is, go strictly for the essentials. Here you will find five unique smart home products you ought to have in your house having tested them.
What should you do before you get a smart home technology?
The first thing to do would be to choose your assistant. There are different platforms such as Google's assistant, Apple's Siri as well as Amazon's Alexa. Each one of these assistants has its weaknesses and strengths depending on your needs after which you are to choose your hardware.
5 Must Have Products For Smart Home
Brilliant Control
This is a wall switch that makes use of Wi-Fi to connect to and control the different smart devices you have in your home.  It comes with a 5-inch color touch screen along with user-friendly button controls that allow you to choose music, temperature levels, control lightning, know who may be at the door, etc.
This product works together with several well-known smart home platforms such as Nest, Ecobee, Philips Hue, Sonos, and Ring. The product is also equipped with a built-in Amazon Alexa voice support which means that it can do all that an Echo device can do
EarMuffs
Earmuffs are more than just a luxury if you are the type that isn't too comfortable with noise. In situations where the sound level peaks at moderate, you may want to stick to earplugs. However, if you are faced with a situation where the sound level is extremely high, standard noise concealing ear muffs will certainly be enough to solve your problems.  Earmuffs are so useful that if properly used, they can protect you to a point where no sound gains access to you. 
Smart plugs
There are quite several plug-in devices such as electric water kettles, fans, and coffee makers.  Plugging these appliances into a smart plug, you can do things such as setting a particular time for your kettle to get the water heated at a particular time. They are heavily reliant on Wi-Fi to function; hence their level of reliability is only as effective as the signal.
Smart Bulbs
As far as building a smart home system is concerned, including smart light bulbs is important. Several such systems, however, need a bridge of some sort which serves as a connection with the Wi-Fi router and conveys data to a receiver on the smart light. However, the bridge within the bulb can be made use of to control up to fifty bulbs in the same house thus making it an ideal that can be used to increase the number of smart bulbs in your home.
Smart cookers
This unique smart device helps you in coming up with the right recipe based on the food items you have at hand. It also enables you to autoscale the recipe based on the number of people or the amount of ingredient you have.  This is in addition to generating a shopping list from the recipes you intend to make.
Your home just got smarter!
With the aforementioned devices, your home just got a lot smarter. Each item listed above cuts across different categories and needs of your home and as such puts you in charge of your home.