Why Should you Install an Electric Chimney in your Kitchen?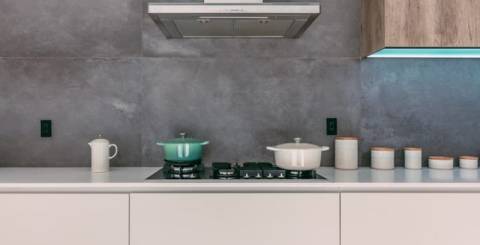 An Electric chimney is an equipment installed above the cooktop that helps in cooking in a healthy and smoke-free environment.
There are a lot of fumes, steam, heat, and stench that generates while cooking that could easily make cooking a very sweaty and un-hygienic process. However, with the chimney installed, you can be assured about fresh air, easy cooking process and along with its functional appearance, it makes cleaning the cooktop also a pretty simple task.
Here are a few of the benefits of using kitchen chimney:
It helps in getting rid of the smoke that makes you sneeze.
Smoke can make you sneeze, especially when you are cooking something spicy, but with good suction capacity, an electric chimney can easily suck fumes preventing you from sneezing.
It modifies the look of the kitchen, by making it more attractive
A kitchen with new and useful appliances becomes operational and looks appealing. While installing the chimney you can even match it with the decor of your kitchen, thus matching it with your wall colour or other appliance making it look more complete.
Get rid of surplus heats
The kitchen can get very heated while cooking but with the chimney equipped, you do not have to worry about the excess temperature due to the steam that comes out of the utensil while cooking.
Instead of sweat, you can comfortably cook, because the built-in blower of the chimney reduces the temperature by sucking all the steam thus there is no excess heat hammering on your face every time you cook.
Provides better lightning
Electric chimney comes with a light that hub on the cooktop area, which helps to properly cook and clean. You can easily cook, without having the food burnt. With proper lighting, cleaning becomes easier, you can see dirt, grease and stains better especially from the areas, which usually are tough to see. 
Also with the light, you do not need to light the whole kitchen; the brightness is enough for cooking.
Increase your house resale price
These days' people tend to buy a house that is furnished and having few things already installed add to the value of the house. Having an electric chimney has now become a necessity and if you get them installed, it would help in selling your house at a good price
Moreover, with a trusted brand like Sunflame kitchen chimney installed in your kitchen, it is like adding luxury to the necessities.
Keeps the atmosphere dirt-free
The chimney helps in getting rid of all the toxins and heat that can affect your family. In the kitchen, the gas you use for cooking generates carbon dioxide, which a chimney can easily control and cut down its level of producing dangerous fumes, they work just like air purifiers.
Thus, it helps in cooking food in clean air, which means with just a click of a button, the chimney is sucking in all the microbes and germs.
It keeps surrounding hygienic
When smoke generates, fumes can easily form sticky stains that can form germs and other organisms, which can be very unhygienic. Considering all the cooking you do in the kitchen, these germs can easily pass in your food, causing it to become contaminated, which can lead to health issues.
This is where using kitchen chimneys can help keep your kitchen keep neat by sucking all the smoke and creating a smoke-free environment. Thus, you will be ensured of cooking in a healthy environment.
Wrapping up
Electric chimneys can be costly; they have become essential for every kitchen household.
They come with many advantages that keep your atmosphere sterile and hygienic. If you were using an exhaust fan instead of the chimney, then your cooktop would require more cleaning of ramparts and roofs of the kitchen. This excessive cleaning is not required in the case of the chimney.