When to Reduce the Price of Your Home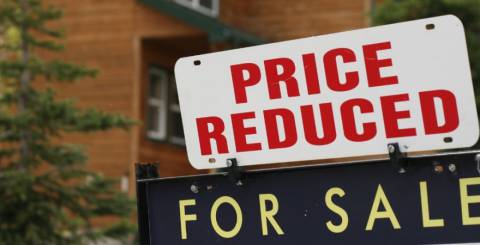 When you decide to list your home you try to choose the best possible price and then hope it sells quickly. But, after a couple of weeks, the idea of reducing the asking price becomes pretty apparent. Nobody likes to reduce their price as it means less profit for the seller as well as less commission for the listing agent, but if the home is overpriced from the beginning, this may be where it needs to be all along. However, if you still feel you've priced the home correctly from the beginning, when should you reduce it?
First, understand if you are in a buyers market or a seller's market.
A buyers market is where there are plenty of homes on the market and home prices are low because of competition. A seller's market is where there are a surplus of homebuyers and very few homes on the market, making home prices increase. If you are in a seller's market and your house hasn't sold within a few weeks, there could be other issues involved or it could be overpriced. If you're in a buyers market, you may need to drop your asking price a little bit lower than your closest competition.
More: What if You Need to Sell Fast?
Check nearby comparables... Again.
After a few weeks, comparables can change so it's important to go back to the drawing board and take a look at similar properties currently on the market and those that have sold. Have all of the properties around you sold except for yours? What's the discerning factor here? Were they all priced lower than your home or offered a lot more amenities and features than yours? Ask yourself why buyers would choose one home over another?
You haven't received an offer in a couple of weeks or even any showings.
If the activity on a listing has gone stale for a couple of weeks it may be time to drop the price. You may not be receiving any offers or any showings. Open houses may or may not change this behavior because people think the home is too overpriced or the images online don't live up to the price, you're not going to get anyone through the door.
Related: How to Use Equity from a Condo Sale to Make a Larger Purchase
Your images don't match up.
If you are having a lot of showings but then no feedback or any interest or activity after the showing, are you being honest with the listing? Do the images adequately represent the home? Did you have professional photographers that exaggerated how amazing the home is yet buyers felt deceived when actually looking at it in person? Yes, you need amazing, professional photographs when listing your property but they have to accurately represent to the home. Videos, accurate descriptions, and incentives can also help in a listing.
Is your home listed in multiple places?
Did you decide to go with a pocket listing and exclusively only sell to specific buyers or through specific agents? Is your home listed on the local MLS, which broadcasts through thousands of real estate websites across the country? Is your real estate agent doing everything possible to speak to buyers agents, keep flyers stocked in the yard sign, and doing everything possible to market your home on social media?
Consider only reducing the price once.
I've seen real estate listings that have been on the market for over five years with multiple price reductions and price increases. At this point, I would say take it off, sell it to a cash home buyer, rented out, or forget it. There's too much back and forth uncertainty on this type of property and buyers are just wary to make an offer. It may be more important to just reduce the price once. It can take multiple small reductions before buyers finally take notice so making a large jump once and when you're ready will have the biggest impact.
Related: Holding Out for a Higher Price or Should We Drop it Now?
So what happens if the price reduction still doesn't work?
You can get competitive cash offers from investors in your area, consider renting out the property until the market picks up or the season changes, or do a rent to own or lease to own option or consider owner financing. There are different incentives and it's important to speak with your real estate agent to find out the best direction for you, your budget, and your family.