What It's Like Working as a Promotional Model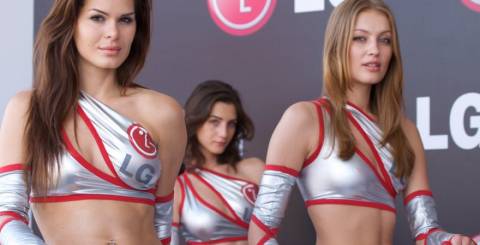 You may be asking yourself, "What exactly is a promotional model?" Promotional models, or promo girls, Are hired by companies to do exactly what it sounds like -- promote their company or product. Promo girls typically will work at events and interact with potential customers. The job is simple and fun. There are not many requirements other than looking good, flirting, and promoting your product.
How to Become a Promo Girl
Many promotional models begin with a small company. Usually, a clothing store in your local mall is a good place to start. Every so often, companies will hold open castings where they will take pictures and interview you to see if you will be a good candidate to promote their company. Remember: promotional models need to have a certain personality. Be bubbly, flirtatious, and do not be afraid to step out of your comfort zone.
Invest a little bit of money from the company you will be applying for. This does not have to be a substantial amount. You could buy something as small as a t-shirt or a pair of shoes. As long as you look good with the product, that's all that matters.
Have a friend take some pictures of you wearing or modeling the product you have purchased. This will prepare you for your interview and photo shoot with the company you are interested in. Keep in mind that you will want your photos to be edgy, sexy, and mildly provocative because that is typically what will sell the product for your company. Please do not overdo it. While many companies will want some sex appeal, they also will only hire classy, professional models.
Finally, send your photos and resumes into potential agencies. Whether you already have an interview or are still looking for your first gig, it is always a good idea to get your name out there.
How a Promo Girl Dresses
Promo girls need to be sexy. As promotional models, they need to grab the attention of our potential clients. Many employers will provide a t-shirt or top for us to wear but it is up to us to put the entire outfit together. Remember to be sexy and classy. They don't want to give clients the wrong idea about the company they are promoting.
How promo girls dress depends on the company's requirements and the company's products. Promo girl outfits can be varied from tight shirts, mini skirts to dresses, or even swimsuits.
How to be a Promo Girl
Becoming a promotional model is not for everyone and you should not expect to make a living wage while working as a model. Not every girl has the personality to promote a product while looking amazing. You may look good and have no personality. This will not work. You may be flirtatious and bubbly have no idea how to walk in heels. This will not work either. You will need a combination of both personality and looks. you do not need to have perfect looks but you will need to be physically fit at least. Also, as long as you can make a man smile, chances are you will do just fine promoting a product for a company. Keep in mind that not all of the products you will be promoting will be directed towards men. This is why we advise being sexy and classy. When promoting to women, it is important to not only act professional but to look professional. Professionals are sexy too, right?
If you find yourself thinking that becoming a promotional model is the right job for you, go for it! Do your research. Get on the internet and look up how a promo girl dresses. Find out how to become a promo girl for the company you want to represent. Get out and go to promotional events and check out the promo girl outfits the models are wearing for the different companies. Lastly, get your name out there and give it a try!