What to Eat & Not to Eat While Camping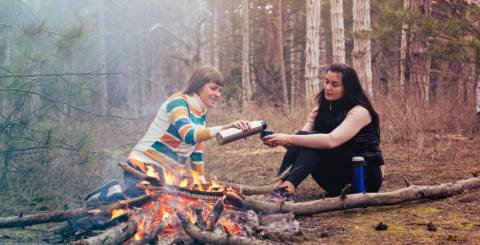 Camping is fun, but there is some preparation you have to do to make this is a successful trip. Some of the prep work you're doing is probably pretty obvious, like packing the right material, but food is something else. The following are foods you should eat and foods you shouldn't.
Check on Those Allergies
One thing you are going to have to do is make sure you don't bring foods you are allergic to. If you know you are allergic to something, be sure to check all ingredients so that you don't bring that with you. If you suspect you are allergic to something, make an appointment to find out because you don't want to have a negative reaction when you are far from professional help.
Think of Your Health State
Some people have health issues that limit the kinds of foods they can eat. For example, people who have diabetes should definitely pay attention to the type of food that you bring along.
You have to be especially careful about the trail mixes you bring along with you because those can contain sugar. Diabetes is not the only condition that could limit the food you bring along. For example, there are also people with a leaky gut. If you have this issue, you need to learn about the foods to avoid with leaky gut, like dairy and gluten that aggravate the condition.
Don't Bring Unhelpful Foods
Another thing to keep in mind is to avoid foods that will not help you during your adventure. Camping is a high energy activity, so you need to make sure you aren't feeding your body foods that are going to drain you of energy.
There are a lot of types of foods you'll want to avoid, like white rice, processed pasta, and white bread. All of these foods spike your sugar levels and cause you to crash soon after consuming them. You also don't want to rely on yogurts and breakfast cereals that contain high levels of sugar, which are common in stores.
Energizing Foods
Just as there are unhelpful foods, there are foods that can help you feel more energetic, like making sure your rice has the bran and is sprouted. This ensures that it takes longer to process the rice and slowly releases energy throughout the day.
You also want to make sure you bring along nutrient-dense dried meats instead of regular meats, so consider liver, heart, and other organ dried meats to bring along on your trip. Nuts are another source of energy that you need to bring along with you, and if you are going to have sugars, make sure they are natural from things like fruit.
Think Large When Camping
It's going to take some time to cook while camping, so be sure to make it count when you do. You'll have to consider bringing along foods that can yield a lot of food for everyone on your trip, and this means food like beans or something similarly dense and filling. You don't want to work hard for one meal that is only going to last one day or won't fill up everyone in your party.
Snacks Really are a Big Deal
The next thing you want to worry about is snacks. Most of the time, you'll be eating on the go, so make sure you bring along snacks that you can eat on the go, which is one big reason that nuts, dried fruits, and dried meats are favored camping foods, but there is much more. For example, you can purchase sandwich items to pair with cured meats. These types of meats last a long time and don't have to be refrigerated, which is what you want right now.
Hopefully, this guide makes it easier for you to plan your camping meals and snacks. If you know someone who camps a lot, ask for additional suggestions.