Toyota 4Runner Roof Rack FAQs : A Few Useful Answers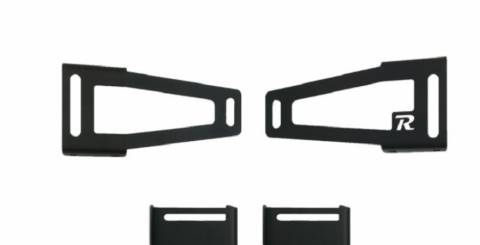 The Toyota 4Runner Roof Rack is a fantastic addition to your vehicle, as it adds extra function, allowing you to attach all of your gear with room to spare when you're out on the trail. Roof racks are great for that, but it's not always as simple as getting one and installing it, as not all cars are the same.
So, with this in mind, we look at answers to some of the most frequently asked questions on the subject. Taking account of all types of roof racks - including those made for the Toyota Tacoma, by reading on, you'll hopefully understand more about these aftermarket products than you did before.
So, let's get into those questions!
Question 1 - What's a roof-mounted fix point?
Whether using a Toyota 4Runner roof rack or any other type, they're generally going to attach on via what's known as a roof-mounted fixpoint. Usually, it involves a metal profile or a threaded hole that's covered by plastic plugs to keep the elements out.
Question 2 - Clamp mount systems, what are they?
Well, some trucks and cars don't have either rail or fixpoints, so in order to fit a rack, there's a specific rack mounting that clamps onto the inside of the door frame.
Question 3 - Are specialist tools required to fit roof racks?
No, most types of roof racks don't need specialist tools to install, and mainly - as is the case with the Toyota 4Runner roof rack - they tend to come with any product-specific tools included with the kit.
Question 4 - Why isn't there a roof rack that fits all cars?
There was a time when universal roof racks were all the rage, but over recent years, rain gutters on vehicles have slowly been phased out. This means that roof rack fabricators have stopped making universal varieties. However, using different fitting kits, it is possible to fit some roof racks to more than one make and model of vehicle.
Question 5 - Is there any drilling involved in fitting a roof rack?
Typically speaking, there is no drilling needed when fitting a roof rack, unless of course, you're installing a permanent mount or factory-style track. If you're unsure, however, we'd recommend speaking to a professional before you do any damage!
Question 6 - Does fitting ever result in a scratched roof?
When your Toyota 4Runner roof rack or any type is installed properly, it won't result in scratches or any other type of damage. It's one of the reasons why people tend to prefer having them installed by pros, but if you are careful, there's no reason to worry. In fact, it's recommended to remove and clean your roof rack every now and again as part of general maintenance, so you might want to get some practice in.
A Good Quality Roof Rack Adds Capacity & Function
As you can see, there's quite a bit to have a roof rack fitted with some considerations you might not even have ever thought of. And of course, we've only scratched the surface when it comes to the complete picture of owning a roof rack and we think you'll agree that the benefits of having one fitted very much adds value.
A well manufactured and professionally installed roof rack adds both storage capacity and function to your vehicle. We hope that the small amount of info in this article proves useful and that reading it results in you having a better understanding of what's involved in getting a modern roof rack fitted.
Whatever you use yours for, stay safe on the roads and we'll see you again next time.