Top Benefits of PSD to WordPress Conversion Services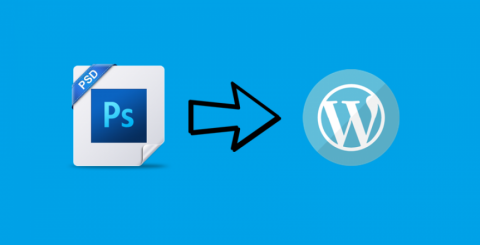 The simple truth of web programming can be summed up like this:
Design + Code = Interface
A website, no matter how attractively designed, cannot exist without code. This is why professional designers/agencies/companies that don't have sufficient coding expertise really on developers to add function to a beautiful form.
Enter WordPress.
WordPress makes everything easier, and not just for the everyday user/admin. With the same amount of time, effort, and resources at hand, developers can create way better things with WordPress as compared to when they're going on nothing. WordPress gives a strong, flexible base to web development.
And that's why PSD to WordPress theme conversion is a roaring trade.
PSD to WordPress conversion: The Process
It's actually pretty straightforward (in theory):
Digital Design files are sent by clients (You).
These files can be of following formats: PSD (Photoshop Document), INDD (InDesign), JPG/JPEG, etc. For the sake of clarity and better conversion, a layered file is almost always preferred.
The conversion service provider (Me) takes these files, and that's when the fun begins.
Slicing and coding happens next.
The individual elements of the design (menu tabs, images, buttons, icons, etc…) are 'sliced' and placed in an HTML format.
This HTML 'wireframe' is then divided and coded into WordPress specific PHP templates. The style elements are coded into CSS. The same process is repeated for all page designs.
Once that's done, the theme files (templates, stylesheets, the functions file and more) are compiled in one folder, tested exhaustively for errors, performance, browser compatibility, and responsiveness (what's the point in investing in a good theme otherwise?), and then shipped off to the client.
The Benefits
There are literally thousands of awesome, SEO-friendly, widget-ready WordPress themes available for a couple of bucks, or even for free. So why would you spend time and effort on a service when you can get a product instantly?
Here's an experiment: Go check out Theme Forest (a subsidiary of Envato Market), which is one of the largest markets for WordPress themes. Enter 'business wordpress themes' in the search bar, sort the items by top-trending or best-selling, and go through the themes that come up.
Spoiler alert/ Hypothesis (and eventual conclusion): Every single theme will be almost indistinguishable from the next in design as well as features.
While other themes vie for the attention of millions of users by being as competitive as possible, there is no room for 'originality': You're left with a common commodity, just like everyone else in your vertical.
The logical reasons to go for bespoke WordPress themes inspired by your design should be:
Lack of Technical Expertise: For organizations that don't quite have their own WordPress geeks to work 'under the hood', this service is a lifesaver.
Enhanced brand identity: Your designers understand your company and are perfectly positioned to create a visual design for your brand. They sketch these designs and we make them fully operational through conversion.
Self-employed Graphics and Web Designers: Freelance design professionals get their own remote developer team to work and collaborate with.
Migration: Vendor lock-in is a harsh truth of digital industry. So when you are tired of a platform's features and decide to shift to WordPress, you can still keep your trusted previous design and get it turned into a WordPress theme.
Endnote
A Google search for "PSD to WordPress conversion benefits" brought me to countless articles extolling the points of 'user-friendliness', and 'SEO', and more. The truth is that those are features you can get from any good WordPress theme. Any good service provider will do that.
Your own personalized design, live on the internet? That's what this service is for.
Hope we straightened that out.