Top 4 Benefits of Humidifiers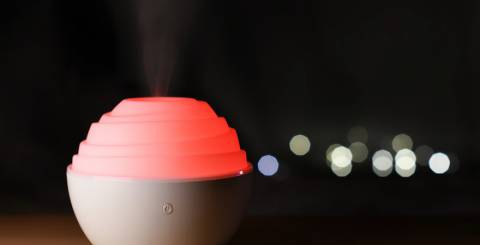 The concept behind humidifiers is simple and confusing at the same time. You can use various devices available in the market to improve air quality in your house or in your office.
Humidifiers are useful tools for conditioning the air, especially in low humidity months like winter and they are also highly effective to ease your seasonal allergies. They have numerous benefits if used and managed properly. 
Maintaining humidity in your home within a desirable range may help reduce respiratory symptoms during the summer when the weather is hot, and in winter months when the air is often dry. A humidifier helps in achieving these goals by adding moisture to the air. When the humidity in your home is below 40 percent, you may experience dry skin, itchy eyes, irritated throat, and nasal congestion.
It's very important to keep your humidifier clean and well maintained. Here are five of the many benefits of humidifiers.
   1. Treating Cold, Flu and Allergy Symptoms
Dryness and skin irritation and allergies can be treated by humidifiers. They are beneficial to people suffering from cold, flu or allergies. They help provide relief from itchiness in the nose as well as irritation in the nasal passage and sinuses. Humidifiers function as a preventive tool against bacteria and viruses thrive in dry air.
    2.  Keep your skin healthy
Keeping our skin healthy and silky smooth in the winter is sometimes difficult. Your skin might feel flaky and cracks might begin to appear due to the dry winter weather. Irritation and itching are also caused by cold conditions. This can be mitigated by using a humidifier in the house; it adds moisture to your surrounding air and reduces the occurrence of dry, patchy skin. Therefore, using an efficient humidifier helps you in keeping your skin healthy and free of itching and irritation issues.
   3. Happier and healthier plants
If you have tropical plants inside your home, you may have noticed that in the dry winter months, they tend to wilt and wither. Virtually all indoor houseplants thrive in tropical weather conditions which are predominantly moist. Even a slight bit of dryness will negatively affect your plants as they need more than 23% of the moisture in the air. Keeping a humidifier in your home helps to maintain the humidity level and keeps your plants healthy.
 4.  Reduced utility bills 
In winter, you can sufficiently cut down on your gas bill with the help of a humidifier. By adding moisture to the air, humidifiers make the air warmer and keep the surrounding area comfortable and warmer. Instead of turning the heat up at all times, you can use an energy efficient humidifier to make a significant difference in the temperature. Now, there are lots of energy efficient home humidifiers available in the market which consume less energy and keep your house warmer for a long time without consuming consistent energy.          
It's obvious that static electricity shock is not acceptable by anyone. You may have noticed in the winter, they're harder to avoid. If dry air comes again then you can use a humidifier and leave the lightning outside. Warm Mist, Cool Mist, Ultrasonic, and Evaporative Humidifiers are some of the popular types of humidifiers used for different purposes and for living space.
Dry and dusty air circulates throughout your entire house, and the best way to deal with this is the proper use of a humidifier. Professional heating and cooling companies like this supply, repair as well as install humidifiers and other HVAC systems. They provide complete heating and cooling solution with the help of their qualified, highly skilled and experienced technicians.