Things You Should Know About Butterfly Jewelry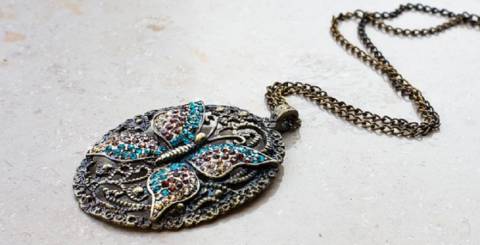 There's something delightful about butterflies a reason why everyone wants to stare at them as they swim in the thin air. For that reason, most jewelry manufacturers have been inspired to design Butterfly Jewelry whether in the form of an earring or a Necklace. 
I know you have also considered buying Butterfly Jewelry whether to treat yourself or as a gift for a special someone. Although they are beautiful and the best fit for all occasions, there's so much you are supposed to know about them before you buy them. 
What does a Butterfly necklace mean?
You have probably received a gift from a special someone for your birthday, anniversary or any other occasion. Upon unwrapping the gift box, you found out that it's a Butterfly necklace and you don't have something to say probably because it's too beautiful or you don't know what it means. 
Butterflies are a symbol of beauty and love. They are one of the most magical and cherished creatures that you will find on this planet. When someone gives a Butterfly Jewelry as a Gift, they are trying to send a mixed thought of what they think about you. This kind of gift is a symbol of love, change, joy, ascension, potential, spiritual rebirth, metamorphosis and the ability to experience great things in the world. 
Butterfly Jewelry has a rich history
There are several notable cases where Butterfly jewelry was cherished. One of these cases is the case of the British Empire Exhibition that was held in Wembley stadium in 1924. Here, there were many people with different products, attractions, and events to showcase. The most amazing exhibition was Thomas L Mott's Butterfly wings. This was an amazing Jewelry that was made from Butterfly wings
The other case was that of Rose in the Titanic. In the 1997 field, the Titanic Film featured a Lady by the name Rose who wore a beautiful green-toned Butterfly comb on the hair. After this, people started cherishing Butterfly Jewelry. 
Lastly, Princess Diana's Butterfly earrings that she wore in 1986. They were studded with deep blue stones and diamonds. This was repeated again in 2018 by Meghan Markle. 
Types of Butterfly Jewelry
There are several Butterfly Jewelry designs that you can choose from. Some of them include the Butterfly Chokers, Butterfly Necklaces, Butterfly earrings, and many bothers. The Butterfly Chockers are a flashback to the 1990s. They are perfect for ladies with a class and those that want to get that illusion of lilac, pink and a Blue Butterfly. You just have to take your time whole shopping and choose among the many styles depending on the occasion at hand. You can try the butterfly Prince for a special gift-giving occasion.
Butterfly necklaces are a way of making a focal point of look for ladies that want to step out looking amazing. You can choose any of them depending on the style and the placement. They also come in the form of a delicate chain plus a butterfly pendant or as a bold pendant with colored glass and diamantes. 
Butterfly Jewelry Style
The process of choosing a style can as well be an overwhelming affair. However, you will have to choose between Representative and Realistic Butterfly Jewelry. To help you through the way, we will discuss each of them separately. 
Representative Butterfly Jewelry
This is a style that someone can deduce immediately that it is a Butterfly Jewelry.  However, they have a couple of features that are not real in nature including gemstone and design elements. With this style, you can go for Gold Heart Wing Butterfly Necklace. 
Most of the jewelry will fall into this category because there's too much creativity and the freedom to craft unique and beautiful pieces. The artist also has some freedom to add Larimar, crystals, Amber and Amethyst. 
Realistic Butterfly Jewelry
These styles of Butterfly jewelry mimic real butterflies. Most of the realistic Butterfly Jewelry is in enamel but there are some few that are in 14k gold and other non-enamel sterling silver. 
When making a decision on the style to choose, there are several factors that play a role. One of the main factors is the gemstone used including the birthstone. The other thing that makes the difference is design elements. These are some simple elements such as a heart in the butterfly Jewelry or custom jewelry for a special anniversary.