Split AC vs Window AC: Which One Should You Buy?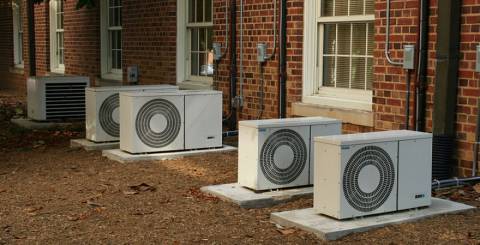 Whether to buy a window ac or a split ac when considering an air conditioning unit is largely down to where you want to locate it, the aesthetics and budget. Both options have their benefits and disadvantages which need to be considered carefully to ensure you get a suitable air conditioner.
What is Window Air Conditioner?
A single unit often best suited for smaller rooms, they are situated in a window or an opening in a wall. They are installed with one face outside and one face inside the room. The outward facing unit releases hot air while the inside facing part of the unit emits cooler air into the room. The size of a window ac depends on its capacity, the higher the capacity the bigger the unit. For this reason, the window ac is only available up to a 2 tons capacity.
What is a Split System Air Conditioner?
A split system ac comprises two units and tends to be used in larger rooms. Having two separate units means they can be larger and have a greater capacity. They are wall mounted and do not require a window opening, with the indoor unit containing the evaporator which cools the room. The compressor is in the outside unit meaning the noisy element is on an outer wall.
Split AC vs Window AC Which is Best for You?
There are a number of factors which illustrate what is the difference between split ac and window ac. Comparing the pros and cons of these different factors can help someone decide which air conditioner to purchase to match their needs.
Design and Location
The look of the interior rooms of a home is important. While a window ac tends to be white in colour, there is a variety of designs and colours available for a split ac. Besides the aesthetics, the room size should be taken in to account too. A window ac is available up to a two-ton capacity and tends to be chosen for smaller room sizes. If there is not a vent in the wall for a window ac and you would rather not use a window opening, then a split ac may be the better option.
Installation
There is more flexibility in installing a split ac, although they do require professional installation and therefore a further cost is involved. Installing a window ac is easier and you do not have any extra fees to consider. Being portable they are also easy to remove and take with you from one place to another. Although the split ac does not even require a window, they will need piping to connect the indoor and outdoor parts.
Price and Running Costs
A split ac is more expensive than a window ac, potentially up to twice as much. Budget is always a consideration with any product, but the respective prices will need to be considered along with the quality of the unit and suitability to the area it will be installed. The compact design of the window ac makes it fairly low maintenance, whereas the split ac will need a regular servicing and the outdoor unit will need protecting in the winter.
Noise
Noise from any air conditioner will be a key factor depending on where it is to be located. A window ac can be noisy and so for certain parts of the home and for commercial offices they may not be the right choice. As the compressor of the split ac is situated outside they create little noise within the building.
Power and Cooling
The power consumed by these two types of air conditioner is relatively similar. Power consumption is tied to the rating given to the air conditioner, with a five-star system consuming less energy than a 4-star system by 10%. This is the percentage differential between each star rating. The higher capacity split ac can cool a room faster than a windows ac and if you needed the air conditioner to maintain this for the majority of the day you would probably opt for a five star rated system to try and save more energy.
The Takeaways
There are many types of air conditioners, with split ac and window ac being two of the most common types of air conditioners. The main difference between these two types of air conditioners is, therefore, the structure and the capacity it allows. This, in turn, affects the nature of the look, design, and noise of the units which can be a major factor depending on where they are to be located. Price and budget will always play a big role in any decision too, with the windows ac a cheaper alternative. The split ac may well suit a homeowner looking for a permanent fixture which they can design into a room, while the portability and capacity of the windows ac lend itself more to smaller rooms and where relocation needs to be an original consideration.