Snow Removal Services and How to Promote Them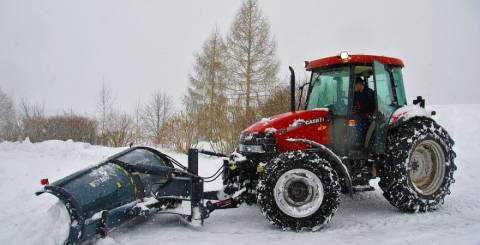 Promotion of your business is essential, especially if you have a seasonal business like snow removal services. And the advertising issue comes upfront if the competition is high like it is in megapolises. So the question is not why advertise, but in what way can your advertise your company to ensure that it is seen and demanded in the market? How to become competitive with the big sharks of the niche?
Keep in mind that advertising choices are unlimited, but your budget is. So here are several tips and ideas on how to advertise your snow removal services. Choose those applicable to your company, but always remember to stay creative to interest people in your business.
1. Hand-outs or flyers. This is one of the oldest and yet very effective way to advertise your company. Print flyers with the basic information about your company and place them in the neighborhood's mailboxes. To enhance this means of advertising you can also create door hangers and place them on doorknobs or distribute some useful novelty items, like fridge magnets or pens containing your business name and contact information. Don't forget also about the business cards distribution with whoever you meet.
2. Place real ad publications. Go for local magazines, newspapers, yellow pages, and any other outlet that people in your neighborhood use. Wherever you can place your ad, do it! Ensure that this ad is bright and eye catching. Come up with a motto or a funny picture that would draw people's attention and at the same time provide some credential info about your business.
3. Vinyl sheets and stickers. Stickers and vinyl banners are also very common in big cities today. Place these stickers on all your products and business-related cars and equipment. Again, if you come up with an intriguing or beautiful picture for the vinyl banners and stickers, you can be sure that people will get interested in obtaining one of your promotional products. And this kind of naturally flowing advertising campaign is one of the most affordable and reasonable ones for the industry beginners.
4. Letters of introduction to local businesses. While some business owners oversee this great opportunity, don't miss a chance to introduce your company to the local businesspeople. Of course, they might already have someone to clean their snow, but if you offer some attractive prices or at least discounts for large orders, you can get a couple of companies on your side.
5. Participate in a local fundraiser. Fundraisers are one of the best ways to promote and advertise your business. People love charity and feel passionate about such business. You can offer to clean some public street or hospital's driveway for free in order to earn yourself a name.
6. Sponsor some local team. You don't need to go far to find one. You can do it for your child or maybe your employee's kid in order to again earn a name. By sponsoring a team you can put your company's name on the uniform or print some banners for the game.
7. Talk to your clients. Offer loyal customers better prices or ask them to put some signs about your services in their yards. Word of mouth is actually one of the greatest advertising tools, and the benefit of it is that it's free of charge.
8. Get listed. As you can see, there is nothing extremely tough in advertising your new business, but you need to do it a lot in order to build your client's base. Keep in mind that you can also get listed as one of the snow removal services so that people can reach you online and find your business' name on the internet. That's almost free but extremely effective!