Scope of Buddhist Pilgrimage Tourism in India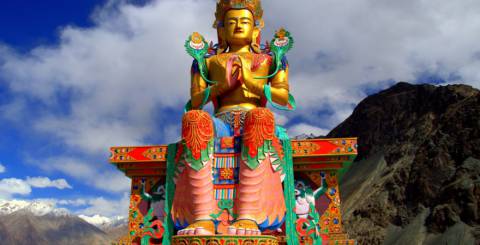 India marks itself as the most significant place in the history of Buddhism. The religion originated in the eastern part of India in 5th century BC. Founded by Gautam Buddha, Buddhist religion is based on his teachings and philosophies which are diligently practiced by his followers even till today. Buddhist people are admired for their peaceful disposition which draws many people towards the abodes of Buddhist leaders. The religion teaches to remain calm under challenging situations and for this reason more and more people are turning towards Buddhism in search of solutions to the problems they encounter in the modern world which has resulted in a rise in Buddhist tourism in India.
In India, there are a vast number of Buddhist pilgrimage sites that attract many tourists from all corners of the world. Buddhist monasteries are the sacred institutions of Buddhist religion where monks and nuns lead a monastic life. These monasteries used to be the retreats of Buddhist ascetics during monsoons but later were turned into learning institutions of the Buddhist religion. Built in ancient Tibetan architecture, these famous Buddha monasteries in India shed light on the life of Lord Buddha and his teachings which are inscribed on the walls.
Some prestigious Buddhist monasteries in India are Namgyal monastery in McLeodganj which is the abode of Buddhist spiritual leader - The Dalai Lama, Tabo Monastery in Spiti, Hemis Monastery in Ladakh, Mindrolling Monastery in Dehradoon, Ghoom Monastery in Darjeeling and Tawang Monastery in Arunachal Pradesh. These monasteries are built by different sects of Buddhists and are hailed as important Buddhist places in India.
There are many famous Buddhist temples in India which are frequented by Buddhist pilgrims and people belonging to other religions. Some of these temples date back to the prehistoric era and are marvels of architectural glory. The Mahabodhi temple in Bodhgaya is the most important Buddhist pilgrimage site. This world-famous Buddhist Temple in India was built by Emperor Asoka in 3rd century BC to mark the significance of the place where Lord Buddha attained spiritual enlightenment. There is a Bodhi tree inside the temple complex under which Lord Buddha used to meditate. According to a legend, the site of the tree would be the last to vanish when the world ends and it would be the first to appear when the world re-emerges into existence.
Sarnath temple in Varanasi is another eminent Buddhist site in India that holds great relevance in Buddhism as Buddha gave his first sermon as an enlightened master at this place. The temple building has two stupas, one vihara and an archaeological museum which were built by Buddha's follower Asoka. Mahaparinirvana temple in Kushinagar is famous as the place of Buddha's death. The temple has a 20 feet tall reclining statue of Lord Buddha along with many stupas and memorials lying on the Buddha Marg.
Seeing the importance of this place in Buddhism, it is listed as a must-visit destination in the itinerary of Buddhist travel packages. Vishwa Shanti Stupa in Rajgir is another destination featuring in India Buddhist Tour which bears great significance in the spread of Buddhist religion as it used to be a residing place of Lord Buddha in the rainy season. The stupa was built by Japanese Buddhists to pay tribute to Lord Buddha. The ropeway along the hill near the stupa is an attractive feature of this place as it offers scenic views of the stupa and the Gridhkut hills. Come and Contact to State Express India to get the affordable tour packages for Buddhist tour, it's offers the all India tour packages at amazing price that can easily affordable by anyone.