Safety Requirements for Collaborative Robots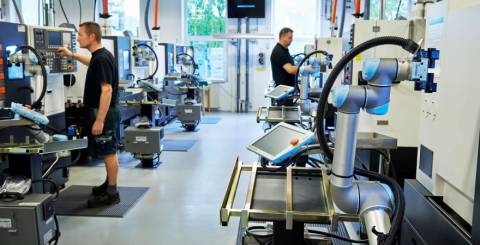 https://www.universal-robots.com/products/ur5-robot/
Collaborative robots also referred to as cobots, are a modern-day approach to industrial robotic automation. In recent years, many industries have introduced collaborative robots in their warehouses for different functions, mainly because these cobots can work alongside humans safely.
A collaborative robot is an easy-to-use industrial assistant used to automate multiple processes in industries. This is all thanks to the intuitive software that comes built-in it. 
Cobots are made with in-built features that make them safe to work alongside humans without needing to cage them. These safety features expand the range of jobs collaborative robots can do in a warehouse or industry. Collaborative robots can be relied upon to undertake complicated operations alongside human workers without posing a threat to their safety. 
One of the best features of cobots is easy programmability. You can easily set the robot to switch from one task to another in the same work environment, meaning it can be used to perform a task process from beginning to end without needing human interference. This makes collaborative robots flexible and highly cost-effective for different industries. 
These are the reasons more, and more industries are applying collaborative robots in their industrial processes.  
Safety factors for collaborative robots 
According to companies that manufacture collaborative robots, these human-friendly robots are created to be inherently safe to work around. The inbuilt safety features collaborative robots come with make them safer than traditional industrial robots. 
ISO 10218 offers guidelines and information about robotic designs and manufacturing expectations. For a robot to be said to be collaborative, it needs to be able to perform its functions safely, whether or not there are human workers in proximity to the robotic arm. 
The ISO 15066 gives further details and expectations for collaborative robots in line with current robotic technology. 
Four major safety factors need to be achieved before a robot can be declared as collaborative. These include:
Hand guiding capabilities
This feature is required for programming, teaching, and cobots sequencing of the steps to follow for a task. Collaborative robots are required to have safeguards for hand guiding. 
Hand guiding should be done when a robotic arm is stationary and after speed and force limit activation. The cobot operator needs to select hand guide mode for the process to be a success. 
Safety monitoring stop
Collaborative robots are rewired to automatically come to a stop whenever human workers invade the cobot's safety parameters. This ability to stop automatically is enabled by safety software that can also slow down the arm's operations until the workspace is safe again. 
This is an important aspect for any cobot as it makes it possible for them to function on the same floor as human workers. 
Power and force limiting in cobots
Collaborative robots are required to include power and force limiting sensors that prevent possible collisions or force overload. They should also be designed with force dissipating round edges and sensors installed in the robotic arm joints. 
Speed and separation monitoring
Collaborative robots must be made with motion sensors for tracking human workers' proximity to the robotic arm. This capability makes it possible to use collaborative robots in safety zones. This way, cobots reduce the working speed to accommodate the presence and participation of human workers for certain tasks.
With the ISO/TS 15066 guidelines, the risk of injury to human workers is reduced whenever there is contact between them and collaborative robots. This is one of the ways cobots beat traditional industrial robots. 
Common collaborative robot sensors include: 
Grippers with tactile sensitivity allow the robotic arm to 'feel' on touch for grip adjustment
Current feedback sensors
Accelerometers to detect bumps and movement near the robotic arm
Force torque sensors
3D vision cameras to detect the presence of objects 
Laser sensors action triggers
In many ways, the ISO safety guidelines, together with the inbuilt safety capabilities of cobots, make them completely safe to function alongside human workers.