Safety Garments: A Step Towards Improving Workplace Safety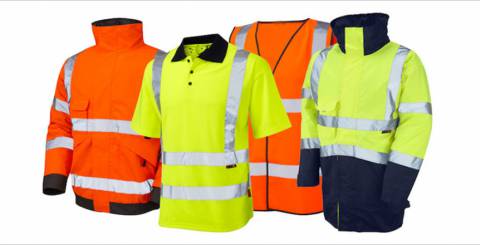 It is very important for employees working in different industries and working conditions to follow proper occupational health and safety guidelines. These health and safety guidelines are there to protect workers' and save them from physical, chemical, ergonomic, and biological hazards. It's a mandatory health and safety rule in different companies and industries, to use high-quality workplace safety garments according to worker's roles and different working conditions. Safety workwear not only protects employees from workplace hazards but also helps companies in setting up a safe and healthy workplace environment.   
For workers dealing with hazardous flames, dangerous chemicals, working on highways, welding or working in any other industries, wearing safety clothing is mandatory and ensure to stay safe and healthy on the job. The primary objective of such clothing is protection, high visibility, and working comfort.  
Improve Worker Safety from Fire and Dangerous Chemicals:
Evaluating workplace hazards and defining safety measures can help improve the workplace safety environment. This goal can only be achieved when you follow all health and safety policies, especially wearing safety workwear before performing your duties in the workplace.
It is necessary for the workers to make use of clothing that offers appropriate protection from heat, dangerous chemicals, and from other hazards.
Directly dealing with chemicals, operating machinery, and ignoring high visibility clothing can result in severe or disastrous workplace injuries.
For handling chemicals, there are special masks and gloves that are used to protect one's skin from harmful chemicals and gases.
Whereas high Flame resistance is offered by high-quality FR clothing.
Read some unique features on how FR workwear improves safety (working in fire brigade or fabrication industries, etc).
FR Clothing - Unique Features:
FR or Flame Resistant clothing has a distinct chemical composition that helps one cut off the oxygen in case your clothes catch fire. Due to this feature, a worker can extinguish a fire in the shortest possible time.
In the past, a high number of workers suffered injuries or even died due to the use of low-quality fire and other safety workwear.
However, due to the high demand and availability of quality FR clothing, it is possible for companies to ensure worker safety when they perform fire safety and other duties where they are exposed to extreme fire or heat.
Construction Worker Safety:
Construction safety is associated with physical hazards such as vibration, noise, slips, trips, and falls. To protect employees from construction site injuries, it is mandatory for the workers to be dressed in construction safety workwear before performing their duties.
You can use different construction safety clothing, such as construction safety vests,  coveralls, and overalls and other high-visibility clothing. These types of clothing help in construction site project safety.
Improve Safety in Low Light, Foggy and Snowy Weather Conditions:
There has been a dramatic decrease in highway and roadway injuries due to workwear safety garments including high-visibility jackets and apparel.
They help high speed moving vehicles and other construction machinery be aware of the presence of a worker. Hi-Viz garments are extremely useful in low light, foggy and snowy weather conditions, where maximum visibility is required for workers.
They protect workers from accidents and other issues due to poor or low light working conditions.
It is very important for us to understand the importance of safety garments in improving workplace safety. We need to ensure that we are using safety clothing manufactured by a professional workwear company. It's as important as setting up and following other project guidelines and instructions. Proper safety of worker can ensure a successful company and work environment and help you reduce the risk of injury and fatalities.