Plantar Fasciitis- How A Local Chiropractor Gets Rid of the Pain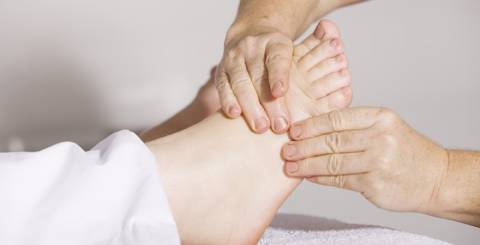 Do you wake up every morning and as soon as you put your foot down, you feel a stabbing pain below the heel? You are not alone my friend; many adults are going through the same agony. You suffer from Plantar fasciitis commonly known as heel pain. 
It is one of the most common foot injuries which causes stabbing pain below the heel especially in the morning and as you start walking, it reduces but does not vanish until it heals completely. The good news is that in most cases it does heal on its own if you follow certain precautions and do some home remedies.
What is Plantar Fascia?
It is a band of tissue that runs below your foot connecting your heel and your toes. plantar fasciitis is the inflammation, tear, or deformation of this tissue which may cause irritation and pain.
Developing plantar fasciitis does not happen overnight hence it does not heal overnight. You need to give it some time to heal better.
What Causes Heel Pain?
Plantar fasciitis which is an overuse injury typically occurs due to high-intensity activities like jumping or running or poor footwear choices. Age can be a factor; as you grow older, the chances of developing this condition are higher. Additionally, if you are overweight, your body is putting extra strain on your foot which may cause overuse of your foot and extra stress on the plantar fascia. If you are standing for a long time on hard surfaces, that may also be the cause of tissue damage.
How to Treat Plantar Fasciitis?
Rest:
As now you are aware that the reason for this condition to develop is the overuse of the foot hence minimize your physical activities and rest as much as possible so that your heel gets to heal faster.
Stretch:
We just cannot emphasize how important it is to stretch. Stretching helps the plantar fascia flex and relieves you from pain as the pain is in general caused due to the stiffness of the tissue.
Wear Cushioned and Well-Supported Footwear:
The reason why you developed this condition in the first place is that you wore the wrong shoes for most of your life. To help you reduce the heel pain, you should use well-cushioned footwear or look into acquiring plantar fasciitis insoles, to support your foot well so that the pain eventually begins to subside.
Avoid walking barefoot as this may aggravate the condition.
Ice Your Feet:
Experts suggest that rolling your foot over a frozen water bottle for 5 to 10 minutes 2 to 3 times a day will help in managing the inflammation and getting rid of the pain.
Wear a Splint at Night:
A night splint can be used so that the plantar fascia is kept stretched the entire night so that you do not feel that stabbing pain in the morning.
Visit a Chiropractor:
Many people have reported getting instant relief after visiting a chiropractor such as prohealthchiro.com. They are professionals who know their jobs and have handled many other similar cases hence trying out one is worth it.
If the Pain Doesn't Go Away, Talk to a Doctor:
Most people get relief by following the above-mentioned remedies but in certain cases, the pain may become chronic. It is a good idea to visit a doctor in such a case. He or she may suggest a different course of treatment including medication or in extreme cases, surgery.
Plantar fasciitis may be a stubborn condition. Assess your pain level and try the home remedies first. If you are consistent in taking therapy and following your stretches, most probably you will be able to manage or get rid of this condition on your own