Microsoft Dynamics NAV for Fixed Assets: Details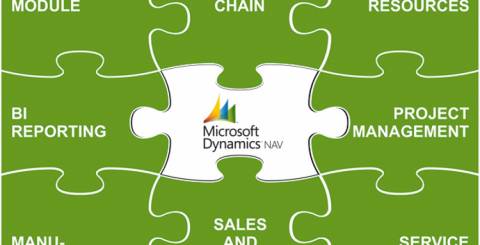 Having already shown the world how good it is for various industries, Microsoft Dynamics NAV is being aggressively used by Finance Professionals to manage Fixed Assets. An ERP to manage Fixed Assets is not that commonly spoken of and this is where the Navision helps break ice by offering special functionalities that help Finance based organizations to manage Fixed Assets successfully and with precision.
1. Arguably the Best ERP Software for Small Business owners, NAV helps control and manage the entire life cycle of one's fixed assets, which includes everything from acquisitions to disposal in order to maximize the value of one's business investments.
2. The solution helps view accumulated depreciation through the various common tracking methods in it. This way, companies get to take better decisions regarding the most cost-efficient timing with respect to disposal and asset acquisition.
3. One of the finer Microsoft Dynamics ERP Solutions, NAV helps save time managing changes. Account Groups within the software can be used to make changes to a large group of assets in a single operation or update all fields related to one asset through a single posting.
4. Organizations get to take total control of costs. They get to track and analyze maintenance and insurance costs for every fixed asset so that the whole thing gets budgeted nicely. Also, costs get better understood over the life cycle of the asset.
5. NAV helps get a more comprehensive perspective with respect to Fixed Assets. The Fixed Assets module integrates nicely with General Ledger and other functionalities so that asset holdings can be incorporated into financial assessments to achieve a complete view of one's overall financial status.
6. The module helps get a quick overview of the organization and also helps monitor depreciation on each asset.
7. Microsoft Dynamics NAV helps maintain a complete record of all your asset information in such a structure that makes most sense. The solution provides all the necessary information to the organization to help record, track, depreciate and dispose of assets at the most opportune time.
8. NAV helps to view and analyze the current status of fixed assets in real time along with other factors such as costs, depreciation and asset transactions. Depreciation Calculations can be automated and so can other standard operations be in order to streamline accounting procedures.
9. The Best ERP Software for Small Business owners facilitates easy and customizable asset tracking, where the assets can be tracked on the basis of description, location and number for which default fields can be set and custom fields be created.
10. NAV being one of the more powerful Microsoft Dynamics ERP Solutions provides for powerful Reporting and Analysis, helping determine the level of detail required in one's fixed asset report, helping find out whether the assets appear as a single entity or as a set of components and helping generate simulation reports that help find out how the book value and depreciation will develop over time.
11. Navision helps maintain cost monitoring. The solution makes it easy to find out the cost of assets, record routine maintenance on assets and also find out the cost of insurance coverage which includes annual premiums.
12. Navision integrates seamlessly with Microsoft Office System Programs. It helps work more productively as asset data can easily be exported and analyzed into familiar applications such as Excel and Word.
13. Every bit of information related to a fixed asset which includes asset account, lease, insurance, user-defined data, specific transactions etc. can all be viewed through asset review and analysis.
14. The solution facilitates standard depreciation methods such as straight line, declining balance and accelerated depreciation and helps define required depreciation conditions well.