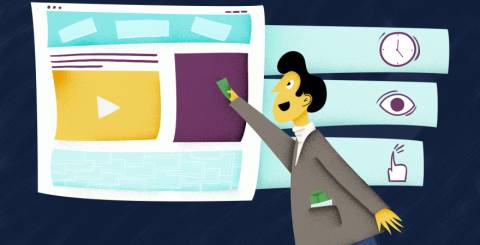 https://iotechnologies.com/blog
Direct advertising is a popular and effective method to make a website bring money to its owner. Webmasters and publishers are free to choose from ad networks, native ads, and selling own ad placements.
In this article, we will focus on the last option, which means that a site/blog owner can define where to put ads not to make the website look littered with banners.
Types of Onsite Ads
To begin with basics, IO Technologies team decided to tell what types of onsite ads exist:
Text ads are the most common ad type on the web. They consist of a headline, the text body itself, and a call-to-action element with a URL. Almost everyone uses such ads.
Banners are basic as well, however, they attract readers with bright creative pictures with URLs. Practically every digital media resource uses banner ads. As a webmaster, you can decide where to put banners to make them fit the best way.
Video advertising has become very popular recently. Forbes even wrote that video traffic will reach 80% of overall consumer traffic by 2021. Social media, newspapers, magazines, and blogs add videos to their content strategy, and it works.
Native ads or sponsored posts are natural, they usually fit the original website content and seem to be part of it. People like reading such posts, as they provide them with fresh and useful information.
You may choose any ad types you want, but finally, you need to have everything in one place to provide potential advertisers with the necessary information. That's why you need a Media Kit or a special advertising page.
Pricing models
For creating it, you need to know what pricing model will be the main one for you:
CPA (Cost per action) - you are paid when a user performs an action on advertiser's resource. This one is commonly used by affiliate marketers.
CPC (Cost per click) - you are paid a fixed amount of money (usually it is from $0.01 to $10) every time someone clicks an advertiser's link on your site.
CPM (Cost per mile or for 1000 impressions) - you are paid every time someone's banner was showed to one thousand of unique visitors.
Flat Rate is a fixed price for displaying ads for a certain time period (week, month, quarter, year, etc.).
Combination of different models. You are free to offer advertisers models like CPC+CPA, CPA+Flat, CPM+Flat, and so on. Bulk orders are usually offered with discounts that attract advertisers.
Media Kit Examples
Now, it's time to create a media kit for your website. For doing that perfectly, it's useful to explore well-known successful cases.
Mashable.com
This digital media resource starts its media kit with detailed statistics, advertisers can see their chances and benefits. Mashable team also notes that there are custom solutions for clients and they are open to dialogue.
Entrepreneur.com
Entrepreneur team describes the audience, statistics, ratings and all possible opportunities for advertising. Their advertising page is also available as a PDF media kit. It is comfortable, as someone can look through it even offline.
Inc.com
The advertising page of Inc.com includes everything an advertiser may want to learn about print and digital opportunities, participation in events, and even custom solutions.
You have to remember that your advertising page or media kit should provide potential advertisers with full information for decision-making. Show them your audience they will be able to target (for example, whether men or women, young or mature people, Europe or the US citizens prefer to read your site, and so on), your statistics per day and per month, detailed pricing and other opportunities they will get from your cooperation.
What all these examples have in common?
They are simple. A user can easily understand how to navigate these media kits and find what he/she wants.
Full information. A client has everything to make a decision. If not, there are always sales contacts.
Variety of different opportunities. Each advertiser will find something suitable for his/her needs.
Fresh information. All these media kits are dated 2018. Keeping them up-to-date is vital: as no one will order ads from you if he/she sees 2015 date while browsing your media kit in 2018.