Know Innovative Ways for Wearing Sapphire Rings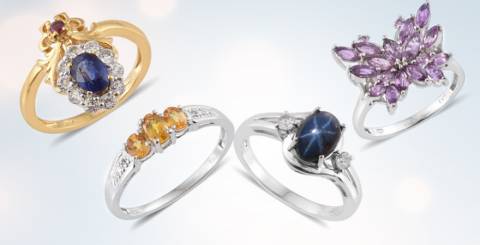 Sapphire always possesses allure. Admirers laud the stone for its exciting color, and sapphire finds its place in museums, crown jewels, and even in the royal engagement rings of modern times. It's one of the gemstones that continues to stand the test of time, retaining its popularity through the centuries.
Though its blue, violet-blue and greenish blue colors are the most popular, its other varieties like violet, orange, green, pink, and yellow are equally exciting. A naturally durable gemstone, sapphire is perfect for any jewelry, particularly rings.
With its attractive color options and reliable durability sapphire rings are one the best jewelry pieces to consider for daily wear. If you're someone who loves style and spontaneity, then sapphire rings are just for you.
Read on for some of the coolest ways to wear sapphire rings!
Contrast Blue Sapphire Rings with Lightly Shaded Gems
Opposites attract! Nowhere does this age-old saying prove its relevance better than in this case. Pair the sprightly blue sapphire rings with lightly shaded gemstone jewelry like pearl necklaces, aquamarine bracelets, Brazilian milky aquamarine pendants and more and get bowled over by the contrast that will bring out the optimum sparkle of sapphire. The pairing can prove to be a winning combination and a magnet for compliments wherever you might go. Blue sapphire rings are particularly liked by working women who love to give the finishing touches to their preparation with this colorful beauty.
Padparadscha Sapphire Rings: the Most Luxurious Sapphire Gemstone?
Padparadscha derives its name from the Sinhalese words Padma which means lotus and Raga which means color. This hue resembles the lotus flower of Sri Lanka. Padparadscha ranges in color from pinkish-orange to orangey pink. Padparadscha ring with your favorite watch is just the combination you need while stepping out.
Padparadscha sapphire is extremely rare and not always easy to find. It'ss the rarity of this colorful beauty that makes it one of the most expensive gems in the world with prices rivaling those of rubies and emeralds.
Sapphire is a September birthstone. So if her birthday falls in September, then sapphire rings are one of the best gifts you can give. Gift Padparadscha rings and watch them blush just like this gorgeous stone!
Colorful Sapphire: A Viable Substitute For Other Colored Gemstone
Sapphire rings reliably add a touch of color and style to the wearer. However, sapphire ring enthusiasts will be glad to know that colorful sapphire can be a viable substitute to many other gemstones.
Take for instance the case of yellow sapphire that is often used for high-end jewelry and can fetch high prices. However, it is a very affordable option when pitted against yellow diamond. Both gems provide deep vibrant yellows that will brighten anyone's day.
Pink sapphire, on the other hand, is perhaps the most popular of pink gemstones and is a far more affordable option to pink diamond rings. Pink sapphire is also a rare gemstone, especially in bold colors. It can vary between pastel, bright pink, violet pink or a warm peach pink. Pink sapphire rings can also prove to be a very worthy alternative for pink rose quartz, pink spinel, rhodolite garnet and other pink gemstones. Its hardness and durability make it a great option when compared to other pink stones, who can't easily match this gem in everyday wearability.
Green sapphire can vary from light mint to a dark forest green. Consider it to be a very good alternative for such green gemstones like emerald, tsavorite garnet, tourmaline, and other green gemstones. It's a great way to bring verdant color to your wardrobe without spending a lot of green, either!
Purple sapphire is a variety that can prove to be a great selection instead of amethyst or purple fluorite. Pair it with matching outfit and get bowled over by the colorful extravaganza it creates.
Sapphire ranks nine on Mohs hardness scale and is second only to diamond in hardness. The excellent toughness of the stone makes it resilient and strong enough to handle everyday wear and tear.
Sapphire is one of the most popular gems and is frequently used in rings. However, other sapphire jewelry like necklaces, pendants, and bracelets are no less popular.
The Perfect Metal For Sapphire Rings
Finding the right metal for any ring is just as important as choosing your gemstone. Metals add their unique qualities to the ring and enhance its allure. Whether you go for a ring made of precious metals like gold or settle for an affordable setting like sterling silver or stainless steel, careful deliberation is crucial. To help you choose the best possible metal for any ring, consider these options. Take your pick!
Gold: Naturally warm in hue and a beautiful luster makes gold settings perfect for engagement rings. Timeless and romantic, an engagement ring in a setting of yellow or rose gold is what you need to make the occasion momentous. Gold settings are also preferred by people who prefer a posh and polished look.
Sterling Silver: It's interesting to note that there was a time when silver was considered as valuable as gold. However, in today's market, it's emerged as an elegant and sophisticated metal available at affordable rates. Sterling silver often comes with platinum or 14K gold finish, making it a preferred selection for sapphire ring enthusiasts. Sterling silver can vary from bright to grayish white and have a glossy or matte finish.
Stainless Steel: Settings of stainless steel are gaining popularity for being durable and affordable. Sturdy and shiny, stainless steel rings can be polished to take on different looks. It's particularly popular by those who want a strong setting that can take on everyday wear and tear. Stainless steel can be easily cleaned with dish soap, water, and a soft cloth.
Conclusion: Sapphire rings are always popular. However, knowing how to enhance their charm will increase your joy when wearing them. Discover for yourself some of the innovative ways of wearing sapphire rings.