Inventory Management: Optimize The Inventory Of Your Store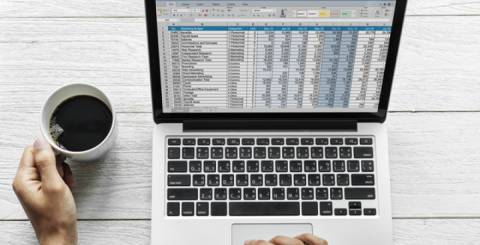 https://www.pexels.com/photo/macbook-on-desk-1179800/
Inventory management
The success of your store involves more than just a nice website or good marketing. Managing your inventory is at least as important. You do not want to buy too much stock that you stay with, but also not too little, so that your sales opportunities go wrong. Inventory management can help you with this and gives you insight into what you have or need to order.
What is inventory management?
With stock management, you keep a grip on your stock. This way you have insight into the incoming and outgoing goods flows of your company at any given moment. You may have different suppliers or multiple sales channels, so you risk losing the overview. What is still in stock and where? And how much do you have to purchase in order to continue to meet the demand?
Ideally, you want as little stock as possible to save costs. The capital is unduly fixed and must be accommodated. You do not only need storage space for this but also racks and equipment, for example. Unnecessary storage, therefore, costs you money, which you would rather put somewhere else. You generally do not earn back inventory costs quickly. However, you can save on it by optimizing your inventory management.
You, therefore, want to buy and store as little stock as possible. At the same time, you always have stock. You want to have enough copies of your bestseller on the shelf. And selling products that are not in stock gives all sorts of problems. This way you can miss out on sales opportunities and be delayed. With a decrease in productivity, dissatisfied customers and declining repeat orders as a result.
Track your inventory - manually or automatically?
You can easily keep track of your stock yourself if you have a small assortment or just a webshop where orders can be placed. Many retailers will process this manually in Excel or online spreadsheets for each order. If you spend a lot of hours on this, you can consider whether a software program can not help you with this. So you do not have to go through your storage every time or spend unnecessary time on stock administration.
From your webshop you can, for example, have stocks updated in real-time. Then you always know what is in stock, what is reserved for shipping to the customer and thus also whether the stock needs to be completed. How much should be purchased and when does this come in? If an item in stock falls below a certain value, you will receive notification of this.
In addition, such programs sometimes have all kinds of extra options, which also save time in the shipment.
This, in turn, ensures that you never have to take over customer and order data for address labels and invoices. Your customer has already filled this in during checkout. Also, check whether the software can be linked to your cash register solution or webshop software. By linking these you can sometimes automate a lot of work.
How much stock do you need?
It is advisable to distinguish different types of stock in your administration. Be aware of the functions of your inventory. Firstly, you want to cover yourself against uncertainties with a safety stock. If your supplier experiences problems with transport or due to a defect, you will not immediately run into problems. Moreover, customer demand is never the same from week to week. This will vary structurally. If something goes wrong in the supply, then you can at least deliver from your own, extra stock.
How big should your security stock be? You decide that yourself. It depends on your desired level of service and to what extent you want to cover yourself against uncertainties. If you want to be able to deliver customers from our own stock in 95% of the cases, this percentage is your service level. You take for granted that in 5% of the cases you cannot deliver from your own stock. A higher level of service also means a larger excess of stock with all the associated costs. So keep this in mind.
Your stock will have to be topped up several times a year. The more often the stock needs to be renewed, the better. That means that you sell a lot of copies of a product. What is your stock per week? If you keep selling at the current rate, how much stock do you keep? Compare this with the delivery period of your supplier and never buy too late stock.
Supply and demand
You can not look into the future. Depending on your industry, you can partly predict when the demand will rise. During the holidays, for example, many delivery services are overloaded because many online orders are placed. If you expect the demand to rise soon, you will put in additional seasonal stocks. Also, keep in mind the holiday period of your supplier during the year. It may not match, and you will have to bridge this in your inventory.
It is the nightmare of many a shopkeeper to store excessively and then to stay in stock. If the demand is smaller than the supply, you will be left with unsaleable inventory. You want to avoid this at all times. Sometimes it is possible to send it back to the supplier. Saving articles and hefty discounts can also sometimes offer a solution. After a while, you will no longer sell it, or only for a fraction of the purchase price. If you have reached this point, the loss has already been incurred. You can, therefore, better throw away the remaining stock and downgrade to zero. The unnecessary storage of stock makes the loss potential even greater.
Return products
Return shipments can further complicate your inventory management. The logistics costs are high: a product must be returned, checked and repacked. Moreover, you can not offer the product for sale in the meantime. You do well to reconsider your return period. Can you shorten this within the legal deadline? Your inventory turnover rate is not as high as you think when products lie with the customer to be returned.
Yet returns are not only detrimental to your sales. If your return policy is effectively organized and runs smoothly, the consumer will not settle you on it. The customer will return sooner if the service is in order.
Outsource Fulfillment
Inventory management can optimize a lot, but logistics remains time-consuming and expensive. It is therefore not surprising that many webshops outsource the entire shipping process to a fulfilment company. They take care of the entire shipment, from the moment the order is placed until delivery to the customer. They can often also take some of the stock management off their hands. It sounds like music to the ears but makes an informed decision.
How much money do you spend on shipping if you do it yourself? Be honest with yourself and include the rent of storage, administration costs and your number of hours worked. Calculate the costs per shipment and compare this with the rate of a fulfilment party. The advantage of a fulfilment company is that they specialize, also in stock management. In this way, they can receive a volume discount for packing material, which you as a freelancer do not use. In other areas too, they are able to better optimize things through volumes.
Dropshipping through a wholesaler
Another common construction for starters is dropshipping. In that case, customers order and pay for your web store. You place the same order with the wholesaler or drop shipper. This then delivers the order directly to your customers. So you are a kind of intermediary that sells from the stock of another company, with which your inventory management has fewer risks.
Dropshipping is an economical alternative for managing your own stock. This saves you a lot of time and inventory costs, such as space, administration and purchasing. You also determine the sales price yourself. The rest arranges the drop-shipper. For that, they naturally charge a purchase price, shipping costs, and on top of that a small amount for their service. Again there are a number of points of interest if you consider dropshipping.
Consider for yourself whether it is actually profitable for your company. You have lost the risks of the stock, but the costs are usually charged in the rate of the drop shipper. In some cases, they sometimes even ask for a percentage of the profit on top of their service costs. You may then determine the sales price yourself, but you also want to be able to compete. In addition, competition is greater, because many retailers offer exactly the same range of wholesalers. Finally, you are completely dependent on the dropship company. So make sure you can trust it.