How to Rent Your Home Faster - Declutter & Staging Tips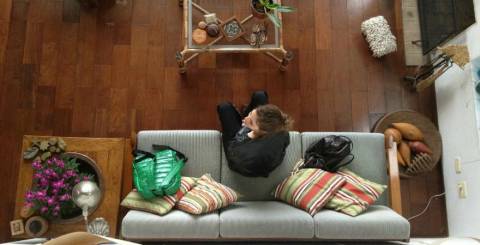 There are many things that property owners should consider before releasing a home on the market, appearance being one of the most important ones. Looks are a major attraction and retention factor not only for your listing but for potential viewings as well. Moreover, maintaining good appearance throughout all viewings is crucial to rent your home as fast as possible, sometimes even for a better price. Here's what you can do to improve the first impressions of your house.
The first thing people see once they come to view your home is its external appearance. This is also the moment when a person will try and imagine himself living in it for the first time, so you need to make sure that you are welcoming with a grand entrance.
Clear out the backyard and garden, trim the hedges, mow the lawn and plant flowers to boost the looks. You can turn on the sprinklers before a viewing to make the grass sparkle;
Make sure the facade, walls, fences and porches are all clean and repair work is done if needed;
A fresh coat of paint wouldn't hurt your efforts as well, treat the doors and window frames with one to freshen them up;
On the topic of windows, washing all of them beforehand will add an extra shine to your home. You won't believe how much difference this often forgotten task makes;
Hide the ugliness--garden tools, rubbish bins and other garden clutter should go to the backyard, away from sight. Objects tend to attract the eye, so make sure you're displaying only appealing ones;
Give the patio and driveway a thorough wash and fill in larger cracks;
Win extra points with decor--nothing says "Welcome" better than a seasonal wreath on the front door.
As for the interior, remember that your future tenants will live in the house for the following months, hopefully even years, so make sure they look at the idea with excitement and anticipation. Present them with a clutter-free space that invites them in, rather than imposing a certain lifestyle on them. How to achieve that?
Firstly, think about your target group of renters. Are you on a hunt for a family with children or will you market to students and professionals? Having a clear grasp on your target market will help you tap into their needs and advertise the property better. For example, students and professionals might need a working corner whereas the family will be better off with an extra storage unit.
Other than that, you can always do the obvious things such as:
Declutter the house of various trinkets, excess furniture, and other belongings. Don't use any of the space you're letting for personal storage--it makes a bad impression and can turn people off;
Repair leaky taps, seal holes in the walls, replace broken tiles and burned out lightbulbs. Make sure everything works properly for the new renters, including all appliances;
If the previous tenants had pets, make sure to fumigate the house against fleas and other insects;
Thoroughly clean the entire property. Pay attention to details such as light fixtures, fittings and don't forget areas behind or beneath furniture and appliances. You can do the cleaning on your own or hire professional pre-tenancy cleaners if you don't have the time or will;
Re-paint the walls in each room with a fresh, neutral colour. Not only will it cover spots but it'll give an impression of a well-maintained home. Which is, in fact, what you offer.
Plants go a long way in creating pleasant and fresh atmosphere, make sure to place a pot or two of low-maintenance indoor flowers indoors.
Accessorize and set the scene with centrepieces, colourful dishes, vases and even candles. This will create a cosy mood around the house and will help your future tenants envision themselves living in it. Don't overdo it, though, aim at the simplicity of a hotel room.