How iOS Apps Are Transforming Education Worldwide?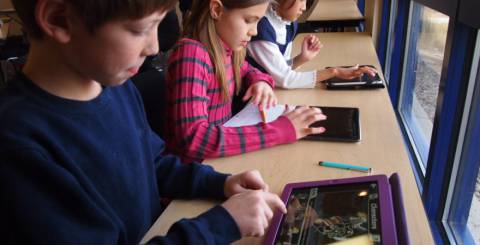 Educators and parents across the globe are now increasingly accepting the fact that the goal of education is to help students gain knowledge and values and not merely gather facts. As is the case with the existence of most phenomenon in society, education has observed consistent advancement and evolution that has served to further the system's reach and impact across the social structure.
Moreover, while we are talking about progress, it is hard to ignore this wondrous thing called technology. Now, you may be inclined to question the link between education and technology, but if you think of the latter's proliferation in every aspect of the human existence today, you'd know where we are going with this. Technology has transformed how education is delivered today -- and the most significant change driver has been mobile apps. This age of mobile app development has modernized education, adapting to the demands and requirements of generation Z -- the generation that is tech-savvy from the get-go. While teachers and parents advised students against spending too much time glued to their smartphone screens, today students are encouraged to take to their mobile screens since they proffer the potential to provide instant and reliable learning.
Now, the next question here would be: but which OS has better educational apps? Well, though the jury is still out, we gathered some numbers that indicate that iOS may be winning this race. Greg Joswiak, vice president of iPhone, iPad and iOS product marketing, Apple, said earlier this year that about 200,000 education-focused apps have been developed for Apple devices. The company also noted that teachers at nearly 2,000 schools across the globe are coding with Swift, which is the programming language that Apple introduced four years ago -- in 2014, to be precise.
We decided to take a deep dive into the myriad benefits of using iOS mobile apps for the education sector and see if its popularity is indeed supported by substance:
Instead of forcing children to adhere to a pre-decided timetable, iOS mobile learning apps give them the freedom to study whenever they want, no matter what hour of the day it is. And considering that all one needs is an Apple smartphone or tablet, they provide ease that consequently enables and encourages children to engage with such apps more often.
Even general iOS mobile apps are celebrated across the globe for their agility to incorporate a broad selection of interactive elements. Unsurprisingly, the iOS educational apps aimed at children are no different -- they come with an extensive range of interactive activities, such as build a word, crosswords, puzzles, spot the difference, etc. This facet of these apps, consequently, keeps the young ones glued to mobile phones and iPads, but for all the right reasons!
There is no denying that most students today are quite partial to the ease of digital education. And it is this observation that has led to the growth in the popularity of book search apps and library apps on Apple devices. Such iOS apps continue to make it quite straightforward for students to look up relevant study material from the ease of a mobile application, in order to help them find the information they need without needing to spend their precious time on just searching for things they need.
In addition to the obvious advantage of facilitating and delivering education in ways that appeal to students, iOS apps in the education domain also serve another purpose -- proffering utility in a wide selection of other activities relevant to education, such as digital payments at the stationary shop or fee payments at the school or perhaps even the additional classes students may take after school. Besides that, iOS mobile apps in the education sector can also be leveraged to better manage the institute's attendance management apps and do away with manual paperwork to a considerable extent.
It goes without saying that there exist an endless number of companies who offer iOS app development services, but one must tread carefully in this context. While seeking to engage the services of a company who can help develop an iOS mobile app for you, be sure to turn to only trusted names in the industry. And remember that even though apps in this market present a tremendous opportunity, it is our responsibility to ensure that we deliver only the best for our children so they can move forward on the path to being the leaders of tomorrow!