How to Improve your Customer Service with WhatsApp Business App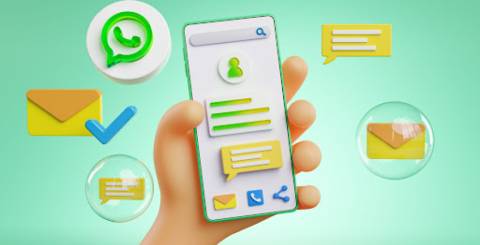 Do you remember the day you went without using WhatsApp? Probably, your answer would be there is no such day. Such is the eminence of WhatsApp. That is why WhatsApp can provide massive business opportunities as well.
According to Oberlo, there are 2 billion active users on WhatsApp making it the most popular messaging app worldwide. WhatsApp is a perfect app for businesses to engage with customers in a personal and secure way.
Benefits of WhatsApp for Business
Customers like personalized messages and real-time communication. WhatsApp is an ideal messaging app to engage customers and meet their expectations. That is why it is the top choice for E-commerce merchants to stay connected with their customers and improve their customer service.
WhatsApp can help your business in many ways to improve your customer support:
Greater Reach
WhatsApp has the highest number of monthly active users irrespective of age and location. Therefore, it can give a chance to your business towards expanding its reach.
Team Inbox
Your customer's WhatsApp chats can be allocated to multiple supporting agents to improve the service quality. The customer's queries are solved quickly by the respective person.
Integrate Chatbot
The business can include chatbots with WhatsApp to automate their support. The customers get answers to their questions quickly around the clock. Chatbots enhance the capabilities of businesses and manage their customers well.
API Functionality
WhatsApp Business API helps businesses to connect with customers easily, securely, and accurately. It helps businesses to quickly configure WhatsApp to start communicating with the customers.
Support Multimedia
Businesses can send rich media content like images, videos, documents and even share product catalogs with the customers. This helps to improve the customer experience.
8 Ways to Improve your customer service with WhatsApp
Businesses need to be present on every channel to increase customer experience. WhatsApp can help to improve and provide quality customer support. Various businesses are using WhatsApp to achieve the objective of customer satisfaction and improve their omnichannel experience. Let's look at the ways to improve customer service with WhatsApp.
Handle Customer Queries
Image Source: Sirena
Customers want quick responses when they interact with the business. WhatsApp can make it possible to answer customer queries with one-to-one communication.
You need to be prepared for all types of customer queries. The queries can be regarding purchase, delivery, products, complaints, or doubts.
Your WhatsApp number must be available on your website, social media accounts, email channels to allow customers to reach you easily. Your contact us page must contain your business WhatsApp number. You can also add a WhatsApp link on your website so that customers can start communicating with you quickly.
Receive Customer Feedback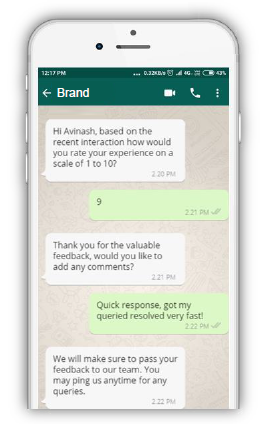 Image Source: Seawindsolution
Customer feedback matters a lot for businesses to know what changes are required in the business strategy or where you are going right.
WhatsApp can make it possible for businesses to collect feedback from customers. The conversational flow of WhatsApp creates an opportunity for businesses to know the experience of customers.
WhatsApp offers two-way communication that helps to receive customer feedback effortlessly. The chat feature of WhatsApp helps real-time communication with customers and know their comments on the purchase. To not make it a time-consuming process, just ask for a rating or scale your business from 1 to 10.
Share Order Status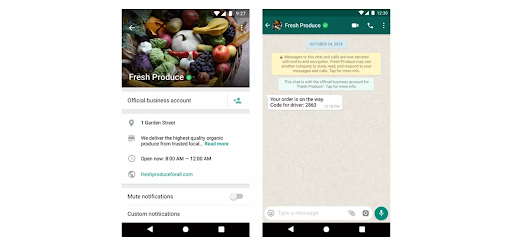 Image Source: MageComp
Adding WhatsApp to your communication strategy can turn out to be handy in sending status updates to customers regarding bookings, order tracking, and other information.
Businesses can use WhatsApp to send order status like processing, dispatched, or delivered. Updating customers timely on the order status will help to improve customer service and grow your business.
Businesses can use WhatsApp to inform customers of the availability of products that are on the customers' wishlist. Products that are available at discounts can also be notified to customers to boost conversion rates.
Send Notifications
Image Source: Chatimize
Brands can use WhatsApp to share notifications and reminders to customers and increase their experience with the brand. Send various notifications to customers like booking, payments, etc.
Compared to emails, customers are available on WhatsApp. Hence, sending notifications there can help your business to improve your customer service.
Brands can send invoices and billing to customers via WhatsApp. You can send due payments notifications to customers. You can also keep customers informed about their order delivery.
Market Products and Services
Image Source: GuidingTech
WhatsApp Business provides the opportunity for businesses to market their products and services to increase customer engagement. Brands can create a product catalog and showcase it to customers via WhatsApp.
As soon as a new product or service is launched, quickly inform your customers on the most popular messaging platform, WhatsApp.
As a new product arrives it is obvious that customers may have queries regarding its usage or features. To simplify this, businesses can include chatbots to automate replies. Chatbots also help in customer satisfaction as they are being attended quickly.
Allow Bookings
Image Source: Installornot
Customers expect all the information in one place. When the customers are provided with booking information and the ability to book from Whatsapp itself, it becomes convenient for them. And if the customer is convenient with your services, they will definitely love your business.
Keeping all the booking info together will help eliminate the customer hassle of checking their emails and deliver a seamless experience.
Keep a support agent to help customers resolve their queries related to bookings faster. Share all the booking information via WhatsApp to ease the whole process.
Manage Sales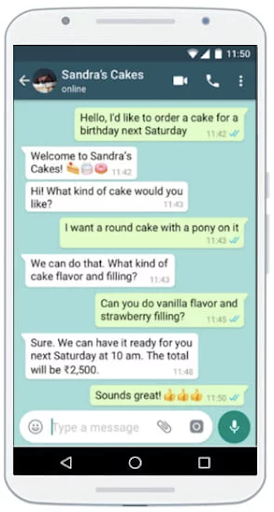 Image Source: Sirena
Boost your sales with the help of WhatsApp Business. Allow customers to order from the WhatsApp platform.
When a customer has shown interest in your product, you reply with a welcome message. Then share information about the product along with the quote. This is just like a person arriving at your physical store for purchase. In the same way, you can attend to customers on WhatsApp for purchase.
Responding to customers quickly will clear their doubts and make them feel attended. This helps to increase the customer experience and thus grow your business.
Extend Customer Communication
Image Source: HindustanTimes
WhatsApp usage for businesses can help to scale your customer communication and engage them more. WhatsApp offers sharing media like images and videos to customers and improves their shopping experience.
WhatsApp offers a team inbox where the customers' cuts can be shared with your team to quickly respond to their queries related to any matter. Businesses can also run marketing campaigns on WhatsApp for the purpose of marketing. Hence WhatsApp is not just for communication but it can also prove to be a help from a marketing perspective.
Modify Your Customer Service with WhatsApp
Realize the benefits of WhatsApp - the platform which everyone uses and you can use it for your business too. WhatsApp is a great benefit for businesses to leverage customer engagement and improve support.
WhatsApp can definitely enhance the value of your customer service strategy and provide a competitive edge. You can make WhatsApp a part of your communication strategy and head towards the path of business growth.
Connect better with customers every day and boost your sales.