How Custom Lanyards Can Help Bolster Your Business?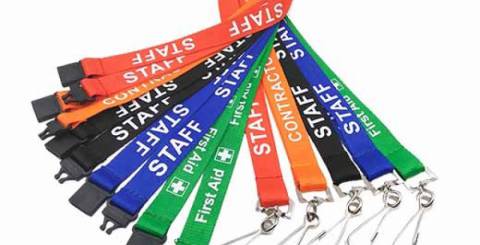 The more you show off your business, the more revenue it is going to make. Custom lanyards are a popular way to advertise your business and to show the team spirit at any occasion. It is a trendy way of marketing your business without investing too much skin in the game. Custom lanyards are useful marketing tools, yet not a burden on the pocket.
Lanyard is a special kind of wearable strap or cords that is attached with a hook or a clip at the end. You can observe increasing use of a lanyard almost everywhere as it helps in carrying IDs, badges, or keys easily. It forms a familiar sight or depicts the team spirit at conferences, events, tradeshows, schools, hospitals, and workplaces. However, the purpose of a lanyard is not limited to just holding IDs or badges conveniently and safely. It also comes in handy as a powerful branding and promotional tool for your business. 
A lanyard of alluring design and bright colors can be an easy tool in garnering attention to a brand, whether its some special event or a regular day at work. Without further ado, let's talk about the benefits of having a custom lanyard to bolster your business effortlessly. 
Better Networking Opportunities
Networking and socializing are critical for the growth of a business, and lanyards make it easy. It feels awkward to go anywhere and start the conversation abruptly. While wearing a business card with a custom lanyard having a company name or logo on it, you definitely get the advantage. Businesses give off an image of a company's values and professionalism. However, the most important thing is the ability of customized lanyards to boost your networking.
A high-quality lanyard can easily enhance your networking opportunities to a greater extent. It's a cheap yet effective way of capturing the attention of the peers and get others talking about the company. Besides this, giving a custom lanyard away as a souvenir to audiences can be an effective method of marketing the company as a brand that will always be in front of the customers. As these are not that much expensive, it can be given to the prospects at a tradeshow, conference, or local event as a token of recognition.
Boost Brand Identity
For any small or large scale organization, having a strong brand presence is the most critical factor of success. An organization that successfully makes the brand identity can easily control the image of the organization in the eyes of employees and customers. A distinctive and unique lanyard can easily do the job for you.
When customized lanyards are distributed among employees in the workplace, they can easily associate with the brand. It infuses a sense of harmony and team spirit in a subtle way. Businesses can also create a lasting impact on the minds of customers by lanyards without putting any extra efforts. 
Enhanced Visibility
Getting the brand recognized by the majority of the customers is often the biggest challenge for any business and marketing campaigns can be infinitely expensive. There are some cost-effective techniques to bring forward a brand to the masses with minimal effort. Customized lanyards are one such cost-effective method. It is an easy yet highly effective way of enhancing visibility and getting the recognition that a brand actually deserves.
Have you ever attended a conference or public event? If yes, then you must have noticed that the majority of the big names will have everything custom-made- from lanyards to the pens and notebooks. Many of these customized items are distributed among people for free. It's not just an aesthetic choice, it is a clever and effective marketing tactic.
People who will take these souvenirs to their homes will constantly have a reminder about the event and the brand from that point. If the custom lanyard is eye-catching and has some uniqueness, then it will ultimately entice people to discuss it and people will show it to others as well.
Build Customer Loyalty
Attracting and winning loyal customers is crucial for any business whether operating on a small or large scale. The multinational organization usually use a mix of branding and promotional tools to build customer's loyalty with a brand, smaller businesses are more likely to suffer due to economic constraints in attaining the goals. However, lanyards can be the savior as these are cost-effective marketing tools.
Lanyards are useful for bringing the focus and attention to a brand quickly regardless of the activity or occasion. For instance, for the organizations whose common practice is to have the lanyards at any special event, others can get a quick reminder of the company's name by just a glance of the lanyard. Prospects who get lanyards from any company can easily identify the brand in the future and there is a possibility that they will soon turn into your customers for a lifetime. 
Professional Identification
The first impression a business makes on the minds of the prospects matters a lot in this highly-competitive environment. The first impression is usually hard to change and that's why businesses should strive to make a professional identity that can easily appeal to the targeted customers. How a brand looks to the world and competitors determine whether the consumers will be willing to take a chance on it or not. Custom lanyards can exude more professionalism on special occasions and daily interactions with customers as well. 
Whether it's building a unique brand identity, boosting customers' loyalty or sending a message to the clients, a custom lanyard plays a vital role. If your business doesn't have a tailor-made lanyard yet, then you are surely missing out on invaluable branding and networking opportunities. Apart from this, you must be missing out on valuable customers too. Lanyards are tools that perform different marketing and branding functions even without making it obvious. Find a perfect lanyard design for your business and persona to ensure that you are doing the best in every aspect