How to Choose the Right PPE for Bloodborne Pathogens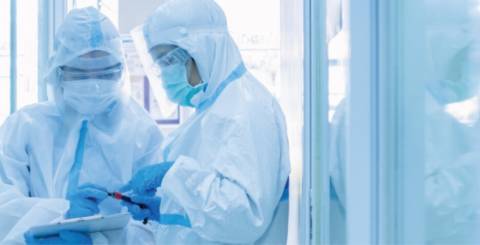 Today whether you work in an office, a factory, a laboratory, or a healthcare facility, protecting worker safety is critical. Bloodborne pathogen exposure in the workplace is a severe problem, yet injuries and other risks can often be avoided. For limiting the danger of occupational exposure, a PPE for bloodborne pathogens approach is required, with one of the most significant parts being the provision of proper protective clothing. Gloves, gowns, masks, eye, and face protection can all help personnel decrease the health risks of exposure. Employers must provide and maintain proper personal protective equipment (PPE) and apparel for their employees. So here are some lists of how to choose the right PPE for bloodborne pathogens.
Comfort and breathability:
It is important to be well-versed in the facts about PPE comfort and breathability. Protective garments should be considered out of flexible materials to allow the wearer to go and work securely. Slips, tripping, and falls can all be caused by too-tight clothing or create dexterity problems. There are many misconceptions about garment breathability when it comes to comfort.
Size chart:
Getting the right fit for PPE is crucial for the wearer's safety. Garments that are not properly fitted can affect comfort and dexterity. Furthermore, incorrectly fitting gloves and other tools might increase the likelihood of protective gear slipping, exposing the wearer to further risk. Choose protective equipment using a thorough and easy-to-understand sizing chart so you can get the optimum fit for every piece of protective gear you use. Wearers of protective equipment should be educated on the proper donning and removing sequence to encourage safe practices and reduce the transmission of infection. It is critical to provide staff with the essential protection against bloodborne pathogens. Workers should be well-versed in how hazardous compounds might be communicated, as well as the standards and company safeguards in place to prevent exposure.
Disposing and removing PPE:
After properly cleaning up a blood spill and decontaminating the area, the final step is to safely dispose of all of the cleanup items. The order of removing and disposing of PPE may change depending on the different types of PPE you utilized, but the general approach should remain the same.
Eyewear:
The front of the eyewear, like the fronts of gowns and aprons, is deemed dirty and should not be handled. Remove them by gently pulling away from the face while gripping the frames around the ear. Depending on the type, they should either be disposed of or stored in a designated container for sanitizing.
Gown:
If you cleaned with a gown or apron, consider the front and sleeves unclean and remove and handle from the back. Remove any straps from the gown and take it away from your body. After that, flip the clothing inside out, fold it in half, and discard it in the designated hazardous materials bag.
Gloves:
Remove the gloves first, as they were most likely the ones who had been exposed to the most blood. Grasp the glove near the wrist and pull it inside out to remove it. After that, pull off the other glove with the inside-out glove. Place both gloves in a tagged and sealable hazardous material bag once they have been removed.
Storing PPE:
Another important part of safe and effective PPE use is to keep all PPE in easily accessible locations. All staff must receive training on where PPE should be kept. Do not keep PPE in areas that could be locked or unavailable at any time. Bloodborne pathogens PPE should be kept in a cold, dry location. Additionally, ensure that PPE is stored in a secure location free of tampering by untrustworthy individuals. Regardless of where it is kept, it should be reviewed regularly to ensure that it is completely stocked and in excellent working order.
Bottom line:
Finally, when safe practices are followed, and protective clothing equipment that is standard-compliant and provides the ultimate barrier against infectious materials is chosen, a safe working environment is established.