How to Calculate Start Up Costs for a Coin Op Laundry Business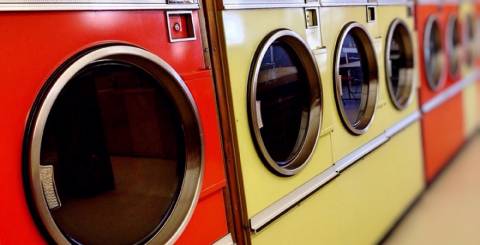 If you are thinking about launching a coin-operated laundry business soon, you understandably want to review the numbers and ensure that you have enough capital on hand to pay for all start-up expenses. Doing the math is the first and foremost step to take to successfully launch your business. These are among the most common startup expenses that you may face related to starting this type of business.
Your Business Space
Some laundry facility owners will purchase their business real estate, and others will rent space. Both have up-front costs, related to down payments or deposits. They also have recurring payments for monthly rent or a mortgage. If you plan to apply for a loan, you may have loan fees with closing costs as well. In addition to securing the space, you may also need to finish out the space with décor, connections for utilities and more. The cost can vary substantially based on your market and how large your facility is.
Appliances
A coin-operated laundry business would not be possible without investing in numerous washing machines and dryers for your customers to use. These may be special machines that are retrofitted to accept cash or credit cards as a form of payment. A typical laundry facility may have dozens of appliances in it, so this expense can be hefty. You may also want to invest in vending machines, televisions and more for the convenience of your customers.
Other Fixtures
Most laundry businesses have several other fixtures in place as well. This may include chairs and tables that are bolted to the ground. It may also include bathroom fixtures, lighting and more. The cost to purchase and install these fixtures can be high, but the materials that you choose will play a major role in this expense. However, you do not want to be too tight on budget and spend money on low quality materials. Choose your materials wisely, so that you do not have to break your bank on updating these materials.
Utility Connection Fees
Before you can open your doors to the public for your grand opening, you will need to set up utility accounts. This may include accounts for water, electricity and even gas in some cases. You may also have to pay to have numerous connections installed in the building to accommodate all of your appliances. However, if you are running your business out of a building that was previously used as a laundry facility, this may not be necessary.
Business Licenses and Permits
In most locations, business owners are required to obtain licenses and permits, and this includes laundry businesses. You should check with your city, state and county governments to determine the steps that you need to take to operate your business legally. This will also help you to better estimate the related costs.
Insurance
There are several types of insurance that you may want to obtain before you open your doors for business. For example, you may obtain a business insurance policy with a liability component or a property insurance policy. If you have employees, you may need workers compensation insurance as well as health insurance. While some business owners may pay the premiums for these various policies up-front in full, you may be able to make a partial premium payment and pay the remainder of the premium in monthly installments.
These are the most common expenses that you likely will be responsible for when starting a coin-operated laundry business. It is wise to research each of these expenses carefully so that you can accurately determine a realistic cost for each one in your market. This will help you to create a firm estimate for the amount of money you need to launch your coin-operated laundry business.